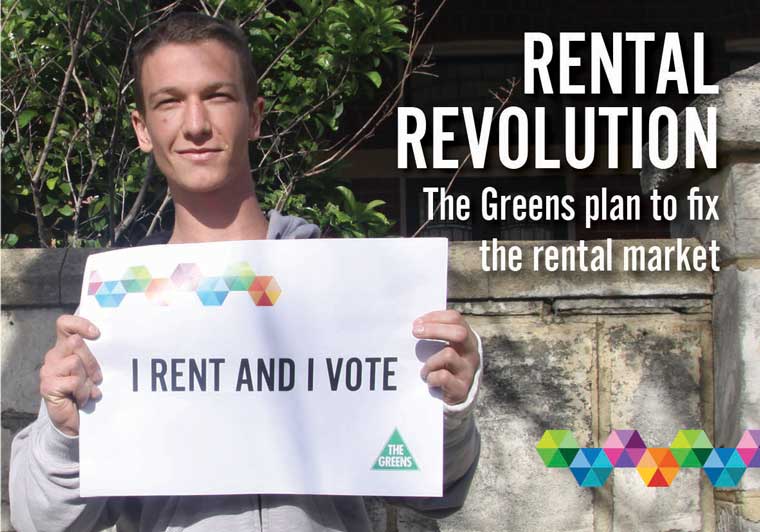 The private rental market is a critical part of the Australian housing system, but it is broken and failing us as a nation. Australians are under severe pressure from a chronic gap in supply, lack of choice and growing unaffordability.
The situation for Australian renters is dire. With a current supply gap of 539,000 affordable and available rental dwellings in Australia, the time to stand up for renters is now urgent.
The average Australian rent has at least doubled in every city since 2000; and in Brisbane, Perth, Darwin and Canberra the rent has tripled since 2000.  The Anglicare 2013 rental affordability snapshot found less than 1% of 65,000 listed rental properties were affordable to anyone on a low income, and only 4% were suitable to a family on the minimum wage. 
IT'S TIME 
The Greens are committed to urgently addressing this gap and standing up for Australian renters.
The Greens will invest over $200m to build 85,000 new affordable rentals over the next decade, benefiting more than 220,000 people and reducing the acute pressure in the rental market.
The Greens Rental Revolution package will:
 Review and fund another 50,000 homes under the National Rental Affordability Scheme (NRAS) and provide an additional incentive to ensure they are exemplary green buildings and come with solar PV
 Provide  funding for 20,000 student rentals through a new University NRAS scheme
 Provide funding for 15,000 new rental homes through our 'Convert to Rent' Initiative
 Include a target of one third pre-fabricated, fast build, modular housing
 Review the effectiveness of Commonwealth Rent Assistance
A RENTAL REVOLUTION
The Rental Supply Boost is a further step the Greens are pushing for to take the sting out of renting and to fix our rental market for the one in three Australian who rent.
Our fully costed and peer reviewed Rental Revolution package would:
Ensure renters get a fair deal with our Renters Rights package
Boost the number of affordable rental properties by expanding the National Rental Affordability Scheme
Provide an additional 20,000 affordable rentals for students by creating Uni-NRAS
Cut housing waiting lists by investing in social housing
Convert empty properties into affordable housing
Provide secure and ethical investment opportunities that ease the housing squeeze with our 'Safe as Houses' Bonds initiative
The Greens care about Australia's renters who and are committed to urgently addressing the housing affordability crisis and standing up for Australian renters. We are also providing a voice for renters with our Rental Health Check survey.
Join our Rental Revolution campaign but printing the "I Rent and I Vote" poster (PDF, 87Kb) and share your photo with it on social media – just like Peter did above.
For the 105,000 people who find themselves are homeless on any given night in Australia, we have a package to help them too. 
The Greens are committed to urgently and comprehensively addressing Australia's housing crisis.