Everyone has the right to a secure home.
Many Canberrans are unable to afford to buy or rent the home they need - property prices and rents are the highest in the country, wages have been stagnating for years, and tens of thousands of people have lost work due to COVID-19. 
We can't allow market forces to determine who gets a home and who doesn't. Now is the time for the ACT government to build a better, affordable housing system.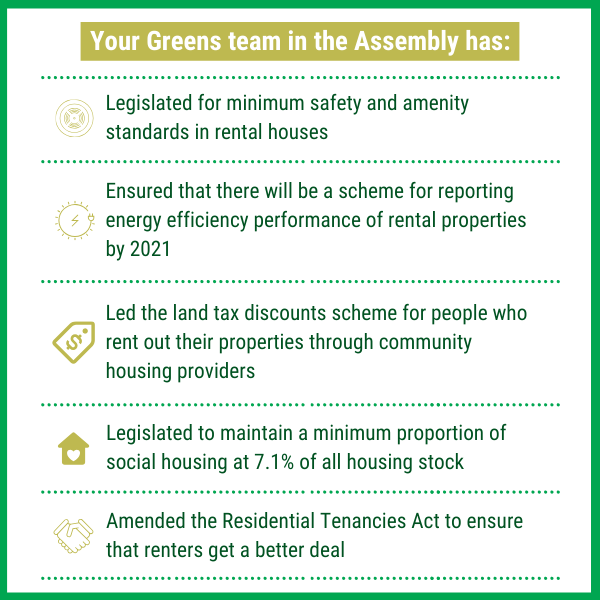 Our Plan
| | |
| --- | --- |
| ▲ | Improve renters' rights to rebalance the scales |
| ▲ | Expand ActSmart's energy efficiency incentives to drive rapid upgrades to rental properties |
| ▲ | Support landlords to do the right thing by tenants to ensure Canberra has landlords rather than slumlords |
| ▲ | Close the shortfall in the number of public, community, and affordable houses |
| ▲ | Incentivise houses to be built more sustainably, to lower energy costs, keep people warm and protected from smoke, air and noise pollution |
| ▲ | Make homelessness history |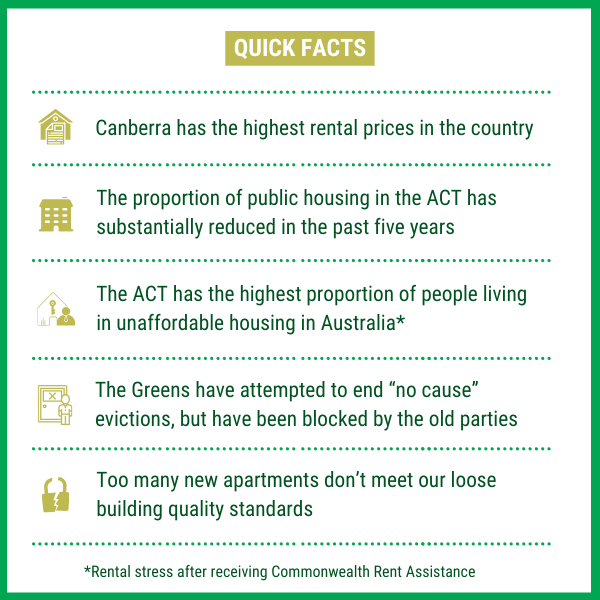 DELIVERING MORE HOUSING
More social housing
A $200m investment into new social housing stock over a four year period. This will deliver at least 100 new properties each year for the four years for people in need - a total increase of 400 social housing dwellings over the term.
More community housing / affordable rental
A $200m investment into new community housing - to be delivered over four years through a range of mechanisms including:
the provision of an appropriately scaled, predictable, and ongoing pipeline of low cost development land sold at book value for the provision of community / affordable housing stock;

stock transfers of properties currently managed by community housing providers;

debt forgiveness;

rates exemption for Community Housing Providers managing social housing properties;

funding for direct purchase or development of new and existing properties (at least 80% to be new build);

planning incentives to encourage the development of affordable rental housing;

scaling up of existing land tax incentives for private landlords who lease their properties affordably through community housing providers; and

support and removal of barriers for community housing providers to access existing initiatives, such finance through the National Housing and Finance Investment Corporation.
The Greens estimate this will deliver over 600 new affordable rentals for people in housing need.
There will be a requirement for an average energy efficiency rating of 7 stars across all social and affordable rental housing that is purchased or constructed.
Indigenous housing
The Greens will fund the establishment of an Aboriginal controlled Indigenous community housing organisation.  The initial phase of this work will be, in consultation with the Elected Body, to commission work to determine the housing needs of Indigenous Canberrans and establish a model for a new Aboriginal controlled housing organisation.
MAKING HOMELESSNESS HISTORY
Responding to homelessness
The Greens will provide:
An

immediate funding boost of 20% to all existing specialist homelessness services

to increase capacity and reduce the number of people who are turned away 

Delivery of MyHome in Curtin

, which will provide long term supported housing for 20 people with enduring mental health issues.

Delivery of

expanded Common Ground in Gungahlin

, which will provide another 20 apartments for people who have experienced chronic homelessness.

A

7 day service at the Early Morning Centre

 

New beds in specialist homelessness services

Funding to embed specialist workers in existing homelessness services

.  These will include people with qualifications and expertise in aged care, disability, mental health, and alcohol and other drugs, who will be embedded within existing services to support clients and staff during crisis as well as beyond.

Funding to conduct a needs assessment, consult with stakeholders, and

develop a model for a youth-specific social housing service

that will provide appropriate levels of support that young people need, which can be tapered off as young people progress through education, training, or access employment.

Increase funds for a

dedicated emergency accommodation brokerage fund

to be administered by OneLink.  This will provide extra funding to place people in hotels and other emergency accommodation where existing services are full or are unable to provide assistance and there is an immediate risk of being found by a perpetrator of violence or becoming sick from being out in the cold 
Strengthening individual and systemic advocacy services
$400k for tenancy advocacy services 

$800k to bring ACT Shelter's funding back to its previous level 
DELIVERING FOR RENTERS
Read our comprehensive Renters Rights plan here. The Greens will:
End no cause evictions.

  We believe that tenancies should end for a reason (non payment of rent, or because the landlord or a family member wants to move back in, for example), not because a tenant has asked for something to be fixed one too many times, or because the landlord or their agent just doesn't like them.  Retaliatory evictions exist, and they need to be stamped out.

Promote long-term leasing

, by pushing for two year leases to become the default option.

Enable tenants to access ActSmart's energy efficiency reviews for helpful tips for themselves, as well as an assessment of other improvements and information about government programs to assist with these, which can then be provided to the landlord.

Ensure that mandatory disclosure of energy performance for all rental properties is rolled out as planned by 2022.

Ensure that minimum standards for security and amenity in rental properties are introduced as planned by 2022.
Supporting landlords
Encourage landlords to invest in improving the energy efficiency and comfort of their properties by introducing a

sustainability infrastructure scheme to

provide incentives for energy efficiency improvements, replacement of gas appliances, and installation of photovoltaic systems and battery storage in rental properties.
Summary of costs to deliver ACT Greens housing package
$200M public housing 

$200M community housing 

$41.2M specialist homelessness support services

$10.3M housing for specific needs 
TOTAL $451.5M over 4 years