This wasn't the 2020 most of us had imagined. Between the devastating bushfires and the global COVID-19 pandemic, our lives have been turned upside down.

But before the COVID-19 crisis, we were already staring down the interrelated threats of climate and environment breakdown, supercharged economic inequality and a jobs crisis.
Everyday people are bearing the brunt of an increasingly unfair system – problems that have been supercharged by COVID-19. Many people are under-employed, rents are enormous, and millions of us are living week to week.
We were already paying impossible prices for the basics like housing, childcare and electricity. Meanwhile, massive corporations continue to pay no tax and make super-profits from the destruction of our environment and climate.
Those crises were being left unaddressed by governments set on clutching at the purse strings, putting private profit ahead of the people they were meant to represent. It's clearer than ever that this government's hands-off, trickle-down approach has failed millions of us. 
Already the government is talking about a "snapback". They will attempt to return to the status quo – where they prop up corporations and the very wealthy few, take away the services they've been forced to roll out and deliver less and less for us.
They'll tell us that we now have to tighten our belts, that the heavy lifting has to be done by everyday people – people who are already stressed and struggling to make ends meet. 
It does not have to be this way. We can't go back. We need to move forward.  
Why haven't the major parties acted?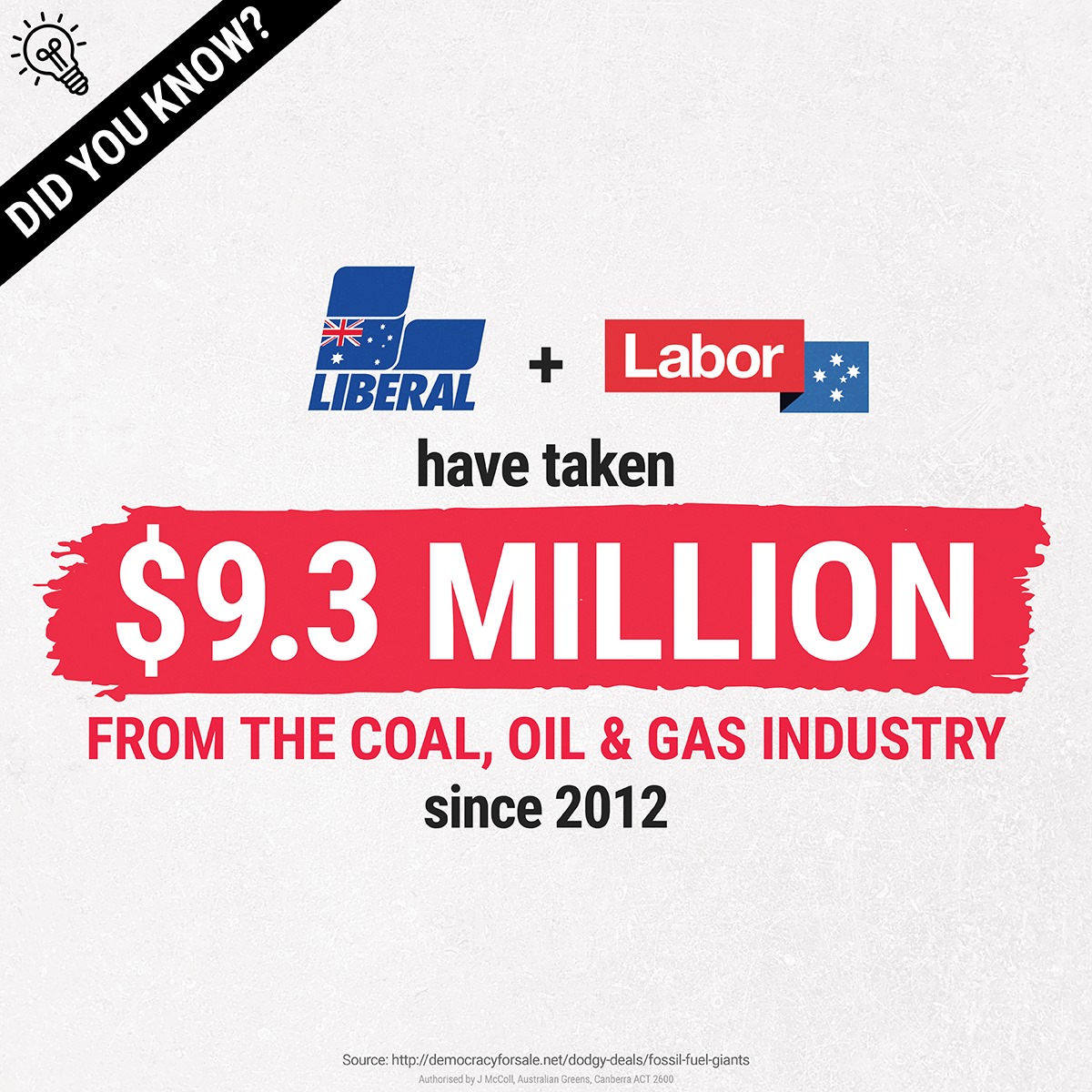 Both the Labor and Liberal parties take millions of dollars in donations from the massive corporations that are causing the environmental, social and economic destruction we're now up against. 
Big corporations donate for a reason. In return for their money, property developers, big banks, gambling corporations and mining giants have received billions of dollars worth of favourable policy decisions from Liberal and Labor governments.
This means that, rather than plan our transition away from climate-polluting coal, oil and gas exports to the clean industries of the future, the Labor and Liberal parties give the tick of approval to opening up new fossil fuel reserves.

These donations from the super-rich also allow inequality to keep on growing. While the major parties make major funding cuts to our schools, hospitals and essential services, they give tax cuts to millionaires and companies at the same time. In fact, one-third of large Australian companies pay no tax. We are paying more and receiving less – the government has privatised services that they should provide for the public good.

While the major parties continue to take money from big corporate interests, they will never be completely focused on what is good for our communities. 
Individuals and local communities are left with an increasingly unfair system - one set of rules for the super wealthy, and another for the rest of us.
Our system allows billionaires to make more money in 15 minutes than most of us make in a year. It lets corporations make super profits, while cutting weekend penalty rates for workers. It gives executives millions of dollars if they're fired, but leaves us in insecure work. People are getting a tax break on their fifth house, while others struggle to keep a roof over their heads and home ownership is out of reach for so many.
To make matters worse, it is the most marginalised in our communities who will be hit first and hardest by the climate crisis. The effects will worsen existing injustices experienced by First Nations communities, those doing it tough, older people, those without a stable home, people seeking asylum and young people. 
We're already seeing the effects of the climate crisis – the horrific bushfire season, unseasonable drought, communities blanketed in smoke. It's already affecting our health, our jobs, local economies and it's taking lives. 
Politicians in both major parties know this - but haven't got a plan to do anything about it.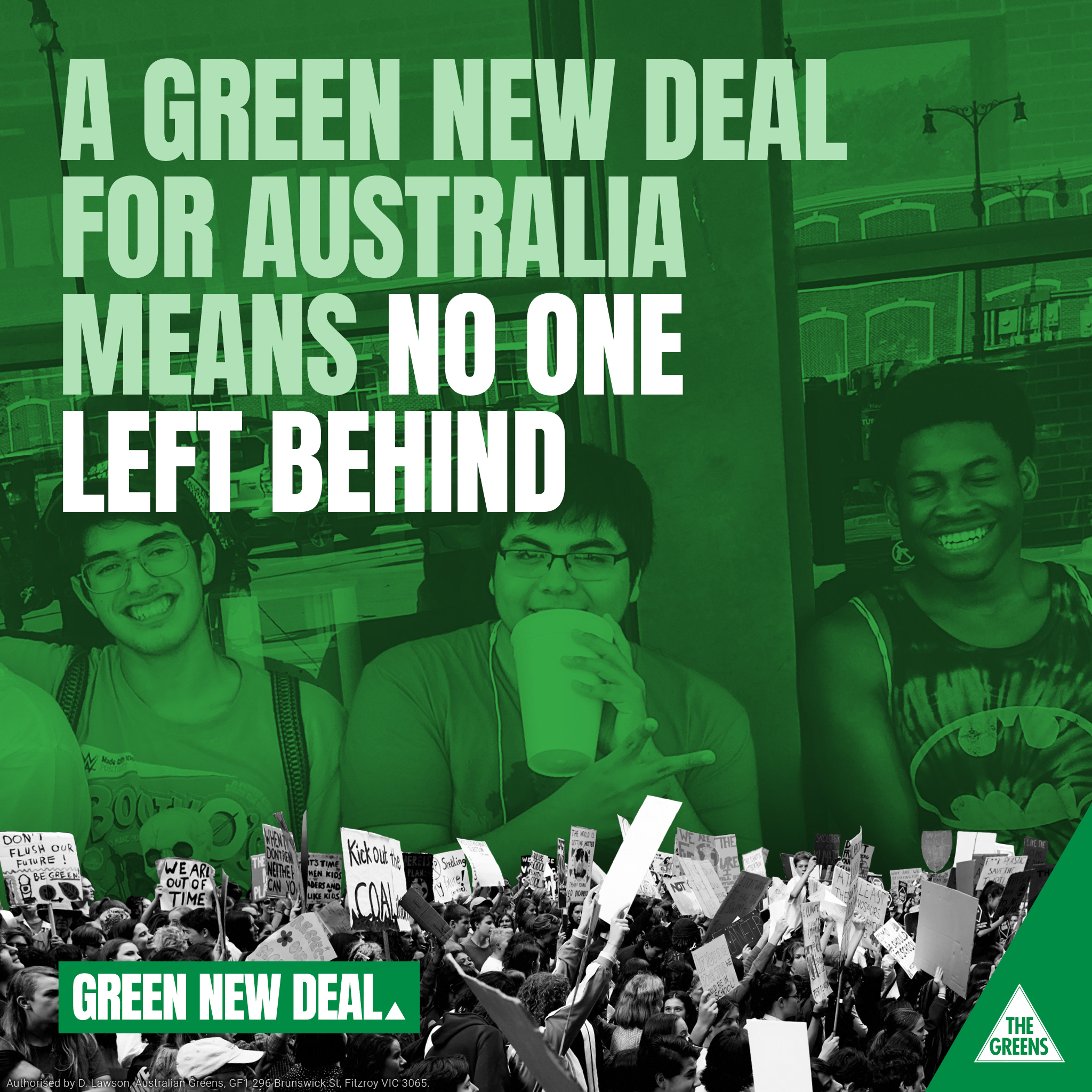 Building a better future, together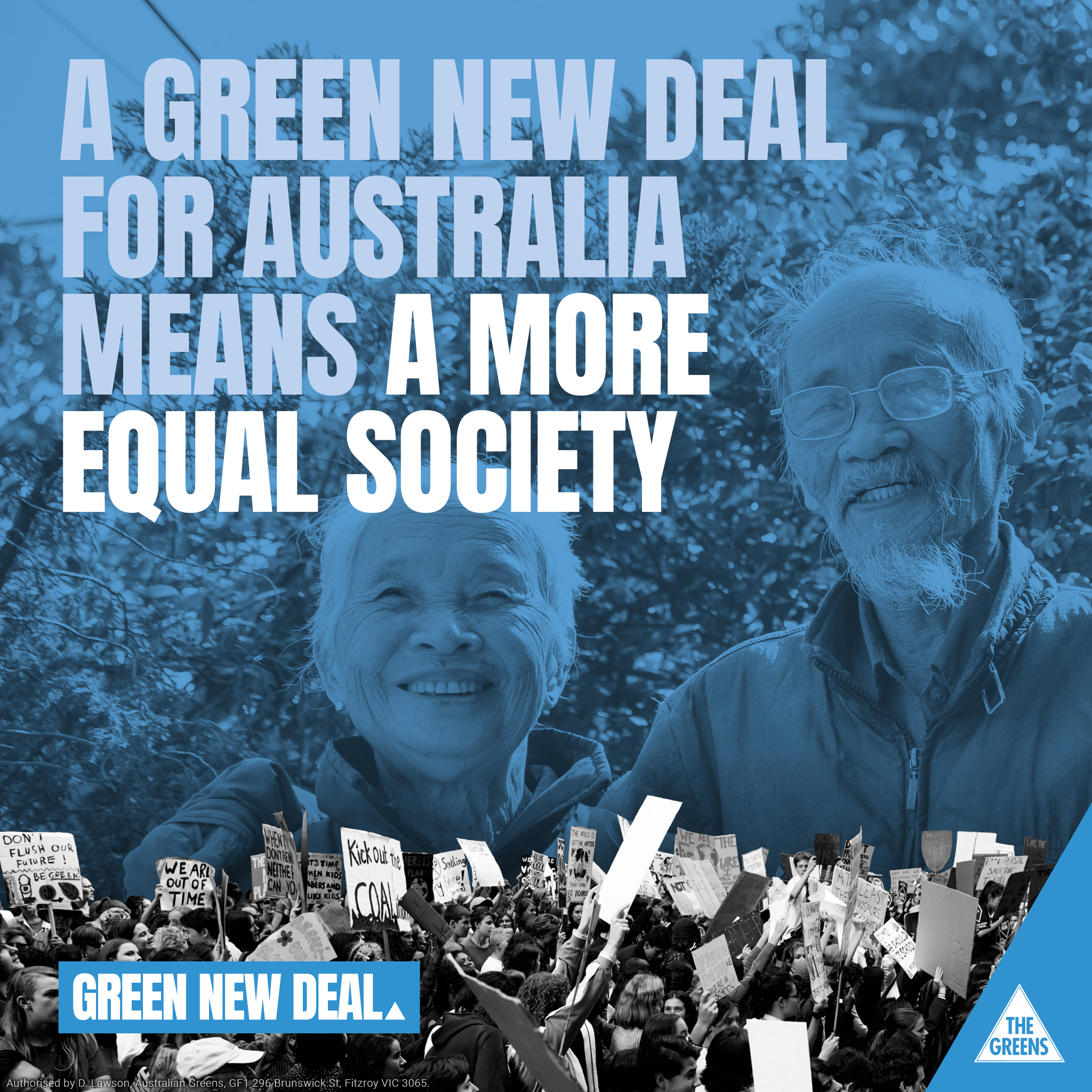 A Green New Deal is a government-led plan of massive investment and action to build a clean economy and a caring society. Under a Green New Deal, the government takes the lead in creating new jobs and industries, and delivering universal services to ensure nobody is left behind. 

With a plan based on the four key principles, we can do it.

We can make sure everyone has a stable job if they want one or an income they can live on. We can make sure everyone has an affordable home, education and training and care.

We can shrink the gap between extremely rich and everyone else, eliminate poverty, and make sure we can all succeed in the cleaner, fairer economy of the future. 

We can move away from being the world's biggest exporter of coal and methane, and become a renewables powerhouse, creating jobs and opportunities and ensuring no one is left behind. We can challenge the corporations profiting from fossil fuel extraction and get their influence out of our democracy. 
We can empower First Nations people and ensure that marginalised communities have a say in directing their own future. 

It sounds big, but we can do it. Our chance is now. But we can't do it without you. 
How you can get involved
Over the coming months, the Greens will be working to unite different parts of our community and make space for more voices to be heard as we develop our full plan for a Green New Deal. 
Like all the biggest moments in history, change starts with people coming together to demand a better world. 
It sounds big, but we can do it.
With your voices in the community and our voices in parliament,  we can fight for a plan that puts the needs of people and our planet before the private profit of big business. 
Use your time at home to build a better world. Join our fight for a Green New Deal.
Are you ready for a Green New Deal?
To create a Green New Deal for Australia is going to take all of us. Sign up to find out more about online events near you and how you can get involved.
Who else backs a Green New Deal?
Demand for a Green New Deal is growing across the world – from school strikers marching on the streets, David Attenborough, through to economists and business analysts. The movement continues to grow, with the EU and governments from Spain to South Korea putting in place plans for a Green New Deal and strong campaigns across the rest of the world including in the UK, Canada, and of course, in the US, championed by Democrats including Alexandria Ocasio-Cortez.
It will take global action to counter the climate crisis – like all the biggest moments in history, change starts with people coming together to demand a better world. We're all in this together.