TRANSPORT THAT WORKS 
Transport is a key to a healthy, happy, prosperous community and a more liveable Melbourne.
The government proposes to spend $18 billion - that's $1 billion per kilometer - on a toll road that won't fix traffic congestion, will put more cars on the road, greatly worsen air and noise pollution, and reduce the liveability of Melbourne. 
This money invested in public transport could transform Melbourne. It would create a world class public transport system servicing the community for decades to come.
It's what Victorians want - every survey and poll shows Victorians want money spent on public transport over roads.
The Greens will invest in public transport solutions to deliver more frequent, rapid and reliable services. 
FOOTSCRAY TO DOCKLANDS TRAM
The people of Melbourne love trams.
A new low-floor E-Class tram every ten minutes can take 1800 cars off our roads each hour. 
The tram link, via Footscray Road, will make for a quick trip from Docklands to Footscray bringing visitors and shoppers: that's good for local business and jobs. 
It will enable cheap, fast and efficient connection for locals to access the Docklands and the CBD for work, shopping, entertainment, such as Etihad stadium, and connecting trams. 
Air pollution is of concern to many who live in the inner West. Taking 1,800 cars off our roads, in each direction, will clean up our air. Reducing transport related carbon pollution is also a great way to take action on climate change.
The Greens will extend the 82 tram link 5 kilometres to the CBD is estimated to cost between $80-$100million .
This proposal is great for the Inner West.
Take Action - Click here to join a local event
MELBOURNE'S WEST – NEGLECTED FOR TOO LONG
The western suburbs community are becoming increasingly frustrated by their poor public transport and traffic congestion. 
The population of Melbourne's West has been increasing at a rate double that of the rest of Melbourne. Yet, this growth has not been accompanied by investment in transport services by either Labor or Liberal governments. The result is Melbourne's inner and outer west growth areas are least served by public transport and cycling links in Melbourne. 
The Liberal Party went to the last election promising to "fix public transport" and "no more neglect in the West". They have not delivered. 
Expanded public transport is urgently required to bring the supply and quality of the services available within the western suburbs to the same level as other regions of Melbourne. 
The Greens have been consistently strong advocates for better public transport and reducing traffic congestion. The Footscray to Docklands tram will make a big difference.
See the Greens plan: 'Connecting Melbourne's Trams' for network wide tram extension and connection proposals.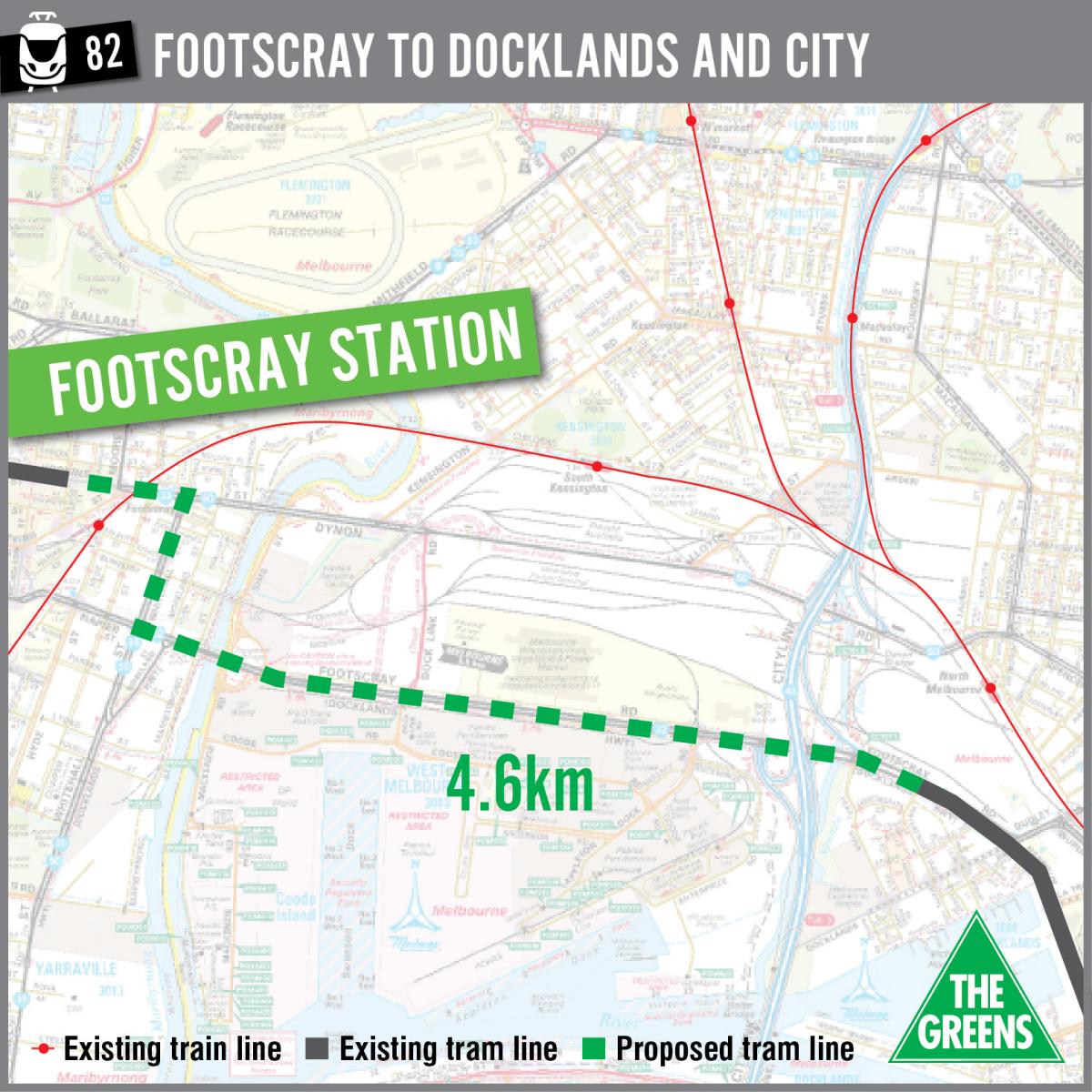 Hopkins St - Whitehall St - Footscray Rd - connecting to Docklands/CBD.