Thursday, March 23, 2017
 Name: Harriet de Kok 
Age: 24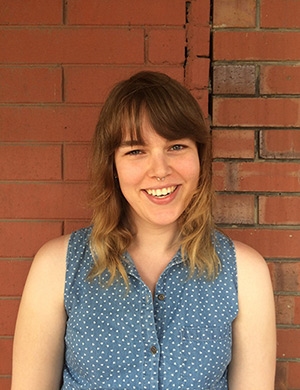 Role with the Greens: Online Communications Coordinator for Greens SA, and South Australian delegate to the Australian Young Greens.
Why did you get involved with the Greens?
I was always interested in politics but the issue that got me actively involved was refugees. I did a course on global health while doing my undergrad, and there was a big focus on refugee health. Seeing the health outcomes for refugees living in Australia's offshore and onshore immigration detention centres really opened my eyes. I knew from media coverage that the Greens talked a lot about refugee rights and after I spent some time learning about the party, I found that their policies strongly aligned with my values and beliefs on refugees and in other policyareas.
What other political issues really get you moving?
Public health and health care, and policy relating to LGBTQ issues, sexual health, drugs and addiction, mental health, workers rights, and urban design and planning.
Favourite thing about living in Adelaide?
I love how accessible things are in the CBD and that we've maintained the ring of parklands around the city.
What's your 'go to' place in Adelaide?
Howling Owl on Frome street! I'm desperately hoping that it gets re-located with the Rhino Room and not shut down.
Favourite 'moment in Australian politics':
During a Senate estimates session when Senator Wong questioned the Department of Foreign Affairs and Trade about their use of emojis in an interview with BuzzFeed. The way she said "red-faced man emoji" makes me laugh every time.
Whatcha reading atm?
Twitter, because the internet has ruined my attention span. 
Whatcha watching atm?
Just started watching MythBusters all the way through!
Favourite political song?
Solidarity Forever  
Who's the person around the world you'd love to meet? And if you met them, what would you like to ask?
I'd love to meet the musician Annie Clarke (aka St. Vincent) but to be honest I don't have any specific questions for her, I just want to hang out.
If you could go anywhere in the world where would it be? And what would you do there?
Europe, specifically The Netherlands, France and Germany, for a holiday - I've always wanted to explore and experience that part of the world.
What would you spend $20bn on?
Hard to decide! I'd love to make mental health more accessible to everyone, but other strong contenders would be fixing the welfare system and giving it the funding it needs, or making the NBN something the country can be proud of.
What keeps you going?
Dreams of living somewhere beautiful surrounded by people I love.
Three apps you can't live without?
Twitter, Podcasts and Spotify.
Magic wand to solve one world problems - what would it be?
Climate change - it's the world problem that most often feels the most insurmountable because of the entrenchment of fossil fuel beneficiaries in positions of power and influence.