Thursday, February 23, 2017
Ogy Simic is only 29 years old and yet he's already held a number of key roles with the Greens. He has worked for Senators Rachel Siewert and Sarah Hanson-Young, was Field Director during Senator Scott Ludlam's 2014 re-election, was National Campaign Coordinator for the Federal Election in 2016 and is now a local Councillor.
1. What do you remember about your first election?
The issue that sparked my involvement was the appalling treatment of asylum seekers under the Howard Government. During the infamous 'Tampa election' I was horrified by the demonisation of people in need and was compelled to take action.
2. Favourite endangered Australian?
The Glossy Black Cockatoo. 
3. What's your precious place and why?
In the organic veggie patch with my partner's dad Rod May who sadly passed away this month. His deep understanding and respect for the soil, plants and ecology was contagious.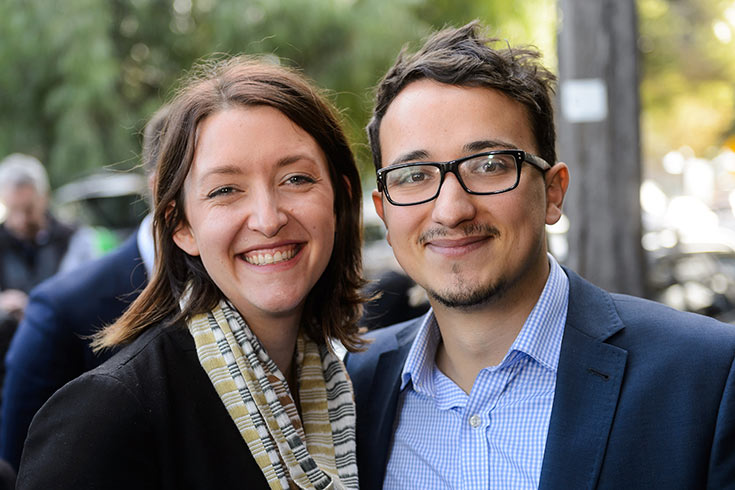 Councillor Ogy Simic with partner Steph Hodgins-May, candidate for Melbourne Ports
4. Favourite Greens policy?
As someone who lived in public housing after first moving to Australia, I'm proud of our suite of housing policies.
5. Best part of your work with the Greens?
Connecting with the community through stories and conversation.
6. What keeps you going?
There's still so much work to do to ensure the safety and rights of refugees and other marginalised groups.
7. Favourite political song?
The Presets, "My People". 
8. Who inspires you? Why?
My mum. We lost our dad early into the war in Sarajevo. Mum brought up three boys on her own and fought for us to come to Australia so we could have an education and opportunities. 
9. Comfort food?
Ice cream. 
10. What would you spend $20 billion on?
Education as it's the premise of all progress.
11. Secret vice?
Taking a full tub of ice cream and spoon to bed and returning an empty tub of ice cream and spoon to the kitchen.
12. Best coffee/drink in town?
Kotch Lane. Just opposite our place in St Kilda, right next to the St Kilda Botanical Gardens. 
13. Three apps you can't live without?
I'm constantly losing personal belonging so all the apps that make it possible for me to survive. 'Find my iPhone' has come in handy more than once or twice.
14. What did you want to be when you grew up?
A film director.
15. Morning run or night time swim?
Yoga.
16. What's your greatest hope for the future?
That all people seeking protection from persecution receive the same level of support, treatment and opportunities that my brothers and I have had.
17. Magic wand to solve one world problem — what would it be?
An end to racially fueled hate and discrimination.
18. What advice would you give a new volunteer?
Be brave and have a go. You'll be rewarded with a good conscience, new friends and all sorts of bumper stickers.
19. You can travel through time — where do you go?
Back to when the ice cream tub was full.
20. If you weren't doing this for a living, what would you be doing?
There's nothing I'd rather be doing, but if push came to shove I'd be pitching for a job with the UN.