Saturday, March 17, 2018
WELCOME BACK TO PARLIAMENT!!!
The last month has been so busy, I've hardly spent a day at home in Perth! After a short break over Christmas and New Year, the start of February brought the first sitting weeks of 2018 and a renewed focus from my team on the Government's poor handling of all things technology and digital rights related. My amazing Policy Adviser, Penny Kyburz – who also holds a PhD in Video Game Development – put together a series of motions calling for government action to fix the NBN, and greater acknowledgement and investment into developing Australia's tech sectors.    
     Calling on the government to acknowledge the UN now recognises internet access as a human right, and reconsider their response  to the first report of the Joint Standing Committee on the NBN
     Calling on the Government to reconsider their response to the Senate inquiry into the future of Australia's video game development industry and support their unanimous recommendations     
     Acknowledge that internet is considered an essential service in many countries, and call on the government to bring forward their intended Telecommunications Safeguards review
     Calling on the  government to reconsider whether NBN should be obliged to recover full cost of investment through consumer pricing, and whether other funding options should be examined     
     Calling on the government to initiate an inquiry into net neutrality protections in Australia
Incredibly, every one of these motions passed through the Senate without fuss from the Government and supported by Labor. I was able to speak at length in adjournment speeches highlighting the government's failure to deliver a fast, reliable and affordable NBN, invest in Australian technology development and protect online privacy.
In addition, I took the lead on behalf of the Australian Greens in responding to the Enhancing Online Safety (Non-consensual Sharing of Intimate Images) Bill 2018 – what is commonly referred to as the 'revenge porn' bill – which we supported in principle, with reservations about the definitions of consent. This was also a first for me, having never delivered a second reading speech or taken responsibility for coordinating legislation! 
The last week of February I was back over in Canberra for my first foray into Senate Estimates, which is an incredible opportunity to speak directly with departmental staff and bureaucrats and really scrutinise the inner workings of government.
Outside of Parliamentary work I had the opportunity to attend orientation days at both Notre Dame and UWA, which was a great opportunity to speak with students about what matters to them and how I can bring those issues to parliament on their behalf. We had so many amazing young people engage and sign up to volunteer with the Greens into the future; I'm really looking forward to hosting some on-campus events to follow up!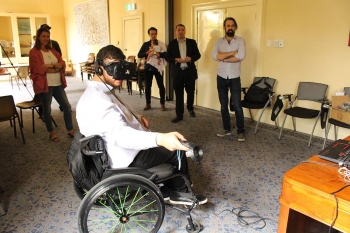 Finally, I spent a couple of days over in Melbourne catching up with stakeholders and helping the Victorian Greens campaign for Alex Bhathal in the Batman by-election. As a part of this trip I launched my first policy initiative – to reinstate a Video Games Enterprise and Investment Fund, similar to Screen Australia style funding ‒ and had an opportunity to visit an incredible co-sharing development space called the Arcade. For more information on what I've been up to please go to my Facebook!
Header photo: Jordon and Richard Di Natale doorknocking in Batman for the upcoming by-election. Joe Wheeler
Text photo: Jordon testing out a VR (Virtual Reality) game being developed by Oceanic Studios in Melbourne. Joe Wheeler