Public transport is a basic service, but in Queensland it is too expensive, too slow and too unreliable. This forces more people to drive, makes traffic worse and parking harder, increases stress and costs us money.
The Greens believe that a family shouldn't have to pay more to catch a bus into the city or the shops than it costs to drive. Travellers shouldn't have to plan hours in advance just to travel two suburbs over.
The Greens want a future where anyone can walk down the road and pay $1 to catch a bus without having to check a timetable. We have a plan for:
$1 flat fares anyone, anytime, anywhere
Free public transport for kids
"Turn up and go" high-frequency buses on every major road
Three extra Green Bridges 
Safe, separated bike lanes

A Minister for Public Transport and a single public transport authority
Strong support for Cross River Rail
Clean, quiet, cheap electric buses
Include Tweed Shire Council on the Translink network

UNIVERSAL $1 FLAT FARES
The Greens would radically simplify and reduce fares for all Queenslanders to cut the cost of living, cut traffic congestion and encourage more people to use public transport. Fares for travel within each zone would be $1 per trip.
Zones would would be abolished within local government areas. Existing zones would be dramatically expanded so all of Brisbane falls within a single zone. Three other zones would include multiple local government areas (LGAs) as illustrated below.
Travel within each zone would be $1 per trip for everyone, any time of day, and free for under-18s. The existing discount of half-price after 8 trips would continue. Peak and off-peak would be abolished.
Our plan would save an average commuter about 70%. Long-distance commuters would save more than $3,000 per year.
The zones would be simplified and expanded as follows:
Zone 1 - Brisbane
Zone 2 - Redlands, Logan, Ipswich, Somerset, Sunshine Coast, Moreton Bay
Zone 3 - Gold Coast, Scenic Rim, Lockyer Valley, 
Zone 4 - Noosa, Gympie, Toowoomba
Proposed New Zone Map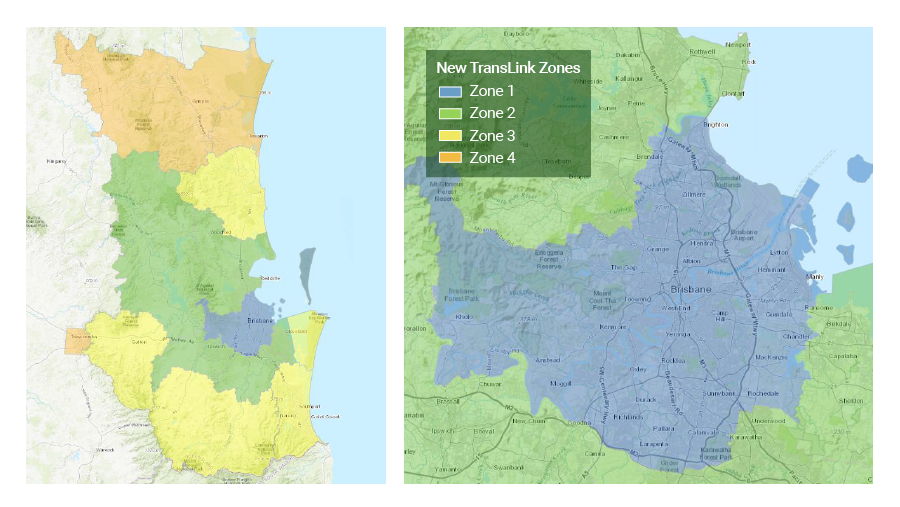 Fare Comparison
For an adult in South East Queensland, the new fare structure would be:
Existing zones
Existing fares*
(peak / off-peak)
New zones
(approximate)
New flat fares
per new zone travelled
Savings*
(vs existing peak / off-peak)
Zone 1
$3.20 / $2.56

 Zone 1

$1.00

SAVE $2.20 / $1.56
Zone 2
$3.90 / $3.12
SAVE $2.90 / $2.12
Zone 3
$5.97 / $4.77

 Zone 2

$2.00

SAVE $3.97 / $2.77
Zone 4
$7.85 / $6.28
SAVE $5.85 / $4.28
Zone 5
$10.32 / $8.26

 Zone 3

$3.00

SAVE $7.32 / $5.26
Zone 6
$13.09 / $10.47
SAVE $10.09 / $7.47
Zone 7
$16.28 / $13.02

 Zone 4

$4.00

SAVE $12.28 / $9.02
Zone 8
$19.32 / $15.46
SAVE $15.32 / $11.46
* Each new zone is roughly comparable to two existing zones. For example, the proposed Zone 1 (Brisbane) covers roughly the existing zones 1 and 2. Existing fares and savings are shown for two existing zones per new proposed zone.

FREE PUBLIC TRANSPORT FOR KIDS
Almost all Queenslanders under the age of 18 are either in school, TAFE, university, or other education. It makes no sense to charge kids for public transport. The Queensland Greens would make public transport free for all Queenslanders under 18 years old.
The estimated total cost of our plans to make public transport cheaper is $216 million per year, including $160 million per year for $1 fares and $56 million per year for free travel for under-18s. The Greens have already announced plans to make property developers and big mining companies pay their fare share which would raise more than $4 billion every year. Costings for this policy are available to download.
This is a small amount compared to pointless road-widening projects like Lytton Rd and Kingsford Smith Drive. Widening Kingsford Smith Drive will cost $650 million to save drivers just 60 seconds per trip. The Lytton Rd project will cost $115 million just to widen a 700-metre stretch of road, both despite strong evidence that widening roads encourages driving and increases traffic congestion.

"TURN UP AND GO" HIGH-FREQUENCY BUSES
The Queensland Greens would simplify Brisbane's bus network to create simple, high-frequency bus routes along every major road. Under our plan, all Brisbane residents would be able to "turn up and go". Instead of checking the timetable, commuters would be able to rely on getting a bus anytime.
Our plan would make public transport a much more viable option for many thousands of residents. Every major road corridor would have a frequent bus services running every 5-10 minutes between 5.30am and 11.30pm, 7 days a week.
By streamlining duplicate or redundant routes and reorganising the bus network, we can provide frequent and reliable services in more areas without losing any existing existing corridors. In some cases this will actually reduce the total cost of providing the service.
The following corridors are some which would have new frequent services between 5.30am and 11.30pm, 7 days per week:
Musgrave Road, Red Hill
Stewart Road, Ashgrove
Wardell Street, Enoggera
South Pine Road, Everton Park
Old Northern Road, Albany Creek
Zillman Road, Ascot
Kingsford Smith Drive, Hamilton

Wynnum Road, City to Tingalpa
Wondall Road, Manly West-Wynnum
Vulture Street/Stanley Street, East Brisbane
Chatsworth Road/Winstanley St, Greenslopes-Carindale
Logan Road, Stones Corner - Mt Gravatt
Beaudesert Road, Acacia Ridge
Kadumba Street, Yeronga
The Greens plan would also upgrade and simplify services on the Gold Coast and Sunshine Coast where similar improvements can be made.

THREE NEW GREEN BRIDGES
The Greens would cut traffic congestion, make public transport quicker and open up our city by building three new Green Bridges.
A new pedestrian and cyclist bridge from Kangaroo Point to Eagle St in the CBD would would create easy walking and cycling connections between these two areas of the inner-city.
WEST END TO TOOWONG
TENERIFFE TO BULIMBA

A new pedestrian and cycle bridge from Ferry Road in West End to Toowong railway station would:

Connect inner-south residents with a train station and major shopping centre; with links to the University of Queensland and Centenary Suburbs, and by train as far as Ipswich and Springfield
Allow safe, separated cycle access to the Bicentennial and Centenary Bikeways
Connect west side residents with Orleigh Park and the entertainment, dining and cultural hub of West End

A new bus, pedestrian and cycle bridge from Commercial Road in Teneriffe to Oxford Street in Bulimba would:

Connect eastern suburbs residents directly to the inner-north
Reduce congestion on Lytton and Wynnum Roads by allowing eastern suburbs residents to travel to the CBD quicker by bus than by car
Enable cyclists to avoid dangerous roads and travel safely to the CBD via the New Farm-Newstead Bikeway
Allow public transport connections between the inner-North and Morningside railway station

KANGAROO PT TO EAGLE ST
 >
The Greens also support current plans to transform Victoria St bridge into a Green Bridge, but adequate space for cyclists and cargo-bikes must be provided.
The Greens would pay for this investment in vital public infrastructure by making sure property developers and mining companies pay their fair share. A full costing is available to download.
 

SAFE, SEPARATED BIKE LANES
Safe, separate bike lanes will take pressure off our congested roads and improve quality of life. The Greens would more than double existing State government cycling funding, with $150 million over 5 years funding for safe, accessible cycling infrastructure. Current State government spending on cycling infrastructure is currently $61 million over 4 years.
Many people want to ride to work or university but are worried about injury and only 19% of Brisbane cyclists are women, the lowest of all capital cities. Barrier-separated bike lanes in the CDB would allow cyclists to ride safely to within two blocks of any location in the city in safety. This proposal would cost $6 million and use less than 0.5% of car parking spaces in the CBD.
The Greens would build bike infrastructure including:
A network of safe barrier-separated bike lanes in the CBD;
Safe barrier-separated bike lanes along major cycling routes such as:

Eleanor Schonell Bridge to Lady Cilento Hospital along Annerley Rd, to connect with the proposed Gabba to Goodwill Bridge bikeway along Stanley St. 
Brisbane Northside to the CBD along Kedron Brook Rd
Buranda to Coorparoo through Stones Corner
Vulture St, from West End to Woolloongabba

Complete the riverside bikeway missing link from Mowbray Park, East Brisbane to Dockside, Kangaroo Point.
Safe, separated bike lanes on other major roads, including in regional Queensland