This wasn't the 2020 most of us had imagined. COVID-19 has knocked us sideways and shut down the global economy.
 
By working together and listening to scientists and health experts, we've held off the health disaster we've seen in other countries.
 
But what we do next will shape our lives for decades to come. 
 
Before the COVID-19 pandemic, we were staring down the climate crisis and supercharged economic inequality. For many people, things haven't been easy for a very long time. 
 
These problems were being left unaddressed by a government that prioritised profit for big businesses instead of people. But they can't cut their way out of this pandemic or the climate crisis – that will cause economic damage and make people's everyday lives harder. 
Everything has changed. What we do next matters.
 
Right now, we have a chance to map our way out of the jobs and economic crisis and into a fairer, more sustainable future.
 
And we know we can do it. If we can remake our society and redirect our resources to protect us from a virus, we can remake it to look after all of us.
 
Now is the time for bold government investment to drive our economy into the future. If we make the right decisions, we can create hundreds of thousands of good jobs, ensure everyone has an income they can live on, set young people up for the future and transition to a clean energy economy.
 
A plan to do this isn't just possible, it's essential. 
 
That's what the Greens recovery plan will do – drive the economic recovery by investing big in our future and leaving no one behind.
OUR ECONOMIC RECOVERY PLAN
A government-backed Jobs and Income Guarantee to help create hundreds of thousands of jobs and ensure everyone has an income they can live on. No one left behind.  Read More >


Bold government investment in manufacturing and sustainable infrastructure to create new jobs & opportunities and build the foundations of a fair, clean economy.  Read More >
Massive government investment in services for our communities – health, education, childcare, aged care, housing and public services to improve everyone's lives.  Read More >


And to support young people, our "Next Gen Guarantee" will give you free education, an income you can live on, or a guaranteed job on one of our exciting, planet-saving and nation-building projects. It's up to you.  Read More >
THE GREENS' ECONOMIC RECOVERY PLAN
 Now is the time for bold government investment to create jobs and build the foundations of a cleaner, fairer economy. Our plan focuses on the future and will leave no one behind. 
INVEST IN SUSTAINABLE, PRODUCTIVE INFRASTRUCTURE
The time has come to build our way out of the economic and climate crises we find ourselves in. With large scale investment in productive, sustainable infrastructure and local manufacturing we can create good, steady jobs for hundreds of thousands of people, make sure everyone has a home, while building the green infrastructure to move us to a cleaner economy and a fairer society.

100% Renewable Energy
The Greens will also set the course for 100% renewables by 2030. We'll prioritise the construction of the publicly owned transmission network, beginning with a Grid Transformation Fund. We'll put in place the infrastructure for 100% renewable energy, unleashing over $700 billion in new clean energy generation investments. This would allow us to open up new parts of Australia through 'renewable energy zones', not only to run Australia on 100% renewables, but to establish 'clean energy export hubs' to export our wind and sunlight to the world.
High speed rail & better public transport
The Greens will invest in a national public transport infrastructure fund, working with state governments to create new rail connections and upgrade the frequency and reliability of existing services. We'd also commit to constructing a fully publicly owned high speed rail connection from Melbourne to Brisbane, helping drive down pollution from air travel and link up our regions and we'll invest annually to make cycling and walking safer and more accessible. These massive projects not only create construction jobs and improve our productivity, but they will also kick start Australia's green steel industry and help reestablish Australia's manufacturing sector.
Waste and recycling 
The Greens will reboot the waste and recycling industry focused on high quality collection and sorting. This will create thousands more jobs than landfill or exporting overseas. It will also clean up local environments, help stop marine pollution and ensure that we make the best use of materials so that we don't have to dig up and exploit more raw commodities. 
Nature Fund
Addressing both the climate and environment emergencies is a core part of our recovery plan. We will establish a Nature Fund, creating 13,000 jobs and training programs in park and forest management, pest and weed control, visitor infrastructure, bushfire management, revegetation, ecological research and monitoring and management to protect threatened species and other wildlife.
MANUFACTURING REVIVAL
Implement a jobs-rich manufacturing revival 
It is time for Australia to make things again. We can rebuild manufacturing in Australia, not as it was but as it could be. The Greens would establish a Manufacturing Australia Fund to modernise and expand Australian manufacturing and support the shift to clean, green manufacturing through multiple green industry programs including re-establishing the Clean Technology Innovation Program, scrapped by Tony Abbott. We'd be building the clean energy revolution right here in our backyard.
Green Steel
We urgently need to find a low-emissions way of making steel. Fortunately, there are promising alternatives in development, the most exciting of which is using 'green hydrogen' (ie hydrogen produced by renewables) in place of coking coal, opening up huge opportunities for regions that currently rely on mining coal. The Greens would invest in research and development and would create an additional Green Steel Innovation Fund, specifically targeted at supporting a transition to green steel for carbon intensive regions and making sure people who rely on the industries have opportunities and jobs through the transition.
Back Australian made 
The Greens would mandate that all Commonwealth and substantially Commonwealth funded infrastructure would need to procure Australian-made clean and green materials to support Australian manufacturing, grow jobs and develop an Australian green steel, aluminium and cement industry. Given the Greens' bold commitment to infrastructure investment in publicly-owned housing, transport infrastructure (including high speed rail) and the national electricity grid over the coming decade, this would create a solid pipeline of demand for locally made materials.
Publicly-owned vaccines
The Greens will ensure that vaccines can be made locally by investing $70 million in CSIRO's vaccine production capacity and establishing a publicly-backed Australian production capacity. 
The benefits of our plan: 
Hundreds of thousands of good, steady jobs
Local manufacturing and innovation
Cheaper energy bills
Cleaner, cheaper, faster public transport 
Support for workers as we transition to a 100% renewable energy economy
JOBS & INCOME GUARANTEE
As the crisis continues to disrupt our daily lives, more and more of us are finding it difficult to pay rent and put food on the table. As we recover from this COVID-19 economic crisis, we cannot return to a world where people without work have to make impossible choices to figure out how to live on $40 a day. We should all have access to high quality, free health care & education, affordable housing and a strong social safety net that looks after us when we are out of work, study, as we age or if we have a disability. Everyone must be supported with a liveable income above the poverty line. 
The government had to scramble to recreate services and safety nets that used to exist. For years, the Liberal/National government has cut away at our social safety net – while propping up their big business mates.
 Our plan will ensure that everyone, no matter their individual circumstances, will be guaranteed an income they can actually live on.
The Greens will put in place a Jobs and Income Guarantee by:
Investing in job-creating industry programs and infrastructure, creating hundreds of thousands of jobs and tens of thousands of apprenticeships;
Keeping the increase to income payments, including JobSeeker and Youth Allowance, and extending eligibility;
Extending JobKeeper eligibility and ensuring we don't cut off funding before the economy is ready; and
Putting in place a Next Gen Guarantee for people under 30 that will give you free education, an income you can live on, or a guaranteed, decent job if you want it.
The benefits of our plan: 
Create hundreds of thousands of, good, secure jobs
Improve social and health outcomes for everyone
Ensure everyone has an income they can actually live on
Provide better public services that make our lives easier
Help tackle economic inequality 
 
NEXT GEN GUARANTEE
Young people are being hit hard by the economic fallout of COVID-19 and experts now fear years of debt and unemployment are ahead. History shows that economic downturns hit young people harder. The GFC disproportionately affected young people, with under-employment remaining persistently high for years, even as the general population recovered. And it's not like things were easy for young people before. 
We are facing the worst youth un- and under-employment in our history, nearly 4 in 10 young people are now without a job or enough hours of work (ABS data, April 2020). Unless we put in place a recovery plan in place that addresses the challenges confronting young people now, the effects will linger and disadvantage this generation of young people for a lifetime.
In response, the Greens are launching the Next Gen Guarantee, a plan that responds to the crises we face and sets young people up for the future. 
Under our plan, people under 30 will be guaranteed:
A free place at uni or TAFE, or an apprenticeship or traineeship, so that you can pursue your passion;
An income you can actually live on;
A secure and decent job if you want one, working on one of our exciting, planet-saving, nation-building programs in the industries that will tackle the climate emergency and build a more creative, and caring society.
Young people can voluntarily choose which path they want to follow, knowing that a guaranteed liveable income will always be available.
But we won't stop there. We'll roll out a Green New Deal to tackle the climate crisis and fight inequality. We can't leave young people the economic burden of dealing with the coronavirus and the climate crisis as well. We must act now.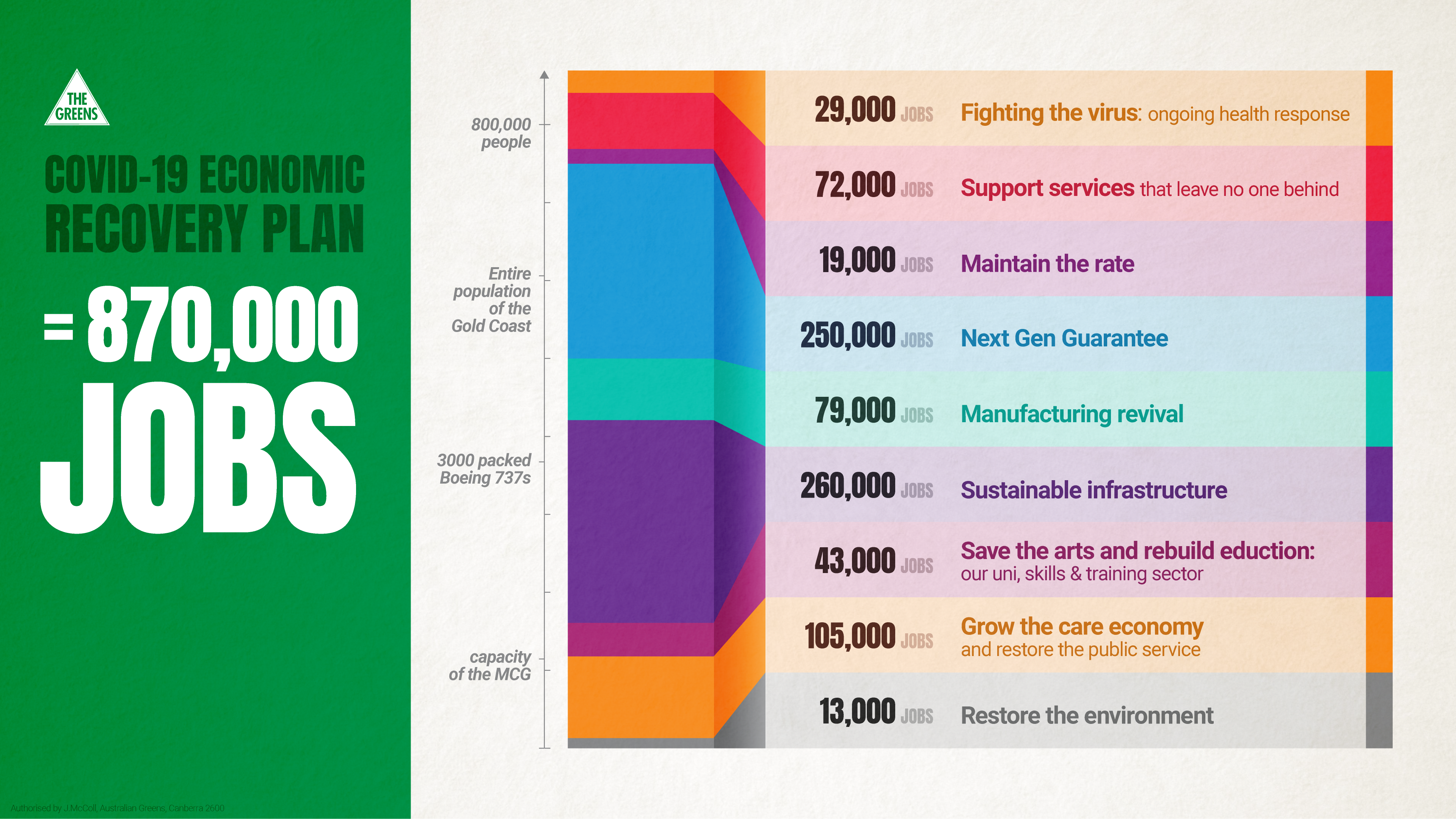 GROW THE CARE ECONOMY
It is critical that Australia grow our care economy and the care and education workforce including in aged care, disability support and childcare. The government desperately needs to recognise the essential role that carers and educators play in our society and our economy. The Greens plan will create at least 105,000 new jobs by investing in: 
Universal childcare 
Early learning and childcare are essential services and should be guaranteed to everyone, no matter what you earn, where you live or how much you work or study. The Greens will make permanent the Government's shift to free childcare for all and boost early childhood education by extending universal access to early childhood education for 3 and 4 year olds to 24 hours per week. 
Disability Care
The NDIS has the potential to transform the lives of disabled people, their families and carers. But to do this the scheme needs to work, deliver on its promises, and meet the needs of people. We must fully fund the NDIS, provide adequate staff training and remove unnecessary staffing caps; and improve IT systems and interfaces for participants and service providers.
First Nations care
We need to urgently invest in health, aged care, and disability services to help close the gap in life expectancy for First Nations peoples. Investing in the care economy particularly in regional and remote communities creates much needed employment and helps to close the gap.
Aged Care 
The Greens will create an additional 50,000 Level 3 and 4 Home Care Packages to ensure older Australians can continue living at home for as long as they wish. We will also invest in residential aged care to increase hours of care per resident and improve staff ratios.
INVEST IN PEOPLE
Save Creative Australia
We will save Australia's hard-hit arts, entertainment and creative industry with a 'Create Australia' recovery package, including: a 'Creating Australia's Future program' putting an Artist-in-Residence in every school and library across the country; a 'One Billion Stories Fund' - an Australian content fund aimed at kickstarting Australia's screen industry; and an 'Australia Live Fund' to inject money into Australia's festival, music and live performance sector. 
Build Affordable Homes
The Greens plan is to build 500,000 public and community homes and increase funding for crisis and temporary housing to end the housing crisis for people experiencing homelessness and the most vulnerable members of our communities. This would not only smash waiting lists, help those suffering, enable affordable living, but it would create 40,000 jobs plus 4,000 apprenticeships around the country in construction, planning, design and legal services.
Invest in Skills, Education and Research
The Greens will invest in Australia's skills, education and research by boosting university and schools funding and making TAFE and undergraduate courses free. Ensure that all Commonwealth infrastructure projects have a 1:10 ratio for apprentices creating tens of thousands apprenticeships. Move Australia on a pathway towards 4% of GDP spent on research and development.  
The benefits of our plan: 
Improve social, health and economic outcomes for everyone
Over a hundred thousand new jobs in caring and education
Make sure everyone has a secure, safe, affordable home
Improved learning and teaching conditions
Save Australia's hard-hit arts, entertainment and creative industry
 
After decades of Liberal and Labor governments turning debt into a public enemy number one, government borrowing has saved the day during the COVID-19 crisis, keeping employees and employers afloat during the lockdown and ensuring those who have lost their jobs can still afford to eat and pay the rent.
The truth is that the very society we have built around us wouldn't have been possible without government debt. It is because of government debt that we have roads and footpaths, trains and trams, water and sewerage, electricity, public schools, hospitals, public transport and so much more. Government debt, when done right, can be a good thing. In fact, using public debt wisely is central to good economic management.
To fund this plan, we would need to borrow over the next 4 years the equivalent of what the Morrison Government committed to spend in 2 weeks during the coronavirus response. Investment now is not only possible, it's essential.

2. Government investment will set us up for a prosperous future and create the jobs we need
We can't cut our way out of the COVID-crisis or the climate crisis. The only way out is if the government stimulates the economy, invests big now in clean infrastructure and creates jobs.
We need to take the opportunity now to use 'good government debt' (aka public investment) to create jobs and new opportunities, drive new industries, tackle the climate crisis and give everyone a better life.
We know that without government spending now, young people and future generations will also cop the brunt of the climate crisis – the cost of not acting will dwarf the cost of investment now.
We must act now.
3. Borrowing to invest, big and now, makes economic sense 
The Greens plan combines smart government borrowing with a fairer tax system, where we close the loopholes and corporations contribute their fair share.
Right now, 1 in 3 of Australia's largest companies pay zero tax and the government gives public money in the form of tax bailouts, to private companies, including big polluters. That money could be going into our hospitals. 
There's never been a better time for governments to borrow to invest – interest rates on bonds are projected to stay at record low levels for many years. 
Over the longer term this debt will increase productivity and economic activity. A great example is in the aftermath of WWII, Australia's debt skyrocketed to record highs, 120% of GDP, dwarfing our current post-COVID debt, but it was reduced back down to normal levels within a decade because it was invested and grew the economy.
Australia certainly doesn't need to borrow as big a percentage of GDP as after WWII to tackle the COVID19 economic recovery and emerge stronger than ever.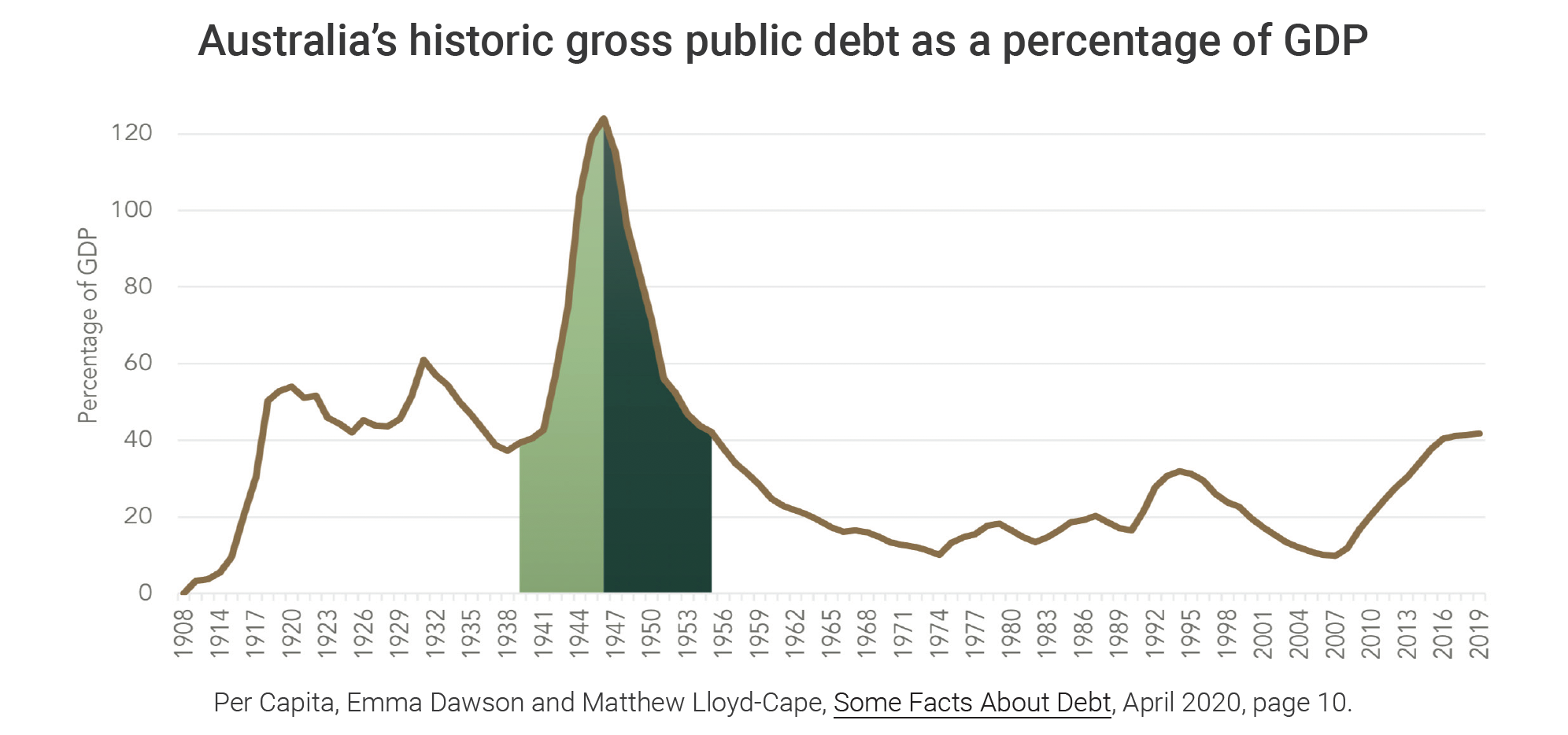 Our 'Invest to Recover' plan would see Australia's post-coronavirus net debt go from around 30% to 44% of GDP, still less than half of the advanced economies' (ie, UK, US and France) average of 95% of GDP during the pandemic and well below those countries' debt levels even before COVID-19 (76% of GDP).
Our economic plan will increase productivity and economic activity, allowing us to recover from the COVID-19 jobs and economic crisis and set up a cleaner fairer economy. We must invest now in the future.
Next: Fighting for the Future
This decade will decide the future of Australia, and the world. It's time to do things differently...
Our 15 big ideas