Your vote is important.
We have a once in a lifetime opportunity to create a better future for lutruwita/Tasmania.
Together, we can build back greener and fairer from COVID-19, take real climate action, and ensure no one is left behind. And we can do this by making big corporations and pokies barons pay their fair share of tax.
Our plan invests in green skills and jobs, caring for Tasmanians, and housing as a human right.
Our plan will:
👷 Invest in green skills and jobs
🏡 Build 8,000 new, affordable homes and protect renters
🌱 Protect our wild places from privatisation and development
🏥 Properly fund our public health and education systems, and invest in preventative health and mental wellbeing
🌏 Take real climate action and end native forest logging
🎰 Get pokies out of Tasmanian pubs and clubs
💰 Make corporations pay their fair share to fund public services
🚌 Invest in sustainable transport, including a Hobart ferry network and free public transport
💵 Ban corporate and foreign donations to political parties
🧑‍⚕️ Deliver a Youth Jobs Guarantee
We always put this island and its people first, and won't be corrupted by corporate influence. When we say it, we mean it – and we stay true.
Vote Greens on Saturday 1 May and together we can create a greener and fairer Tasmania for all of us.
You must number at least five boxes for your vote to count. Visit the Tasmanian Electoral Commission website to find your nearest polling booth.
Our election platform Our candidates
Here's how to vote for the Greens candidate in your electorate:
Clark
Vote 1 Cassy O'Connor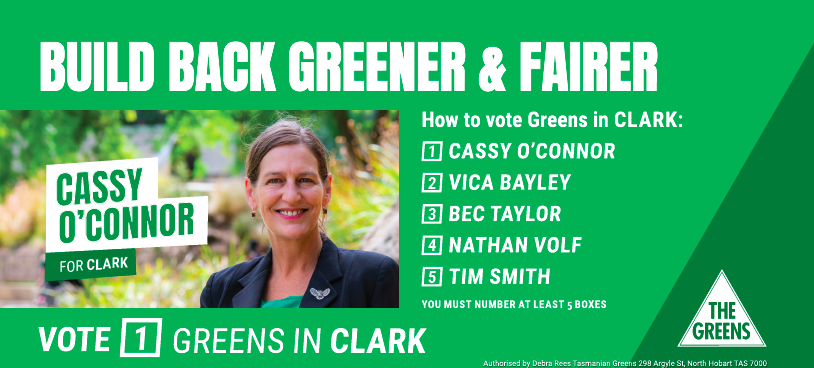 Franklin
Vote 1 Rosalie Woodruff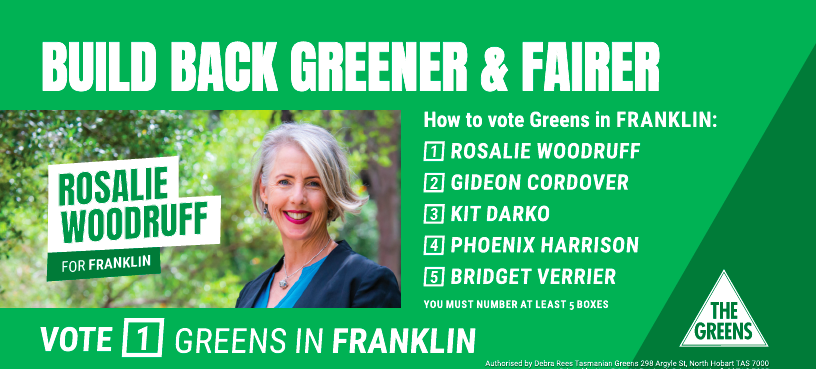 Bass
Vote 1 Jack Davenport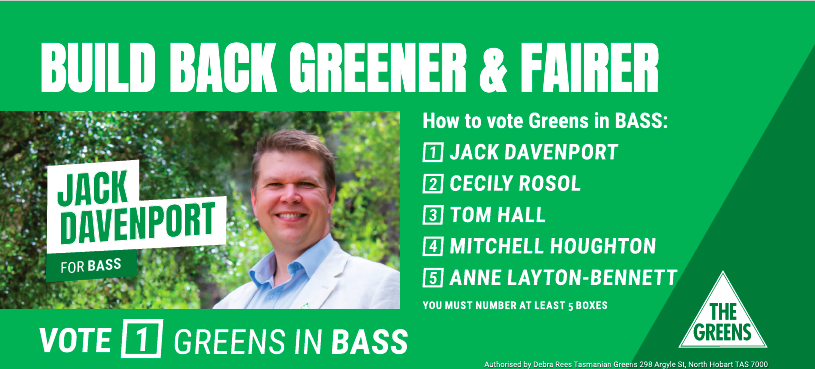 Lyons
Vote 1 Liz Johnstone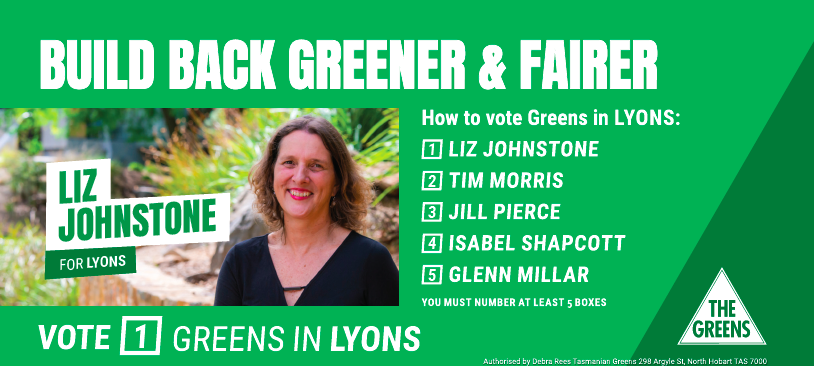 Braddon
Vote 1 Darren Briggs
Our election platform
Read more about our plan to invest in green skills and jobs, caring for Tasmanians and housing as a human right.