Work and Care
This landmark Senate report has called for a major overhaul of Australia's workplace laws to fix the crisis affecting workers with caring responsibilities.
In the first report of its kind, the Senate Select Committee on Work and Care, chaired by Greens Senator Barbara Pocock, has released key reform recommendations supported by the majority of the committee, including Labor members. 
---
Australia is mired in a work and care crisis which demands bold reform to fix an economic, gender equity and workforce catastrophe. The committee has investigated the ways in which Australians combine their jobs with the care of others - of children, parents, people with disabilities, of frail and aged friends and family. For too many, the system is not working.
The committee's report gives the government the blueprint it needs to revolutionise our workplace laws so Australians, and particularly women, can find a balance between working and caring responsibilities. Most Australians over the course of their lives will combine jobs with the care of others, sometimes for years at a stretch, and too many are struggling. They are time poor, face unpredictable hours at work and are forced to juggle their caring responsibilities with high costs and inflexible conditions. It's clear that this situation particularly affects women who pay lifetime penalties in lost income, reduced superannuation and relationships that are stressed and pressured.
The Report charts many factors that reduce our ability to provide care for our loved ones while we are in work. In response to these, the Greens are advocating legislative and policy changes on the following issues:
Read submissions to the inquiry or download a copy of the Senate Committee Work and Care report including the full list of recommendations.
A FOUR-DAY WORKING WEEK
The committee heard evidence from a range of sources urging a review of standard working hours with a view to reducing the standard working week. The benefits of productivity gains over past decades have been swallowed up by employers in higher profit margins while workers have maintained standard working hours with minimal wage increases. Trials around the world have demonstrated that by shortening working hours while maintaining pay levels, workplaces can keep productivity steady or actually improve it.
The benefits of a four day week were explained  by one health service provider in Queensland who conducted a six month trial with outstanding results. Workers were happier and more productive while being able to manage their home life and care responsibilities in a more relaxed and organised way. The trial was extended for a further six months while the results are evaluated and incorporated into a strategic plan.
The committee has recommended that the Australian Government undertake a four-day-week trial based on the 100:80:100 model whereby employees retain 100 per cent of the salary while reducing their hours to 80 per cent and maintaining 100 per cent productivity. The trial should be implemented in diverse sectors and geographical locations.
The Australian Government should partner with an Australian university throughout the trial to measure the impact of a four-day week on productivity, health and wellbeing, workplace cultural change, gender equality in the workplace as well as the impact on the distribution of unpaid care across genders.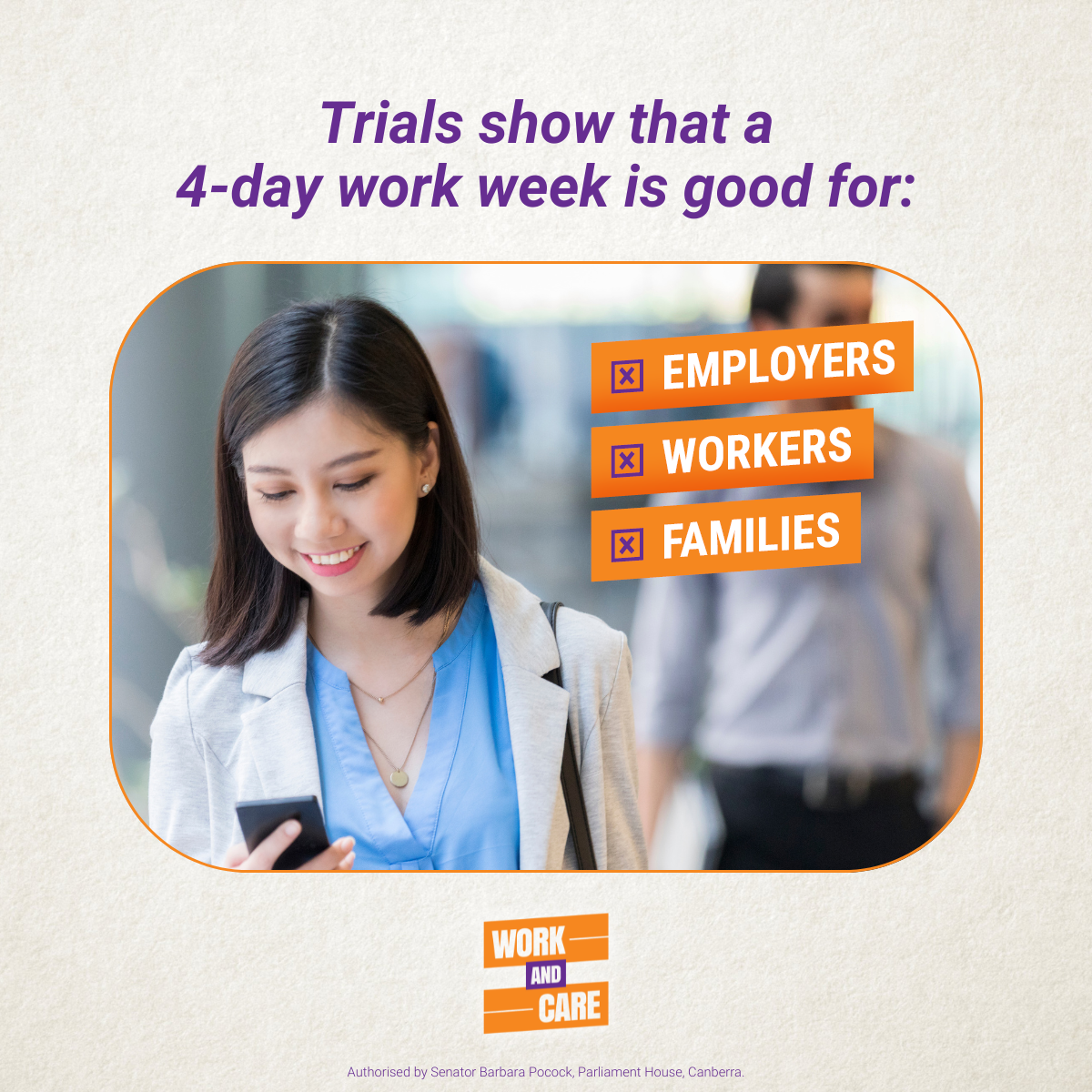 The right to disconnect
All workers should have a legislated right to disconnect
The incessant creep of availability where we feel the need to respond to work messages after hours is driven partly by technology which has basically put the office in our pocket 24/7, partly by the demands of our jobs and partly by our own insecurities – feeling the need to be across all our work-related tasks all of the time. When our responsibilities in the workplace spill over the traditional boundaries of 'knock-off time' we find ourselves juggling competing priorities of whether to answer a last-minute email or after-hours phone call, or play with the kids or take the dog for a walk. Now we face a crisis with around a third of our workforce experiencing physical tiredness, stress and anxiety and mental fatigue. A recent report from the Australia Institute shows Australian workers are working an average of six weeks unpaid overtime each year costing households over $92 billion in unpaid wages across the economy. This 'time theft' is costing the average worker something like $315 each fortnight.
The pressure on workers to be available at all hours, particularly when working remotely, clearly has serious implications for mental and physical health and increases work related stress. The Greens want to see a right to disconnect from work in federal law. We will continue working with the government to get everyone a right to disconnect and will keep pushing for the reform. Availability creep, where employees feel they need to be available all the time to answer emails and calls or catch up on work, has increased markedly during the pandemic and this has serious implications for mental health and work-related stress. Poor sleep, stress, burnout, degraded relationships and distracted carers are just some of the ways damage is caused by workers feeling they should be available at all hours.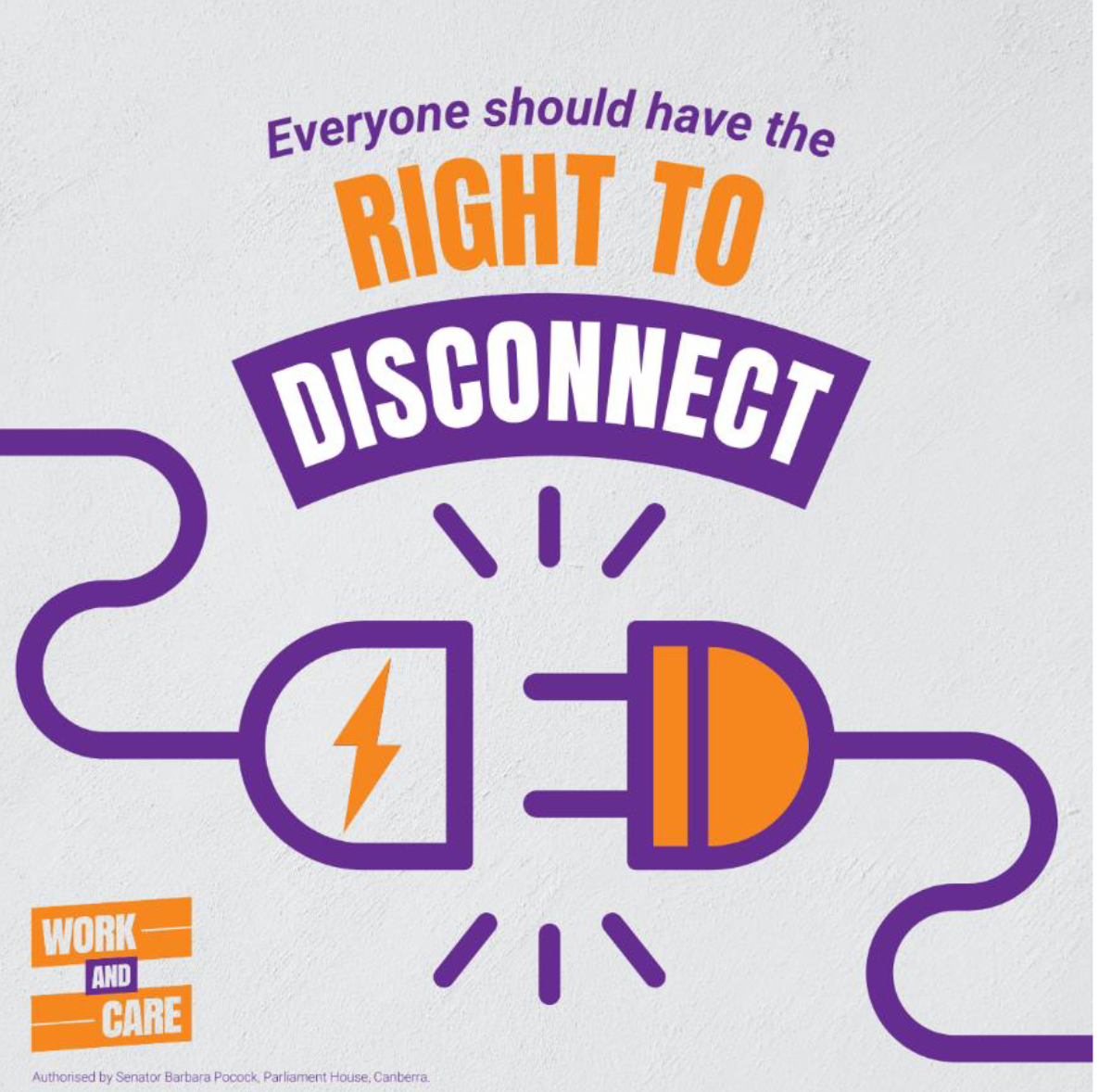 Decent pay and conditions for Carers
Wages in the formal care sector are too low and must be increased
It was made clear during the inquiry that low pay and poor conditions are key factors in the 'serious workforce sustainability problems' in the care sector. The ACTU gave evidence that one in three disability workers currently wants to leave their job, three in four ECEC educators plan to leave in the next three years, and over 60,000 aged-care workers leave every single year. Wage disparity and underpayment within feminised sectors, such as in aged and disability care, also serve to widen the gender wage gap, as the financial consequences are inevitably borne by women.
The committee heard that award reform is 'really the only avenue' to ensure that workers' time and skills are properly valued. The Committee has recommended the Australian Government support a priority application to the Fair Work Commission through the Care and Community Sector Expert Panel for award wage increases for all care sectors including early childhood education, disability care and aged care and all sectors covered by the relevant childcare and Social Community Home Care and Disability Services Industry (SCHADS) awards.
In order to address pay equity and to stem the flow of workers out of the care sector, such a priority application should draw the FWC's attention to:
- the need to reconsider and appropriately reward classifications, wage structures, conditions and entitlements across all  care sectors and awards, and under the SCHADS Award. This consideration should include appropriate relative pay          across the care sector reflecting the nature of work and qualifications, skills and experience. It should also recognise the impact of gender on caring roles and the unique skills, variability and value of care work;
- the appropriateness of care sector employees receiving payments for work-related travel time, administrative responsibilities and engagement with essential training; and
- the appropriateness of a minimum shift call-in time across the care sector (for example, a four-hour minimum or another identified suitable minimum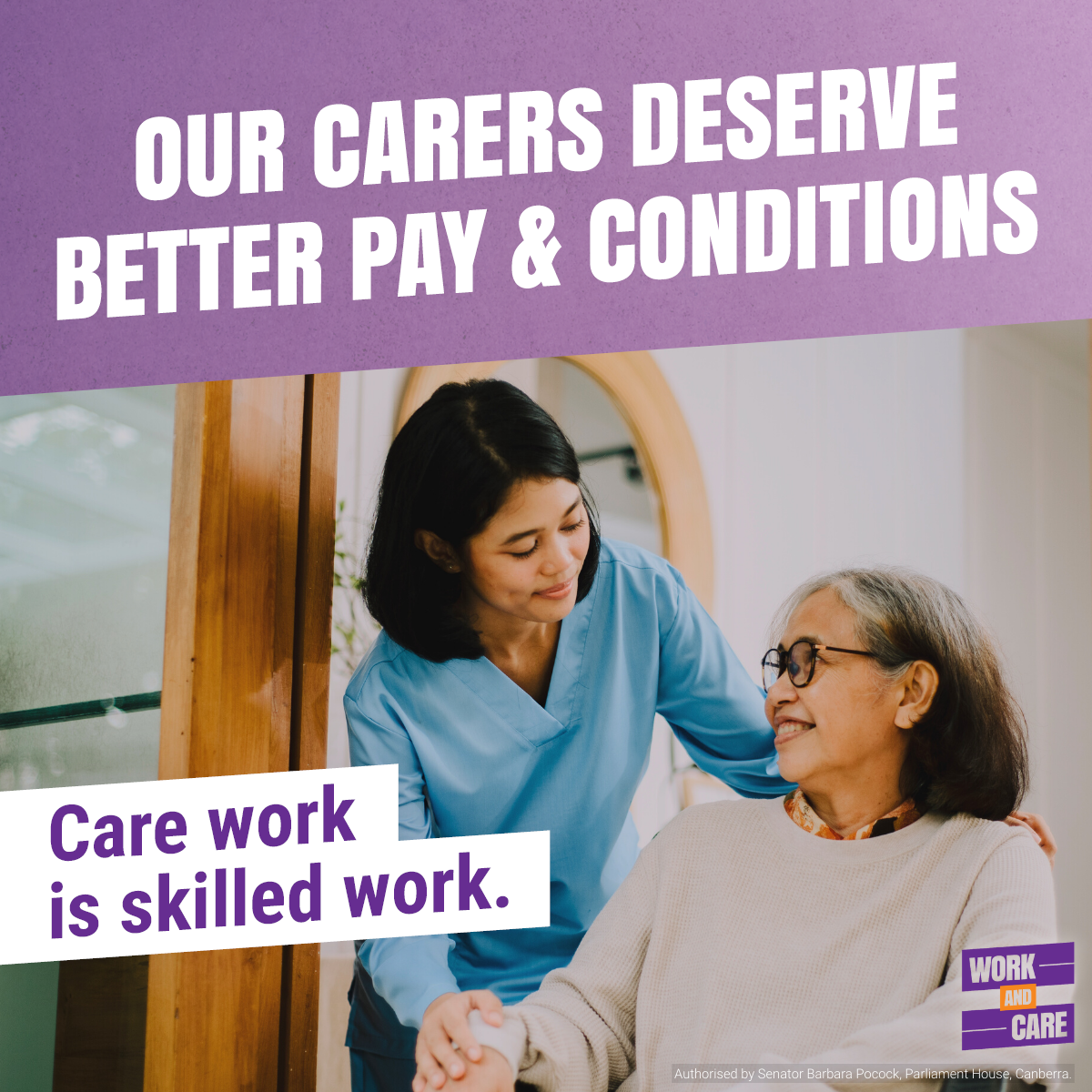 Paid Leave for Casuals
All workers should have access to paid leave
The Work + Family Policy Roundtable pointed to research showing that the lack of paid carers leave for casuals was resulting in around a quarter of employees not having access to 'paid leave when they provide care for, or experience critical illness or death of, family/household members'. As the Roundtable argued, 'paid leave policies that deliver job protection and time away from work for those with care responsibilities are essential to building gender equality in the workplace and in the home', and it called for casuals to have access to paid personal and carer's leave.
Australia has one of the highest rates of casual workers in the world which means a quarter of Australian workers don't get any paid leave. Half of our 2.6 million casual workers have been with their employer for over 12 months and almost 200,000 have been with the same employer for over 10 years. All workers should have access to paid sick leave otherwise they have to choose between going to work sick or missing out on income. Similarly, working carers with no leave entitlements have to give up income when they unexpectedly have to provide care. Paid leave for all workers with care responsibilities is essential to build gender equality in the workplace and in the home.
Casuals should also have access to paid holiday and carer's leave. The committee heard evidence from the Working Women's Centre SA that the casual loading doesn't fully compensate for the loss of leave entitlements and some casuals don't even get paid the higher rate. "Only half or fewer of casual workers are actually paid their full casual loading."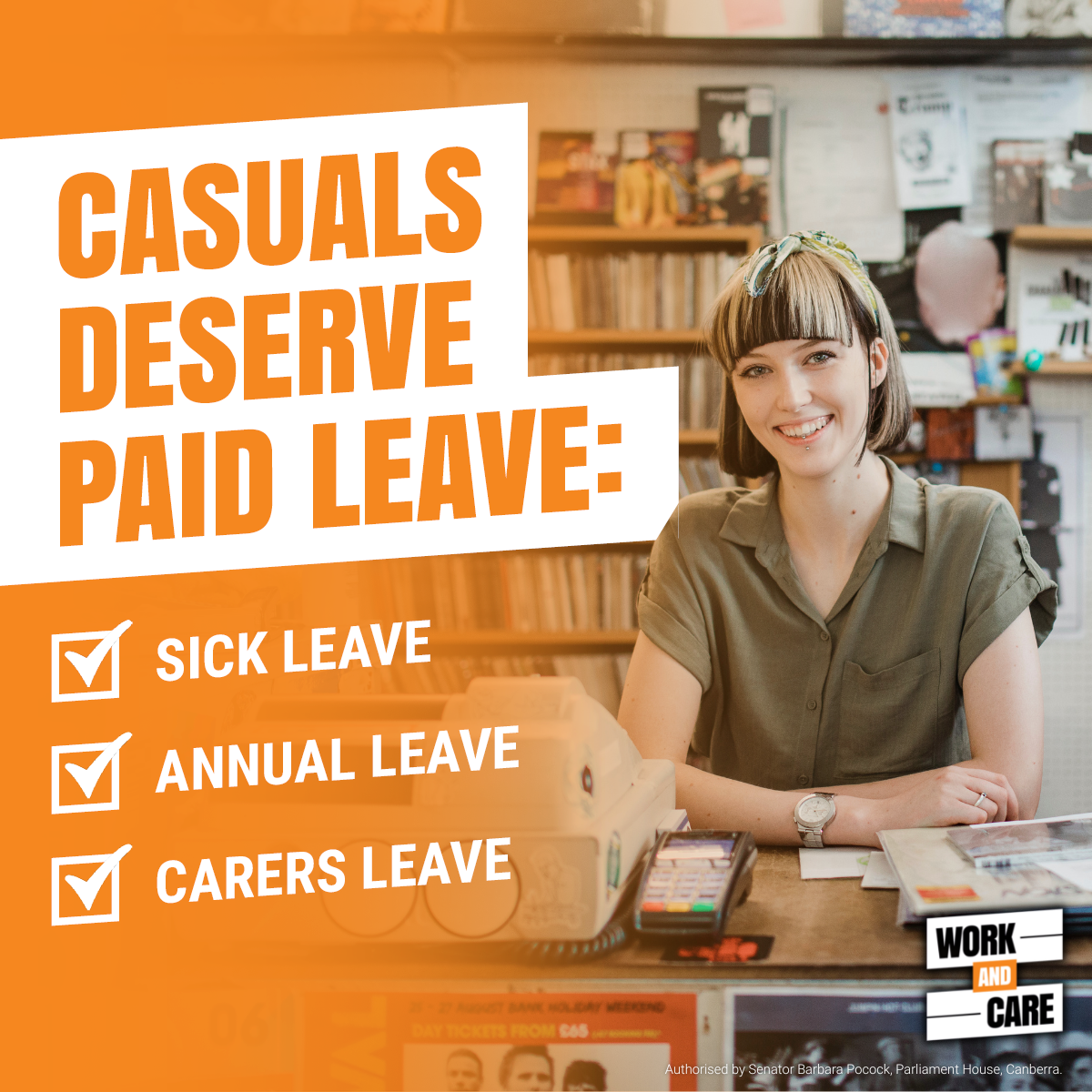 52 Weeks Paid Parental Leave
A pathway to bring Australia into line with the international standard of 52 weeks Paid Parental leave
Inadequate paid Parental Leave blocks women from keeping their jobs, hinders their career progression, contributes to the dominance of men in senior roles and contributes to the gender pay gap including reducing the amount of superannuation women have at retirement. In evidence to the inquiry, The Parenthood called for an Australian parental leave scheme of 52 weeks, equally shared between both parents, at full pay and attracting superannuation.
Parents need to be supported by paid leave systems, which allow families and carers to better balance their work and care responsibilities and to support children without financial or career detriment. For this to be effective Australia needs to catch up with the international standard of 52 weeks rather than the current 20 weeks which puts us far behind the most progressive nations, some of which have up to 3 years of Paid Parent Leave. If the average Australian woman had the same workplace participation patterns after having children as the average Swedish woman, she would earn an additional $696,000 over her working life; and retire with an additional $180,000 in superannuation.
Paid Parental Leave supports breastfeeding and improves parental relationships. It also encourages more gender equality in housework and caring roles and promotes better outcomes for children through engaged fatherhood. At a workforce level, the take-up of parental leave influences gender equality in management roles and improves diversity.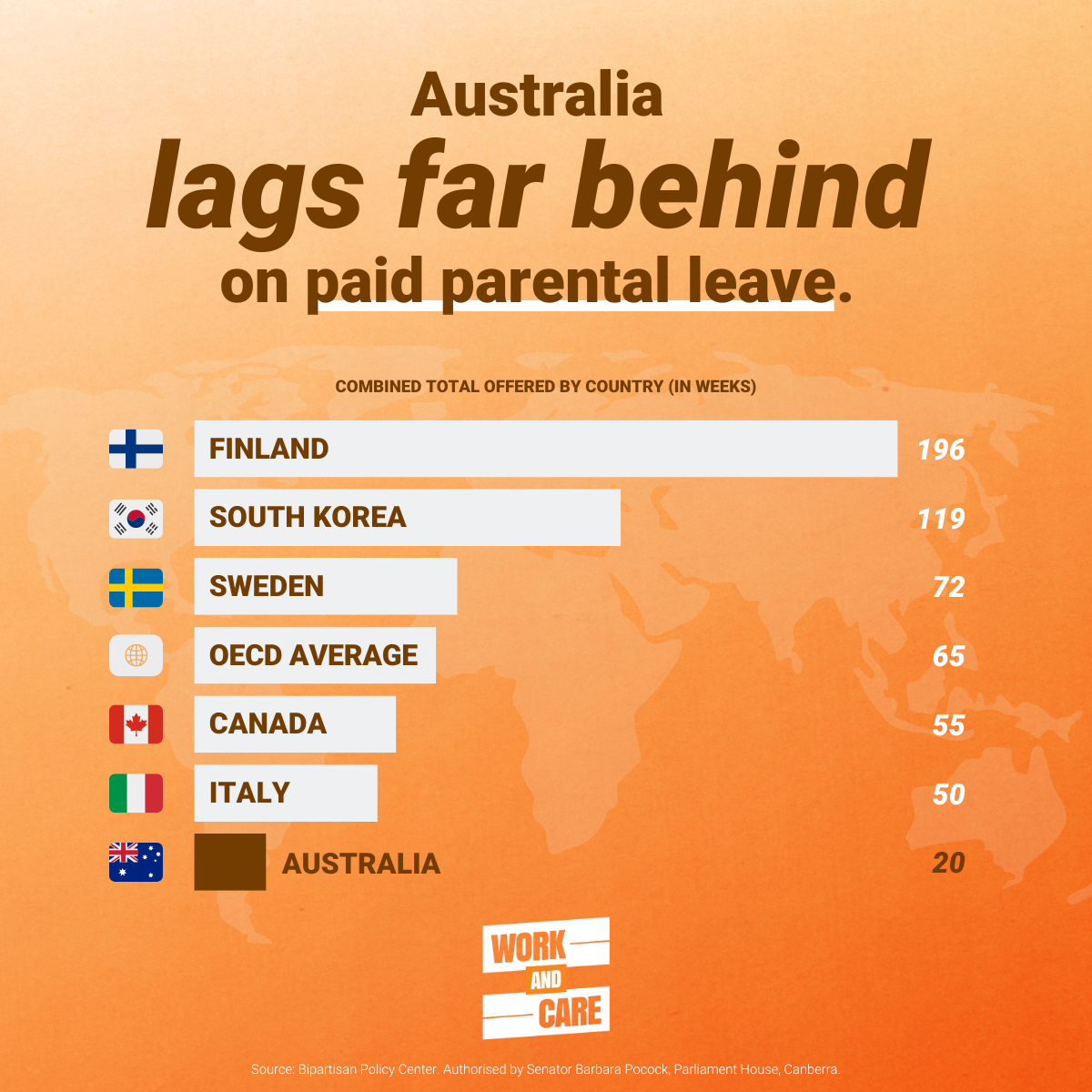 Roster Justice - predictable and stable rosters
All workers, including working carers, are entitled to a reasonable and consistent work schedule
Variable working hours and unexpected roster changes make unpaid caring impossible. Workers with caring responsibilities should be given input into their own schedules and must be free to raise issues with their employer, including seeking greater flexibility, without fear that doing so will affect their future engagement and opportunities with that employer.
The Committee recommends a review by the Fair Work Commission of its awards to require employers to give advance notice of at least two weeks of rosters and roster changes (except in exceptional circumstances) and genuinely consider employee views about the impact of proposed roster changes and to accommodate the needs of the employee. The committee also recommends a review by the Fair Work Commission to ensure employees have a 'right to say no' to extra hours with protection from negative consequences.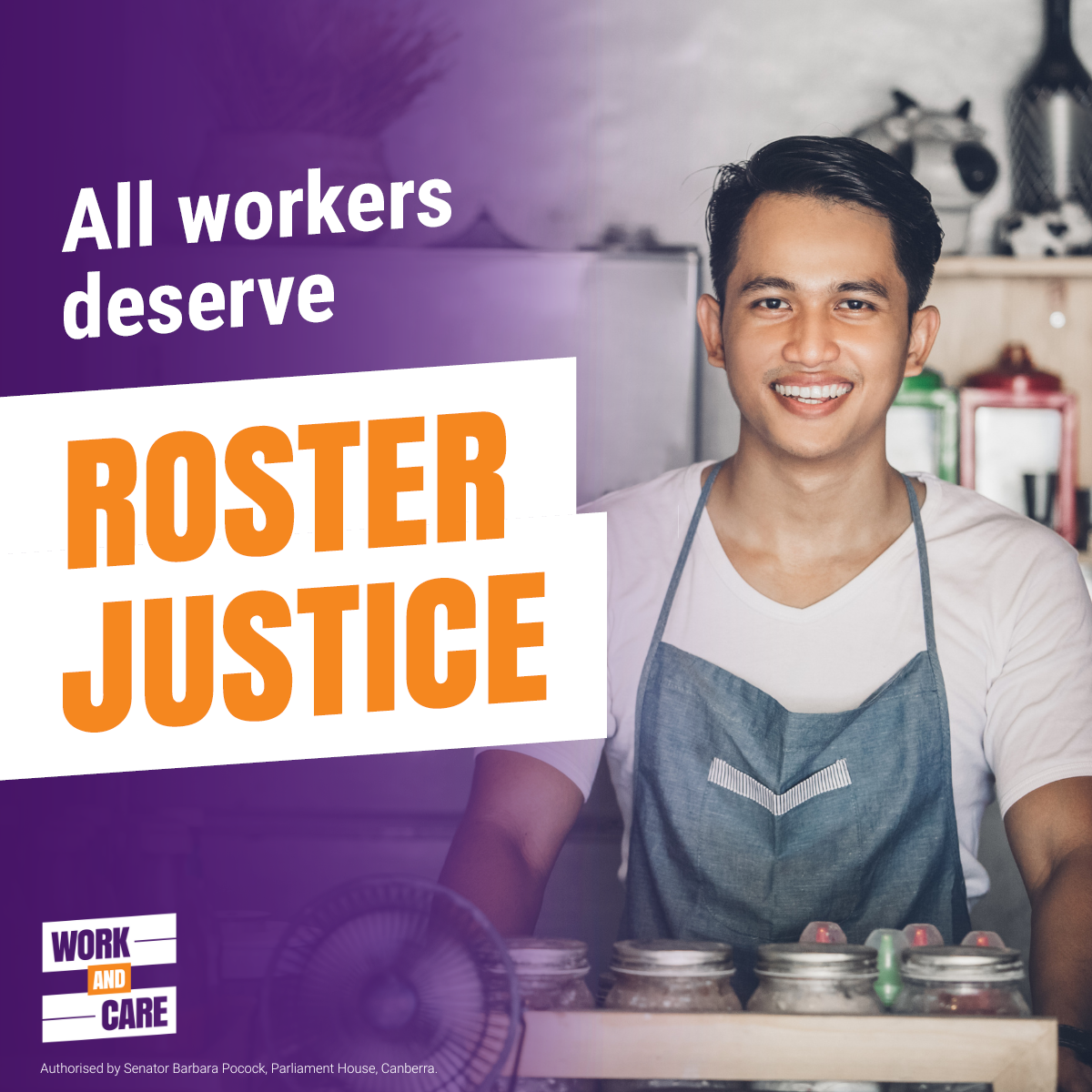 Free early childhood education and care
Every child should benefit from free, quality early childhood education and care
The current ECEC framework is lacking. It has not adapted to changing workforce conditions, especially the rise of shift and casual work, the gig economy and other insecure forms of employment for working carers.
Workers with child care responsibilities are being asked to choose between looking
after children, and engaging with paid employment and career progression.
The committee heard compelling evidence from a range of stakeholders about the need for quality, child-centred, place based, culturally appropriate early childhood education and care to be universally available and free. National Cabinet should now develop a policy framework which seeks to strengthen outcomes for children, their carers, childhood educators and childcare providers; be developed with active consideration of working carers, and especially women, to support better access to paid employment (including outside of core hours) while balancing work and care responsibilities; and address 'childcare deserts' by providing ECEC facilities in rural, remote and some regional areas, and ensure culturally-appropriate, community managed and trauma-informed ECEC is made available where needed, especially in First Nations communities.
The Government should also consider the provision of a further 100 publicly owned early childhood education and care centres, in areas identified as 'childcare deserts' and/or as having unmet demand. There should also be an increase in the hours of subsidised care to a minimum of 15 hours a week and maximum of 30 hours a week based on the needs of the child and their carers.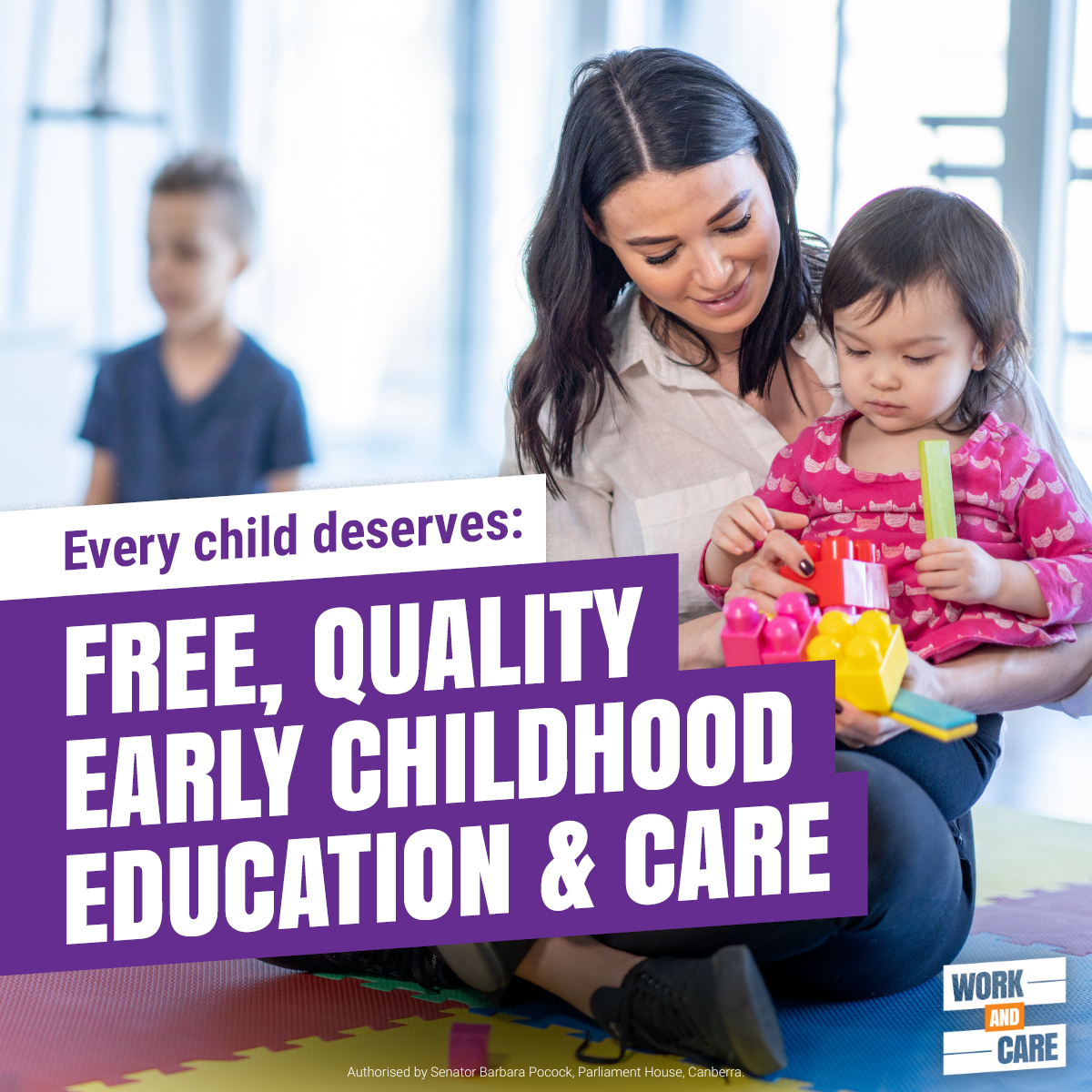 Valuing Care Work
Care work is important, complex and highly skilled work that is undervalued 
We need to value care work in the Australian economy in several ways:
Firstly, we need to measure the amount of care work provided by unpaid carers and factor this into our economic balance sheet. Estimates put the value of unpaid care at half of Australia's Gross domestic Product, a figure equivalent to $650 billion in 2016. This represents a substantial invisible contribution to the Australian economy that is not currently recognised. The ABS should be collecting data on the care economy and this should be factored into the budget.
Secondly, we need to recognise and reward the skills and expertise of our formal care workforce, the complexity of their jobs, and the unpaid hours they contribute to their work including substantial travel time. Workers in childcare, aged and disability care deal with an array of incredibly complex tasks that require high levels of knowledge, experience skill and judgement. Paying this workforce properly and ensuring appropriate levels of staffing is the first step in repairing a system that is in crisis.
Thirdly, formal care workers, who are mostly female, often have unpaid caring responsibilities outside the workplace which highlights the need for a range of supports in the form of access to formal care options, paid parental leave, gender equity measures and respite services that will relieve them of the stress of delivering both paid and unpaid care services around the clock.