A Future For All Of Us
Sign up to hear the latest from our movement as we build a future for all of us.
Kendall Trudgen for Casuarina
My name is Kendall. I'm standing for the seat of Casuarina in the coming Northern Territory election.
I offer to this service nearly 20 years of Northern Territory based work experience, as a community development worker, educator, mediator, and advocate. I have assisted and led successful projects in community controlled justice and peace-making, grassroots governance development and educational media- delivering material across a range of subjects, including health. I am strongly committed to the issues of political integrity, community empowered justice and security, and life needs like housing and shelter. I want to ensure the Northern Territory economy gives everyone opportunities long into the future, and this includes tackling climate change at the level of both cause and effect.
 
Billee McGinley for Nightcliff
My name is Billee and I am running in the NT election, for the seat of Nightcliff.
I moved to the NT in 2001 and have seen government after government supporting industries that exploit our land and water. As a scientist, this environmental mismanagement has inspired me to take action. There are some incredible opportunities here in the NT for us to build a renewable economy, where fracking has no place.
I've always found young people to be inspirational, and now, being a parent to a beautiful 3 year-old, I am doing everything in my power to secure a safe, fair and just future for her generation.
Aiya Goodrich Carttling for Johnston
My name is Aiya and I am running in the NT election, for the seat of Johnston. I was born in Darwin and, as a young person I feel that climate change is a critical issue for not only my generation, but all future generations. We will all live with the consequences of man made climate change and need to not just face these challenges as individuals, but also demand our governments take meaningful action.
I am optimistic for the future of the Territory and know with certainty that the future lies not in the pursuit of short term, climate-wrecking gains from fracking but with a commitment to revitalising our flagging economy and creating jobs through investment in renewable energy.
Shale gas FRACKING is an NT threat that poses global climate impact, and federal responsibilities.
Last year, the Morrison Liberal Government withheld GST funding until the fracking moratrium was lifted.
This year, the Shorten Labor Opposition pledged to waste $1.5 billion of public funds to build gas pipelines that will fast-track fracking the NT.
The Greens want a total, permanent ban on fracking.
Read our summary, and the complete Australian Greens policy on fracking.
Also see our statement about water.
Get Involved
What you can do to support us — every little bit counts!
Volunteer
Do you believe in a fairer, more inclusive, and greener Australia? Volunteer with us today and together we can make it a reality.
Donate
Unlike Labor and the Coalition, we don't have the deep pockets of big business.

We have something far more powerful: you.
Join
Join the Greens, and become a part of a vision of an Australia with the courage to take action on important issues.
Timothy Paris, Greens for Solomon
Last month, Bill Shorten announced $1.5 billion from the North Australia Infrastructure Fund for gas pipelines to open up the Beetaloo Basin. $1.5 billion is a lot of money and that much investment would kickstart any industry. What if, instead of propping up the mining industry we were to invest that $1.5 billion into solar energy infrastructure and create a renewable energy powerhouse; exporting energy to Australia and the world.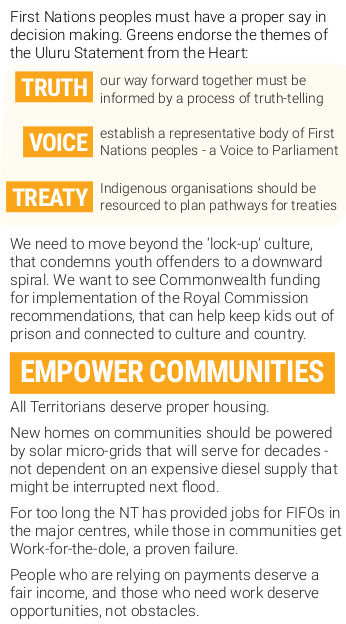 first nations policy
"CDP is indentured slavery and should be abolished" - George Hanna, Greens for Lingiari.

We want a return to the CDEP model of wages, not welfare.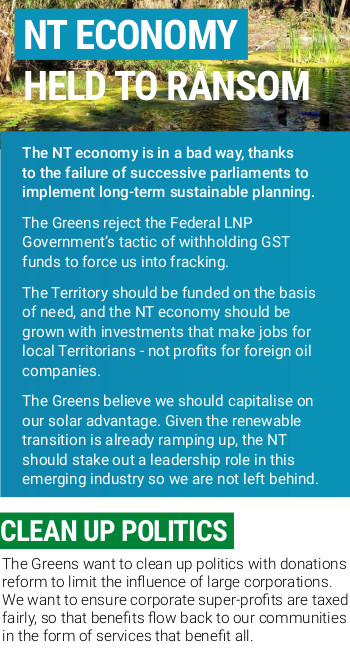 Cleanup politics
Both the big old parties in NT take oil and gas donations.

Lets strengthen our democracy so that it works for everyone.