A Future For All Of Us
Sign up to hear the latest from our movement as we build a future for all of us.
Peltherre Chris Tomlins for Braitling
My name is Peltherre Chris Tomlins and I'm standing for the seat of Braitling in Mparntwe in the 2020 NT election. I grew up in East Side when it was parallel to Apartheid conditions and I want attitudes in the whole of Mparntwe to change.
I want to heighten the responsibility that as adults, we must make sure that the children of our future generations are healthy and culturally connected. We must prioritise that kids stay on country and not get caught up in the criminal justice system, in custody. Our community must be youth centred. Keeping young ones out of the system and out of detention centres is preventing deaths in custody.
To have a safe and vibrant community, everyone has to make a change. The Police are no different and have to play a part in setting a good example with community values that are equal for everyone.
I am the co-founder of the Bonnet Series, a program that under invitation from Elders on community, upskills participants with trade experiences with volunteers with long term trade skills and experience. The Bonnet Series also promotes a technology exchange for culture through art on country and in community.
Dr Bernard Hickey for Araluen
My name is Dr Bernard Hickey, I am standing in the NT election for the seat of Araluen. I come from a rural and farming background in Victoria, I worked as a doctor in Tennant Creek from 1990 to 1995 at Anyinginyi Health and Tennant Creek Hospital. I was the Barkly Area Football League President from 1994 to 1995, consolidating and expanding it in its nascent years. I became a psychiatrist in 2001, and did remote work in Central Australia from 2007 to 2010. I worked with drug and alcohol rehabilitation and treatment in Melbourne, and continued in that role in Alice Springs since living full time in there from 2015.
Karen Fletcher for Goyder
My name is Karen Fletcher. I have lived in the rural area for over 30 years and I am concerned with the future health of our ground water supply and the broader Territory environment, with the introduction of Fracking. I am concerned with the health and education of our children and their future employment opportunities here in the Northern Territory. Which has motivated me to stand for Goyder as your local member championing a Green vision for our future.
We need to change our economy to embrace renewable energy, to supply long term local jobs and become a world exporter of power. Change our mining system to ensure that all Territorian's benefit and to keep the industry to a high standard of environmental practice. A vote for Karen Fletcher is a vote for a Green future powered by 100% Renewable energy, to generate hope for Goyder and to inspire change in others.
Timothy Parish for Port Darwin
My name is Timothy Parish, I'm a Darwin artist, film-maker and business owner who is passionate about the potential for creating solutions to local and global problems.
I believe that the role of Government is to create fair, equal models for us all to flourish and prosper both as a community and through sustainable economic models that will harness the potential within us all. As a vital part of my film-making career, I founded the Transitions Film Festival - an international film festival dedicated to exploring the environmental and social challenges of moving towards a sustainable economy. I strongly believe that, by putting our collective human genius to work, we can figure out how to address the climate challenges we are facing.
Peter Robertson for Fannie Bay
My name is Peter Robertson and I'm standing for the seat of Fannie Bay in the 2020 NT election.
After forty years of environmental campaigning around Australia, including as Director of the Environment Centre NT (2005-7), I am again seeing our politicians fail crucial leadership tests. Under the influence of fossil fuel lobbyists and Canberra bullies, plans are being developed for the NT that will deprive future generations of a safe climate, destroy rich cultural heritage and ignore opportunities for sustainable jobs.
If I am elected, I will place First Nations people, young people and science at the centre of decision making processes and strongly support local, sustainable jobs and enterprises, including renewable energy, high value organic farming and the arts and culture sector.
Billee McGinley for Nightcliff
My name is Billee and I am running in the NT election, for the seat of Nightcliff.
I moved to the NT in 2001 and have seen government after government supporting industries that exploit our land and water. As a scientist, this environmental mismanagement has inspired me to take action. There are some incredible opportunities here in the NT for us to build a renewable economy, where fracking has no place.
I've always found young people to be inspirational, and now, being a parent to a beautiful 4 year-old, I am doing everything in my power to secure a safe, fair and just future for her generation.
Aiya Goodrich Carttling for Johnston
My name is Aiya and I am running in the NT election, for the seat of Johnston. I was born in Darwin and, as a young person I feel that climate change is a critical issue for not only my generation, but all future generations. We will all live with the consequences of man made climate change and need to not just face these challenges as individuals, but also demand our governments take meaningful action.
I am optimistic for the future of the Territory and know with certainty that the future lies not in the pursuit of short term, climate-wrecking gains from fracking but with a commitment to revitalising our flagging economy and creating jobs through investment in renewable energy.
My name is Will and I'm running in the 2020 NT election for the seat of Daly.
I'm an ex-miner and I want to see old polluting mine sites properly rehabilitated. The Daly electorate has a lot of abandoned mine sites - one of the worst is the Rum Jungle uranium mine near Batchelor, which continues to pollute the Finniss River nearly forty years since rehabilitation first began. If I'm elected I'll push the government to finish the job and complete the rehabilitation of that disaster zone. The Finniss river will benefit, as will the Kungarakan and Warai Traditional Owners, who will finally get their land back. Rehabilitation will also create jobs and training for local people.
NT Greens Policies : 2020
Shale gas FRACKING is a threat to the NT that risks global climate impacts and ignores federal responsibilities
In 2018, the Morrison Liberal Government withheld GST funding from the Northern Territory until the fracking moratorium was lifted. The Gunner Labor government in the NT gave in to this blackmail.
Now, in the name of Covid-19 economic recovery, fossil fuel lobbyists and Morrison government bullies are pressuring the NT government to remove regulatory protections for the environment and communities. Given its track record, there is a very real chance the NT government will give in to this pressure too.
The Greens want an immediate, total, permanent ban on fracking.
Get Involved
What you can do to support us — every little bit counts!
Volunteer
Do you believe in a fairer, more inclusive, and greener Australia? Volunteer with us today and together we can make it a reality.
Donate
Unlike Labor and the Coalition, we don't have the deep pockets of big business.

We have something far more powerful: you.
Join
Join the Greens, and become a part of a vision of an Australia with the courage to take action on important issues.
Timothy Paris, Greens for Solomon
Last month, Bill Shorten announced $1.5 billion from the North Australia Infrastructure Fund for gas pipelines to open up the Beetaloo Basin. $1.5 billion is a lot of money and that much investment would kickstart any industry. What if, instead of propping up the mining industry we were to invest that $1.5 billion into solar energy infrastructure and create a renewable energy powerhouse; exporting energy to Australia and the world.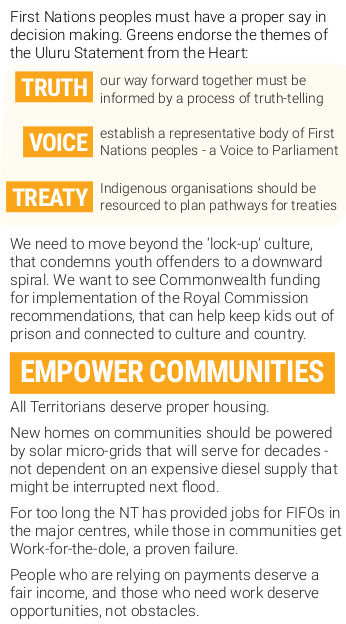 first nations policy
"CDP is indentured slavery and should be abolished" - George Hanna, Greens for Lingiari.

We want a return to the CDEP model of wages, not welfare.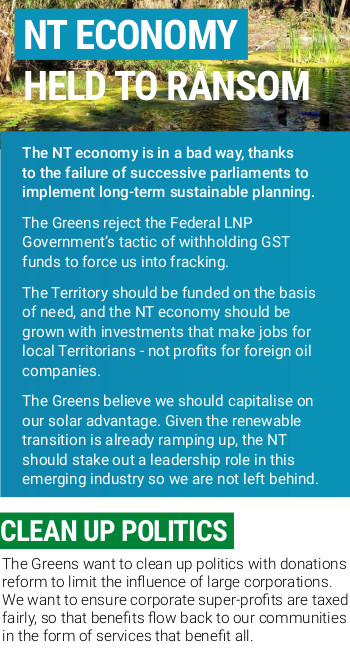 Cleanup politics
Both the big old parties in NT take oil and gas donations.

Lets strengthen our democracy so that it works for everyone.