A Future For All Of Us
Sign up to hear the latest from our movement as we build a future for all of us.
2021 Local government elections
The Territory needs a political alternative. The NT Greens are supporting strong community leaders to run in the Council elections on August 28, standing for local action for climate and nature, tackling inequality, and Councils that are open to everyone.
 
Find your candidate below. You can click through to find out more about them, as well as when and how to vote in the elections.
NT Greens Policies : 2020
Shale gas FRACKING is a threat to the NT that risks global climate impacts and ignores federal responsibilities
In 2018, the Morrison Liberal Government withheld GST funding from the Northern Territory until the fracking moratorium was lifted. The Gunner Labor government in the NT gave in to this blackmail.
Now, in the name of Covid-19 economic recovery, fossil fuel lobbyists and Morrison government bullies are pressuring the NT government to remove regulatory protections for the environment and communities. Given its track record, there is a very real chance the NT government will give in to this pressure too.
The Greens want an immediate, total, permanent ban on fracking.
Get Involved
What you can do to support us — every little bit counts!
Volunteer
Do you believe in a fairer, more inclusive, and greener Australia? Volunteer with us today and together we can make it a reality.
Donate
Unlike Labor and the Coalition, we don't have the deep pockets of big business.

We have something far more powerful: you.
Join
Join the Greens, and become a part of a vision of an Australia with the courage to take action on important issues.
Timothy Paris, Greens for Solomon
Last month, Bill Shorten announced $1.5 billion from the North Australia Infrastructure Fund for gas pipelines to open up the Beetaloo Basin. $1.5 billion is a lot of money and that much investment would kickstart any industry. What if, instead of propping up the mining industry we were to invest that $1.5 billion into solar energy infrastructure and create a renewable energy powerhouse; exporting energy to Australia and the world.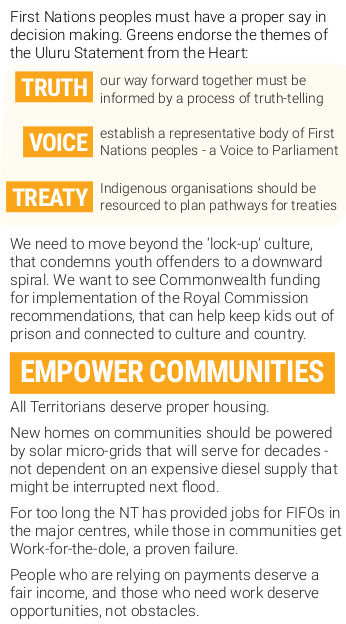 first nations policy
"CDP is indentured slavery and should be abolished" - George Hanna, Greens for Lingiari.

We want a return to the CDEP model of wages, not welfare.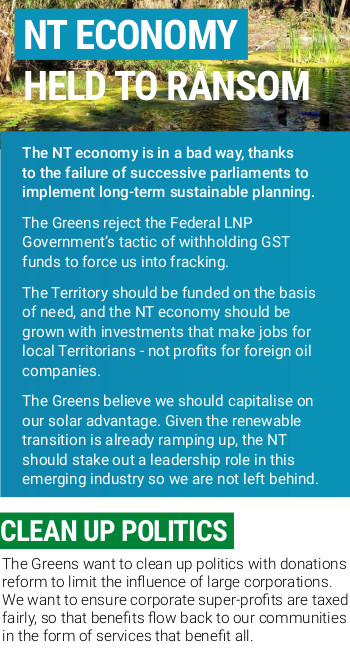 Cleanup politics
Both the big old parties in NT take oil and gas donations.

Lets strengthen our democracy so that it works for everyone.