The Bass Branch of the Tasmanian Greens covers the federal Bass electorate, including Launceston, surrounding suburbs, Dorset, Flinder's Island and George Town.
The Bass branch meetings are held on the third Tuesday of each month, 6:00-7:15pm, downstairs at The Gunners Arms Tavern, 23 Lawrence St, Launceston. The branch also holds a politics in the pub event at the same venue prior to the meeting from 5:30-6:00pm.
For more information, contact the Branch Convenor, Alison Jales at bass@tas.greens.org.au.
To hear from us on social media and about upcoming events, take a look at our Facebook page at "Bass Greens".
---
Map of Bass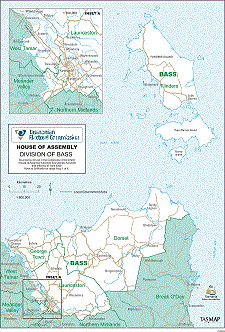 Click to see a larger version.