S
outh Australia is in the middle of a full blown housing crisis
. Adelaide is the second least
affordable city in Australia when it comes to rental affordability, while there are currentl
y
16,000 people waiting for social housing in the state. Meanwhil
e, the South Australian
Government has made no commitment to build any new public housi
ng.

Before Labor gutted it, the South Australian Housing Trust (SAHT) used to build homes for tens of thousands of South Australian workers. At its peak, SAHT was building 47 percent of all new residential dwellings in South Australia per year – that's the equivalent of 7,000 homes per year today. Because the SAHT provided homes for any worker who applied – not just the poor and homeless – it was able to generate enough income to be self sustaining, despite the fact rents were still capped at 20 percent of income. In fact, in the first 40 years of its existence the SAHT cost South Australian taxpayers nothing.
The Greens will:
| | |
| --- | --- |
| ▲ | Re-establish SAHT as a fully independent statutory authority responsible for housing and public infrastructure |
| ▲ | Provide funding for SAHT to establish a universal public housing scheme, building 40,000 quality public homes over four years, or 10,000 homes per year |
| ▲ | Cap rents at 25 percent of income or market rent, whichever is lower, and give tenants a lifetime right to their home and the right to pass their home onto to their dependents |
| ▲ | Create 10,000 good construction jobs a year |
| ▲ | Eliminate the social housing waitlist and ensure every South Australian has a place to call home |

Like Medicare, but for housing
Sixteen thousand of the homes will be allocated towards people on the social housing waitlist with the other 24,000 made available to anyone who applies with priority given to teachers, nurses and other key workers. This will ensure a good social mix of different workers, families types and incomes and avoid the concentrations of disadvantage that come with heavily means tested public housing.
By making the homes available to all South Australians, the SAHT will generate $1 billion in revenue over the first four years, which it will put back into maintenance and building more public housing. Just like Medicare, SAHT homes will be available to any South Australian who needs one.

Jobs and Homes for All of South Australia
The South Australia Housing Trust will build public housing across South Australia with homes built based on need and existing population. SAHT will leverage existing publicly owned land and brownfield sites, pursuing a strategy of good medium density, sustainable development. 40,000 public homes over four years
would more than double South Australia's current public housing stock from 32,147 to over 70,000 public homes. Which is comparable to the 60,000 public homes the SAHT managed prior to the decades of cutbacks carried out by Labor and the Liberals.

Good Public Infrastructure and Planning
SAHT will be given the power to construct crucial public infrastructure surrounding new housing developments including transport infrastructure, public parks and sporting facilities,  and have the power to recommend the construction of new public schools in areas of need.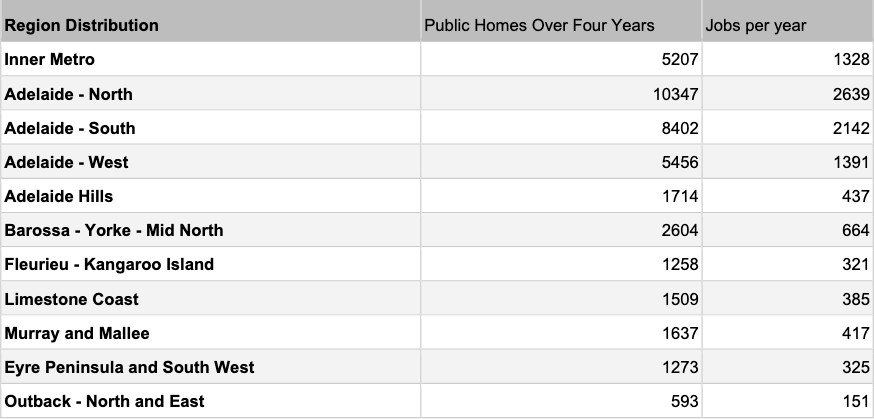 How we will pay
The SAHT will take advantage of record low interest rates and raise $16.5 billion in government bonds over four years to invest in good quality, universally available public housing and other crucial public infrastructure. After accounting for maintenance costs on the new housing SAHT will raise $617 million over the first four years in rental revenue, which will be invested back into more public housing and public infrastructure around the new developments.