We are in a housing crisis.

Here's how we fix it.
In a wealthy country like Australia, everyone should have a good, affordable place to call home.
Yet right now hundreds of thousands of people can't find an affordable home, rents are soaring, young people are locked out of owning their own home, and the wait lists for public and community housing are growing.
But in the middle of this massive crisis, Labor's five year housing plan will see the crisis get worse, because it does nothing for renters and will see the shortage of public housing end up bigger than it is no. 
The Greens are fighting for the millions of people Labor is leaving behind.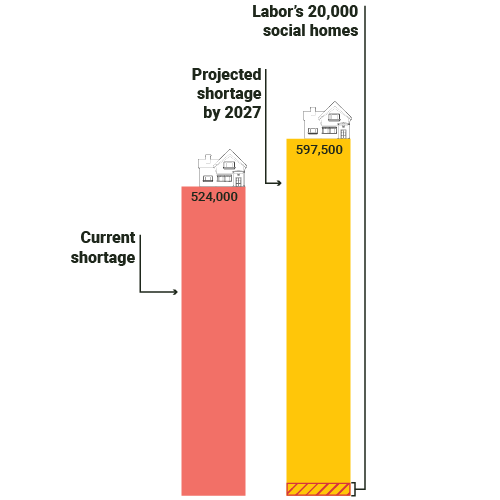 Labor's plan isn't enough.
With the shortage of public housing set to grow from 520,000 to 590,000 over the next five years, Labor's plan to build 20,000 public and community homes over five years won't even match the growth in need, let alone actually tackle the crisis.

Labor and the Liberals are committed to a housing system that makes massive profits for property developers and banks, who happen to also donate millions to the major parties.  In fact, in the latest Federal budget there is $157 billion worth of tax concessions for property investors, and nothing for renters. 

At the end of Labor's five year plan we will see more people waiting for social housing, more people struggling to pay the rent, more people homeless and more people being evicted. 
A decent home for all is possible.
It's likely Labor will need the Greens support in the senate to pass their housing plan. So the Greens will seek to negotiate significant improvements to Labor's plan. 
The Greens are calling on Labor to commit to:
Build 275,000 well designed social and affordable homes over the next five years
A national two year rent freeze
$5 billion in maintenance and upgrades for existing social housing.
All of this is possible.
Rather than spend $254 billion on the Stage 3 tax cuts for politicians and billionaires, Labor should invest that money in building good quality public housing, not just for the wore off, but the teachers, nurses, cleaners and other workers who need a good affordable home. 
Sounds good to you?
I need your help. 
 
Countries around the world have undertaken mass builds of beautifully designed public housing, with integrated public parks, community facilities and community gardens.

There's absolutely no reason why we can't win that here in Australia. 

But it's going to take all of us. 

Sign the petition calling on Labor to agree to our demands. 

I'm looking forward to fighting together for a future where everyone has a good place to call home