The strength and beauty of our community lies in its diversity. 
Everyone deserves to feel welcome and able to participate with confidence in the shaping of our collective identity and culture.
Too many groups feel unsafe, excluded, isolated, or not welcome because of who they are. Many others are unable to fully participate due to the design of our streets, buildings, and public spaces. 
Diversity will be key to cementing Canberra as a thriving city ready for the challenges our society and our planet face. To make sure the ACT is a place for everyone, the ACT government must invest in programs and infrastructure that makes everyone welcome and able to participate in our public life and spaces. 
Our policies and initiatives were designed in consultation with the communities they impact in order to create a Canberra for everyone. Critically, we recognise that these communities must also be given the autonomy to implement, review, and drive many of these programs for them to succeed.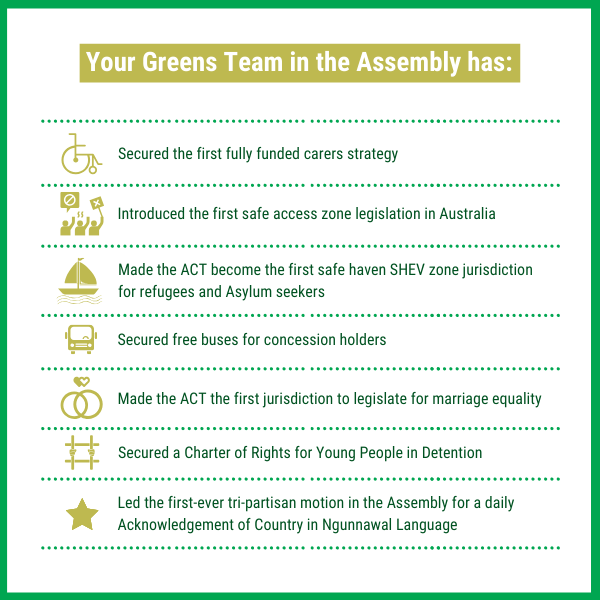 Our Plan
▲
Make Canberra a truly inclusive city by supporting all sexual orientations, gender identities and intersex rights More »
▲
Promoting social inclusion for people who are marginalised for any reason, by way of poverty, disability, age or cultural background More »
▲

Flexible work, including a 4 day work week and enabling people to work from home

More »
▲
Listening Deeply to First Nations People More »
▲
Ensuring healthcare is accessible for all More »
▲
Supporting older Canberrans to get around the city, get the information they need and strengthening responses to elder abuse More »
▲

Gender equality and the empowerment of women

More »
▲
Increasing and improving maternity services More »
▲
Reducing harm from drug and alcohol use More »
▲

Supporting our Community Sector with increased & guaranteed funding

More »
▲
Empowering young Canberrans to participate in our democracy More »
▲
Investing in Mental Health and Youth Mental Health
▲
Building communities, not prisons, via our justice reinvestement program More »
▲
Strengthening animal welfare More »