With Greens leader Shane Rattenbury as the ACT's Climate Change and Sustainability Minister, the ACT Government is taking strong and meaningful steps to both mitigate and adapt to climate change. 
From 1996 - when the ACT Greens called on the ACT Government to develop a greenhouse gas reduction target specifically for the Territory – to the consecutive Parliamentary Agreements that have locked in world-leading targets for emissions reductions and renewable energy, the Greens have consistently and successfully pushed the Government to achieve real climate change outcomes in the ACT. 
We're proud of our climate action achievements, ensuring that:
•    The ACT is on track to achieve 100% renewable electricity by 2020, a project which has seen us lead the nation, bringing new jobs, investment, and innovation in the ACT
•    The ACT is on track to achieve a 40% reduction in greenhouse gas emissions on 1990 levels by 2020; a leading target that is consistent with the Paris Agreement on climate change
•    The ACT is working towards its new world leading target of zero net emissions by 2045, which over the coming decades will transform the ACT into a sustainable, healthy, and carbon-neutral city.
Local climate action: Thinking Global, Acting Local
Climate change is already impacting our environment, economy, and local way of life - and the impacts will amplify for future generations of Canberrans.
The ACT Greens are ensuring there is strong local action on climate change, and at the same time providing local benefits that improve Canberra's liveability and amenity.
Some of the local initiatives secured by the ACT Greens include:
Significant new investment in sustainable transport including walking, cycling, buses, and the ACT's first stage of light rail, high quality public transport option that will run on 100% renewable electricity
Construction of wetlands across Canberra that will improve water quality, support biodiversity, and protect against increasing urban heat
Reducing waste by banning lightweight plastic bags, introducing a container deposit scheme, and expanding public recycling options
As ACT Greens Climate Change Minister, Shane Rattenbury launched a nation-leading zero emissions vehicles strategy to ensure the ACT rapidly transitions to clean, green vehicle technology.
Greens taking climate change to the national and international stage
As part of their balance of power arrangement, the ACT Greens Shane Rattenbury is the ACT's Minister for Climate Change and Sustainability. We're taken the ACT's climate change action to the national and international stage by:
Representing the ACT on the COAG Ministerial Energy Council, where we're fighting for strong national emissions reduction policies at the Federal level
Talking to global audiences at the Global Climate Action Summit in the US and the Zero Emissions Vehicles Summit in the UK about the ACT's world leading work on climate change, renewable energy, and zero emissions vehicles
Signing the ACT onto cooperative agreements on climate change, and developing relationships with world cities, including through the Powering Past Coal Alliance and the Under 2 MOU.
Working with the community to take climate change action
The ACT Greens believe in working with our local community to tackle climate change.
The community plays a critical role in reducing greenhouse gas emissions. As the ACT transitions to 100% renewable electricity, transport and natural gas will become the ACT's biggest source of greenhouse gas emissions. Tackling these emissions requires increased participation by the community, especially as people's travel and energy choices change.
In this context the ACT Greens are pursuing and securing funding for policies that:
Prioritise shared and sustainable transport such as public transport (buses and light rail), cycling, walking, and zero emissions vehicles
Support the community to transition away from using natural gas, including facilitating and incentivising all‑electric buildings and suburbs
Opposing polluting waste treatment options such as incineration and supporting environmentally-friendly waste treatment options, to help us reuse waste and resources in a sustainable way. In particular, we need to collect and sustainably process organic materials such as food waste, to create reusable materials, and to stop it breaking down in landfill and releasing greenhouse gases.
The ACT Government is also investing $15.9 million over four years to upgrade the heating systems across nine ACT public schools. This will improve heating systems across nine public schools, replacing these aging and inefficient systems with low to zero emission alternatives.
The Greens are acting to protect our environment, and everything that depends on it. And as the challenge of climate change confronts humankind, we are committed to building a future that everyone can enjoy.
The ACT Climate Change Strategy 2019-2025 and Living Infrastructure Plan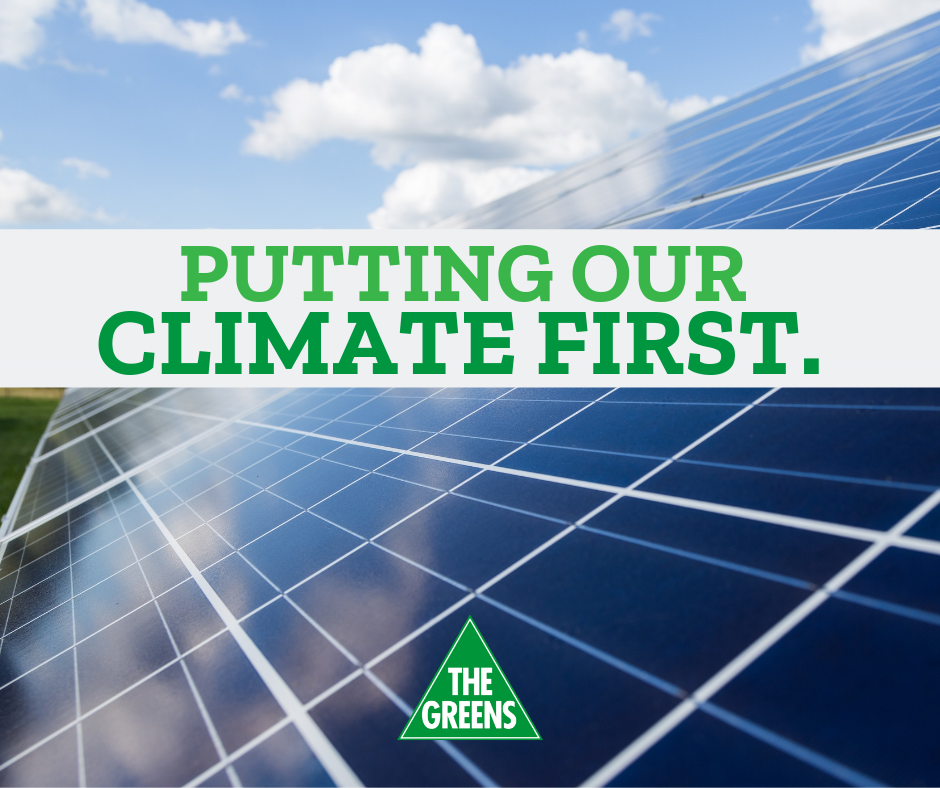 Under the ACT Climate Change Strategy 2019-2025 and Living Infrastructure Plan:
With Greens in Government, the ACT is now the first Australian state or territory government to commit to:
Transitioning to a zero emissions bus fleet by 2040
Phasing out gas by 2045
Adopting a social cost of carbon for emissions 
Meeting emission reduction targets without the purchase of offsets
Delivering all new Government buildings as all-electric 
Delivering all new public schools as all-electric 
Transitioning to a zero emissions government passenger vehicle fleet
Developing a pathway to zero emissions hospitals.
The Greens have also committed the Government to:
Plant hundreds of thousands of new trees and other 'green infrastructure' as part of a new 30% tree canopy cover target to help keep our city cool  
Deliver more battery storage for homes and small businesses
'Future-proof' our city to encourage more developers to build more all-electric and zero emissions suburbs, reducing our emissions and cutting energy bills for Canberra residents 
Require more climate-wise buildings for the Canberra of the future, not the past 
Prioritise investments in sustainable transport, like light rail, buses and active transport, including adopting leading infrastructure standards
Improve energy efficiency options for Canberra homes, small businesses and schools
Deliver new programs that will reduce energy use, cut energy bills and improve comfort for renters and home owners
Legislate to guarantee that our 100% renewable electricity target will always be maintained, once achieved by 2020
Divert more waste from landfill, including green bins that can take organic wast that can take organic waste from households, programs to recycle commercial organics, and new facilities to recycle organics sustainably 
Do more for climate justice, ensuring that vulnerable and low-income Canberrans are supported in the clean energy and renewables transition.