As Canberra swelters through another record-breaking summer, the Greens today expressed concern that proposed Government rule changes will fail to provide the increased tree cover that Canberra needs in the future.
In September last year, Greens leader and Minister for Climate Change and Sustainability, Shane Rattenbury, launched Canberra's Living Infrastructure Plan, which committed the Government to bold new targets: a 30% tree canopy cover and 30% surface permeability by 2045. The Plan sets out the steps that will be taken to get to the targets, including making changes to planning laws. 
However, Planning Minister recently released Draft Territory Plan Variation 369 – Living Infrastructure in Residential Zones, which Greens analysis indicates will not achieve these targets. For some development types, such as multi-unit developments, the tree canopy requirement is as low as 15%.
"The Greens fully support the commitment to 30% tree canopy cover; that is a target that will help us adapt to climate change and make our city more cool and liveable. But the Government must act and plan consistently with that target to ensure it is met," ACT Greens Planning spokesperson Caroline Le Couteur said today.
"The Government's proposed planning rules are not good enough to ensure a suitable future tree canopy. They aren't consistent with the tree canopy targets. We're calling for improvements to ensure Canberra has sufficient trees in the future; it is what Canberrans want, and it is particularly important as the climate warms," Ms Le Couteur said.
Greens Minister Shane Rattenbury echoed Ms Le Couteur's comments and underlined the need for amend proposed planning changes to ensure the ambitious tree canopy and permeability targets are realised.
"The Greens are here to ensure the ACT Government makes ambitious climate change commitments, and then sticks to them. These proposed planning changes won't deliver what has been promised, particularly when it comes to trees. We can't let the Government fall at the first hurdle, and the Greens will be seeking changes," Mr Rattenbury said. 
"Canberrans want to live in a city where trees feature prominently, as they provide amenity, habitat, and keep the environment cool as the climate warms," said Mr Rattenbury.
The Greens have long advocated to improve tree canopy in Canberra. Recently, Caroline Le Couteur introduced a motion in the Assembly, calling for three reviews to 'make room for trees' in development and to get better protection for existing trees. In 2019, Mr Rattenbury launched the Living Infrastructure Plan, which committed the Government to a range of actions and targets.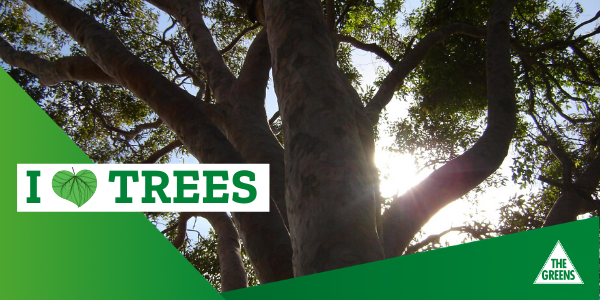 If you would like to make a submission to the ACT Government on this issue:
View the Draft Variation and find out more here
Email your submission to terrplan@act.gov.au or post to Territory Plan Section, EPSDD, GPO Box 158, Canberra, ACT 2601 by 3 April 2020 (Extended from 28 February)
Suggested points to include in your submission
Cooling our city for climate resilience
Protecting our urban forest, increasing tree canopy cover and increasing surface permeability are critical for maintaining the liveability of our city in a changing climate.
Why permeable surfaces are important
The lack of permeable surfaces in our urban areas has an impact on water quality and urban heat. Making more of our city surfaces permeable is important for retaining moisture in the soil to support plants, cooling the city and slowing stormwater runoff to reduce flash flooding.
The value of trees
Our urban trees provide habitat for wildlife, offer shade to cool our city and add to the beauty and culture of our city. Street trees can also add value to properties as well as improving quality of life.
Stronger rules are needed for residential development
The Draft Variation doesn't go far enough and should be amended to be consistent with achieving the 30% canopy cover and 30% surface permeability targets.

The currently proposed canopy cover requirement for multi-unit developments (RZ1-RZ5) is only 15%. This is less than the current canopy in many suburbs and if we set such a low requirement many residential areas could see canopy cover reducing over time.

The planting area for single dwellings should be 30% for all block types, including mid-sized and rear-loading compact blocks. Anything less is not consistent with achieving 30% surface permeability.

The proposed changes to site coverage and open space are welcome and important steps in implementing the Living Infrastructure Plan.
Changes are needed in how our suburbs are developed
The Draft Variation should also include changes to the Estate Development Code to introduce 30% tree canopy cover targets for new suburbs. This would make sure new suburbs get the benefit of large street trees that our older suburbs have. 

The Draft Variation should also include changes to amend the City and Gateway Draft Variation 368 to include 30% canopy cover targets. This would make sure that any new apartment developments on Northbourne Avenue which are approved after this territory plan is approved include large trees. 
The Greens strive to maintain Canberra as the 'bush capital', to ensure any new suburbs are built with enough room for large trees, and to prevent the loss of so many trees to redevelopment. We're pushing for a better outcome on Canberra's living infrastructure, and we hope that you join us by making a submission.
For more information and guidance on making a submission refer to the linked PDF below.