Transport is Victoria's biggest growing source of carbon emissions. Polluting petrol vehicles produce around a quarter of our state's emissions - the equivalent of one coal fired power station.
We need a massive increase in train, tram and bus services to cut climate-damaging transport emissions and make sure that Victorians can get where they need to go – faster. 
People shouldn't have to wait 20 minutes, and often much longer, for their train, tram or bus to turn up.
The Greens have a plan to massively increase public transport services to reduce wait times and support people to make the shift to climate-friendly public transport. 
The Greens plan includes:
A massive increase in services for metropolitan trains and trams including:

Trains and trams running every 5-10 minutes from 7am - 7pm, seven days a week across almost the entire network. 

Early morning and late-night services running every 10 minutes all week

A Solar powered high frequency electric bus network across Melbourne and regional cities

Fast tracked planning and early works of new tunnels and tracks to increase services across Melbourne and Regional Victoria.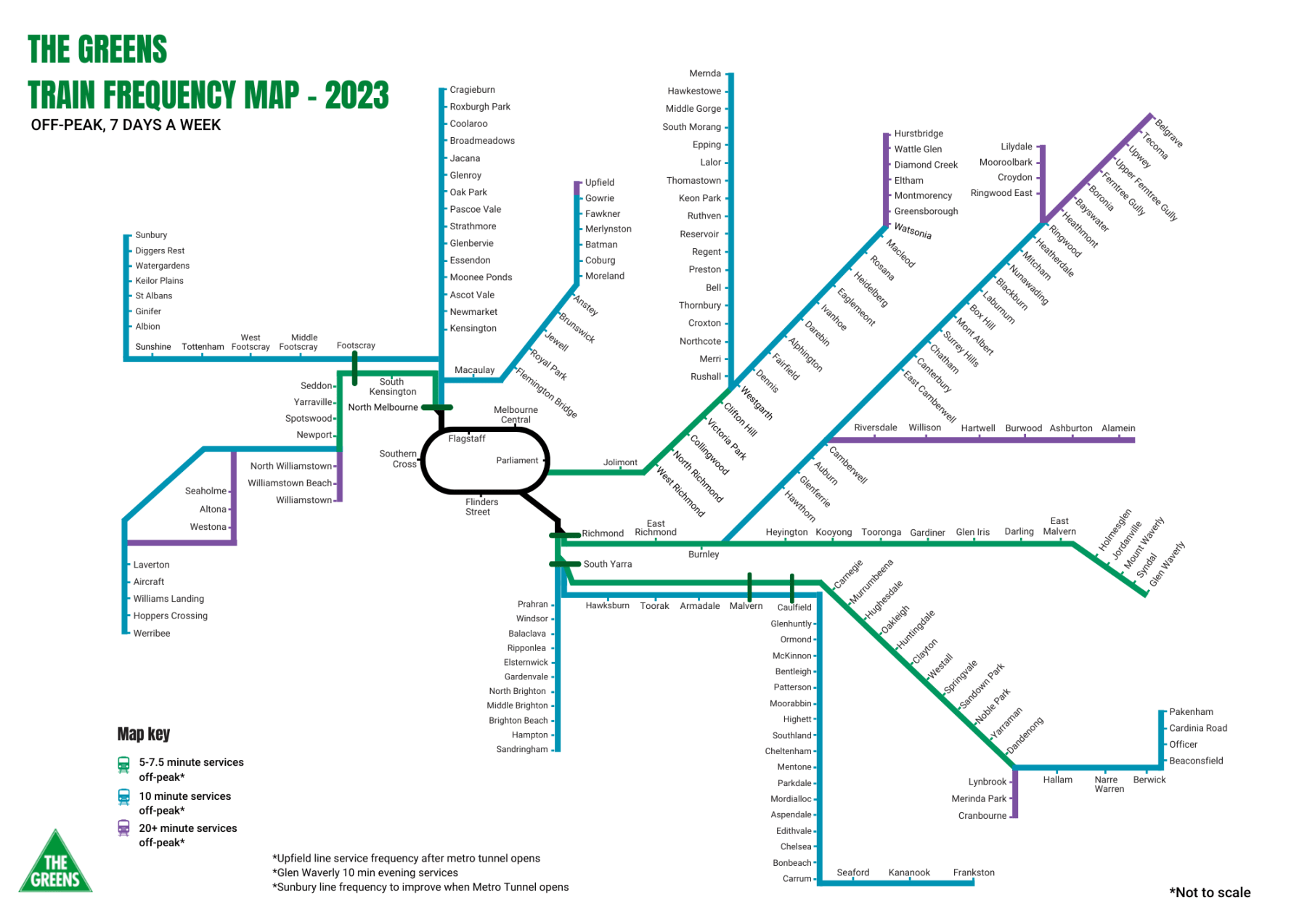 The Greens plan for more trains

TRAIN LINE

Greens Off-Peak Frequency 7am - 7pm All week

Current Day Off-Peak Frequency

Greens Evening

Current Evening

Dandenong
5 mins
10 mins
6-7 mins
10 mins
Pakenham
10 mins
20 mins
10 mins
20 mins
Cranbourne
20 mins
20 mins
20 mins
20 mins
Clifton Hill
5 mins
10 mins
5 mins
10 mins
Mernda
10 mins
20 mins
10 mins
30 mins
Hurstbridge
(Various dep. points)
10 mins
30-40 mins
10 mins
up to 60 mins
Ringwood
10 mins
15 mins
10 mins
15 mins 
Newport
6-7 mins
10 mins
6-7 mins
10 mins
Werribee
10 mins
20 mins
10 mins
20 mins
Williamstown
20 mins
20 mins
20 mins
20 mins
Craigieburn
10 mins
20 mins
10 mins
30 mins
Upfield
10 mins
20 mins
10 mins
30 mins
Sunbury
10 mins
20-40 mins
10 mins
30 mins
Frankston
10 mins
10 mins
10 mins
20 mins
Sandringham
10 mins
15-20 mins
10 mins
20 mins
Glen Waverley
7.5 mins
20 mins
10 mins
30 mins
---
The Greens plan for more trams

| TRAM ROUTE | Greens Off-Peak Frequency 7am - 7pm All week | Current Day Off-Peak Frequency | Current Weekend Frequency | Greens Evening Frequency | Current Night Frequency |
| --- | --- | --- | --- | --- | --- |
| 1 | 8 mins | 11 mins | 12 mins | 10 mins | 20 mins |
| 3 | 12 mins | 12 mins | 12 mins | 12 mins | 20 mins |
| 5 | 11 mins | 12 mins | 15 mins | 11 mins | 20 mins |
| 6 | 7 mins | 12 mins | 12 mins | 10 mins | 20 mins |
| 11 | 6 mins | 10 mins | 12 mins | 10 mins | 15-20 mins |
| 12 | 7 mins | 10 mins | 10-20 mins | 10 mins | 15-20 mins |
| 16 | 10 mins | 12 mins | 12 mins | 10 mins | 15-20 mins |
| 19 | 5 mins | 6 mins | 8 mins | 10 mins | 15-21 mins |
| 30 | 10 mins | 11 mins | 15 mins | 10 mins | 15 mins |
| 48 | 8 mins | 10 mins | 12-20 mins | 10 mins | 15-20 mins |
| 57 | 6 mins | 7 mins | 8-20 mins | 10 mins | 15-21 mins |
| 58 | 5 mins | 8 mins | 10 mins | 10 mins | 12-20 mins |
| 59 | 7 mins | 7 mins | 7-20 mins | 10 mins | 15-20 mins |
| 64 | 12 mins | 15 mins | 15-20 mins | 12 mins | 15-20 mins |
| 67 | 11 mins | 12 mins | 15-20 mins | 11 mins | 15-20 mins |
| 70 | 9 mins | 9 mins | 12-20 mins | 10 mins | 20 mins  |
| 72 | 11 mins | 11 mins | 12-20 mins | 11 mins | 20 mins |
| 75 | 9 mins | 10 mins | 12-20 mins | 10 mins | 15-20 mins |
| 78 | 10 mins | 12 mins | 15 mins | 10 mins | 20 mins |
| 82 | 10 mins | 15 mins | 15 mins | 10 mins | 20 mins |
| 86 | 6 mins | 7 mins | 10-20 mins | 10 mins | 15-20 mins |
| 96 | 6 mins | 7 mins | 10-15 mins | 10 mins | 15-20 mins |
| 109 | 8 mins | 8 mins | 10-12 mins | 10 mins | 15 mins |