In the beginning
Once upon a time there was no Greens (WA). There was a party called the 'WA Green Party', the only political party that could call itself 'Green' on the ballot paper in WA elections. There was also a Senator, Jo Vallentine, willing to become a Greens senator if various like-minded progressive movements could come to a merger agreement. 
On 1 January 1990 the Greens (WA) were created when the Green Earth Alliance, representing the Alternative Coalition Inc, Vallentine Peace Group and 'certain supporters' of Green Development merged with the WA Green Party by adopting the Constitution of The Greens (WA) in the Sunken Gardens at The University of Western Australia. The agreement was signed by 11 office bearers and key signatories of these four groups. A further 115 witnesses signed as 'those present'.
The foundation groups were spurred in 1989 by the likelihood of a Federal election, which was indeed called for 24 March 1990. Jo Vallentine polled the highest Greens vote in the nation, 8.3% of the primary vote, and won her seat on preferences. She was the first Greens Senator in Australia (not Bob Brown!). Jo ran on the first ever all female senate ticket with running mates Christabel Bridge (later Chamarette, who completed Jo's six-year term) and Gladys Yarran (the first Indigenous woman to run for the Senate).
An enduring structure
The original Constitution laid out the structure we are familiar with today. Grassroots Electoral Councils (now called Regional Groups) would send rotating representatives to the decision-making Representatives Council. A Quick Decision Making Group and a number of working groups were created including an Election Campaign Committee. Trish Cowcher has played a key role as ECC Convenor, recently replaced by the equally able Rose Newbury-Freeman (co-convening with Elliott Sawers).
Growing professionalism in campaigning has been achieved since 2013 by Jess McColl, Andrew Beaton and Sophie Greer as campaign managers and field directors. Generally, our campaign fundraising has also grown under Annabelle Newbury's eagle Campaign Treasurer's eye, supporting larger campaign teams to strategize, plan, coordinate, train, enthuse and evaluate.
Our politicians
Jo Vallentine, the Greens trailblazer in Federal parliament, paved the way for WA to usually have two Senators in Federal Parliament. New South Wales and Queensland have only ever had one sitting Senator and the other states achieved two later than the Greens (WA). As the timeline below shows, when Dee Margetts lost her Senate seat in 1999, WA had no Senator until Rachel Siewert was elected in 2004.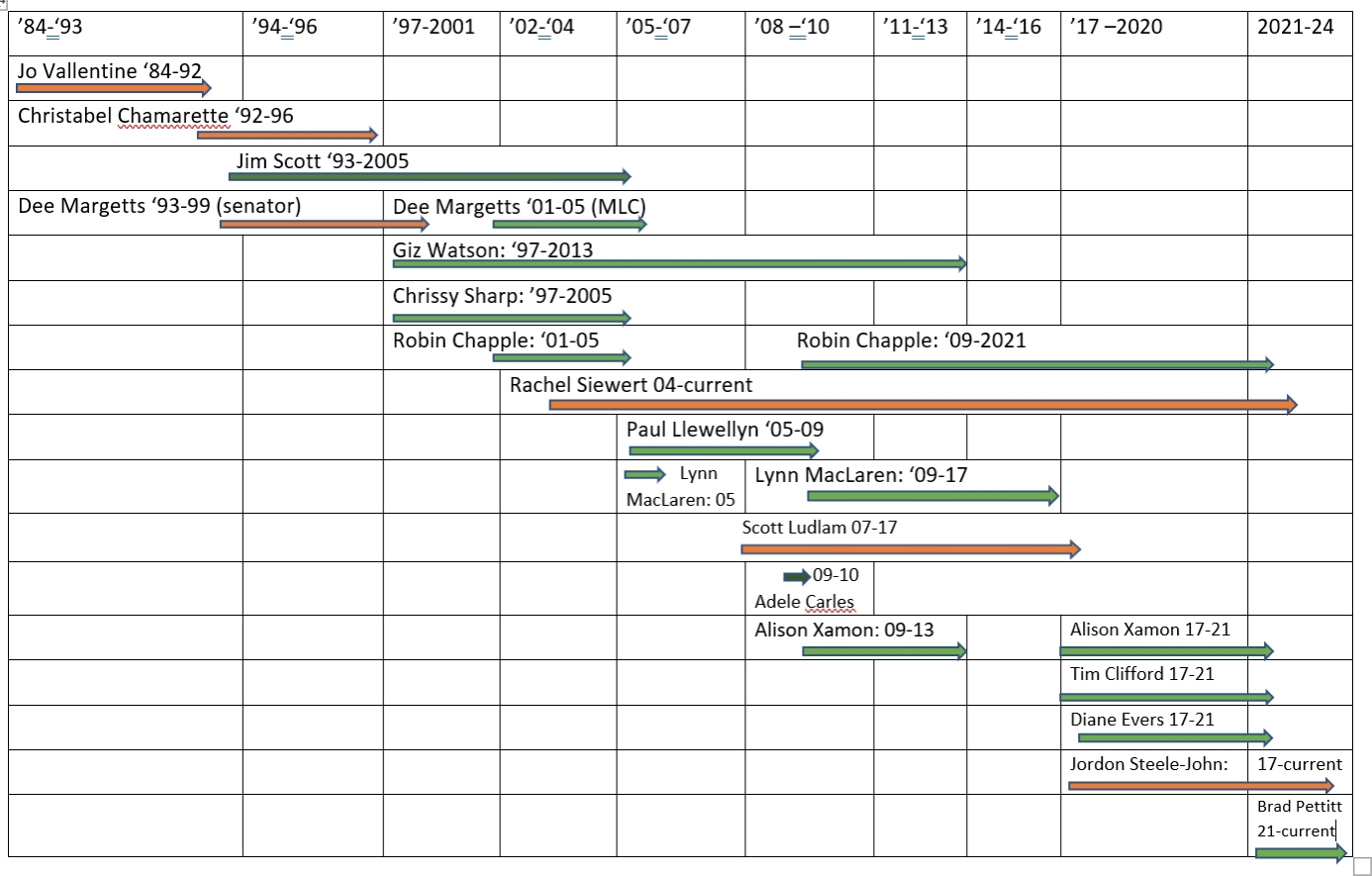 Greens politicians elected in WA 1990-2020
(orange = Senate, green = WA MLC, and dark green = WA MLA)
A home of one's own
Once upon a time, the Greens (WA) had no office, no telephone number and certainly no email address. The Party commenced its life with '2 desks, 6 chairs, 2 photocopiers, partitions and shelving, and printed bumper stickers'.
The first Greens office opened in April 1992 at 45 Wickham Street, East Perth, and was funded by a pledge system (the forerunner of Greenscheme). After a number of moves, the longest time being at 445 Hay Street, GWA finally bought an office of its own in Stirling Street.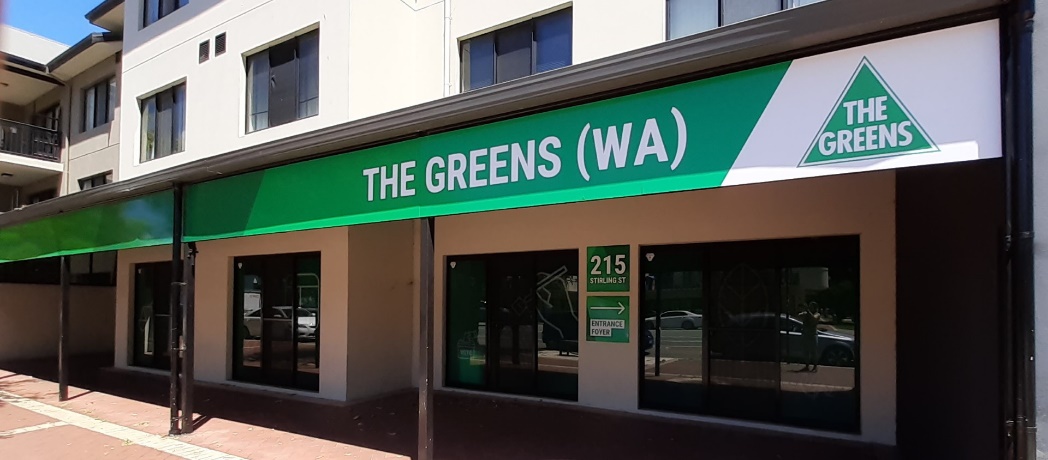 The long green façade of 215 Stirling Street
Staffing the office
The first office was staffed with volunteers on a five day roster, but this proved unsustainable. A combination of a paid office administrator and volunteers has become the successful formula. In 2001, Rowena Skinner was appointed as office coordinator, a position she holds to this day.  One of the longest serving office volunteers is Margo Beilby, who has also held a number of convening roles.
The Party Development Manager, a role held by Adrian Glamorgan from 2011-13, was succeeded by a new role of State Director of GWA in 2017, held by Sophie Greer until 2021.
Going digital
In March 1997, the Party acquired an email address and a so-called 'home page' website was acquired in April. By 2001, The Greens (WA) office email address was the one we have today. By contrast, the website and postal address have changed a number of times over the past 20 years.
Around 2016, loomio replaced decision-making by email for many Regional Groups. In 2018, we created a blended online and face-to-face Representatives Council Meeting platform. In 2020, when COVID-19 hit, to the cheers of many remotely located members, Reps and other meetings went online through Zoom.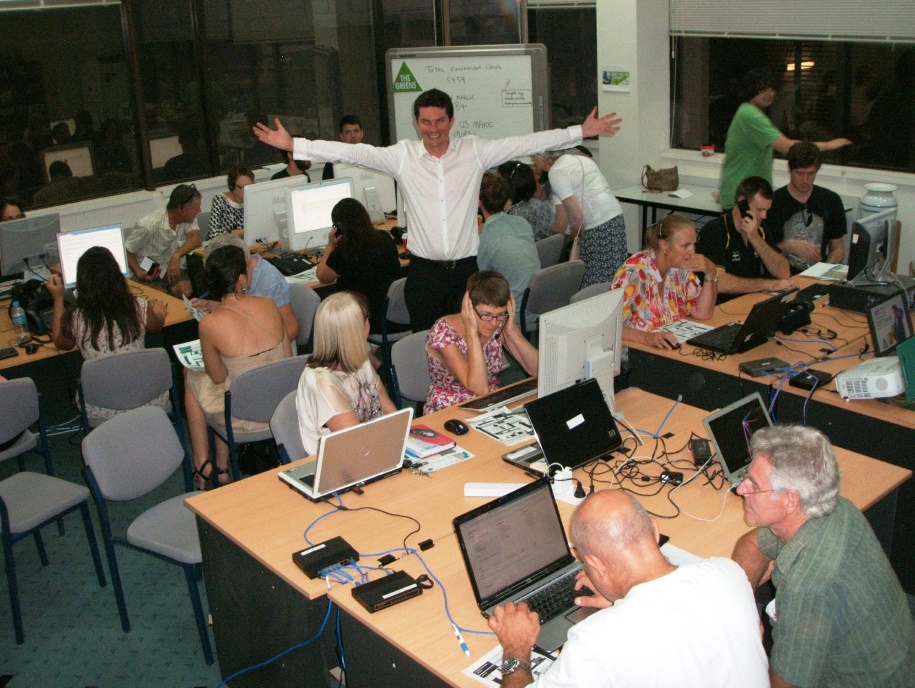 The 2014 Senate by-election campaign turbo-charged our telephone banking efforts. The back room of 445 Hay Street was transformed into a real call centre. Scott Ludlam was blown away by the transformation (photo: Phil Jenkins) 
In 2016 Georgia Blackburn pioneered online voter conversion conversations, or digital door-knocking. By the 2019 election, 'digital first', or reaching voters through social media, was a central element of campaigning, undercutting the stranglehold of the Murdoch media.
Grahame Bowland built a program which mapped polling booth votes from a point to a spatial array so that votes could be compared across elections and parties and, ultimately, with Australian Bureau of Statistics census data. Anthony Blond built a voter contact program. Both of these programs were so innovative and powerful that the Australian Greens deployed the software to all constituent Greens parties.
Joining the Australian Greens
A national Greens Party was formed in 1992, with the amalgamation of a dozen green groups, but Greens (WA) were not among them. A majority of members supported amalgamation in a survey undertaken in 1991 and ballots in 1992 and 1999, but did not meet the required 75% threshold until the last ballot in 2002.
Growing the membership: a matter of life and death in 2000
Around half the members of the groups who founded the Greens (WA) left the new organisation within three years, with the original tally of 650 dropping to 335 by the end of 1993. Attrition remains a problem, particularly at the one year mark. On 3 October 2000, an amendment to the Electoral Act meant deregistration of parties with fewer than 500 members and no politician in Federal parliament. Deregistration was a serious threat, as Greens (WA) would lose the right to have the party's name on the ballot paper, meaning a substantial drop in the Greens vote. The Administration Working Group developed a recruitment strategy which successfully increased the membership achieving 510 in December 2000 and 600 by the end of January 2001. The Greens (WA) then grew slowly to 1,000 members in 2008, hovering around here until 2013. Today membership is almost 1,700.
Conclusion
In our origin story, Greens (WA)'s roots in the peace and nonviolence movement make us excellent at 'doing politics differently'. While we were the last state to join the Australian Greens, we were the first to elect a Greens Senator to the Australian Parliament and to own our own premises. We also like to claim we 'punch above our weight', with more Senators and Upper House State representatives than many other states.
We do not rest on our laurels, working to spread the practice of good consensus decision-making among our convenors and members, to build interesting innovations into Regional Group meetings, to find new ways to oil the frictions in a grassroots democratic machine as it becomes larger, more diverse and increasingly complex. 
By Chilla Bulbeck
Main image by Nancy Miles-Tweedy