The Russian invasion of Ukraine ramps up the threat of use of nuclear weapons; redoubled efforts are required to bring into full force the UN Treaty on the Prohibition of Nuclear Weapons
By Gem Romuld, Co-Director, Quit Nukes and Director, International Campaign to Abolish Nuclear Weapons, Australia
The recent escalated threat of nuclear weapons use by President Putin reminds us that these abhorrent bombs should have been eliminated at the end of the Cold War. They have not prevented war or kept the peace, instead they threaten catastrophic humanitarian suffering. There are no winners in a nuclear war. Unfortunately, Australia remains embroiled in the problem through our claim to rely on US nuclear weapons for security. However, this can and must change, thereby contributing to the global shift towards the stigmatisation, prohibition and elimination of nuclear weapons.
A federal election and the first meeting of states parties to the UN Treaty on the Prohibition of Nuclear Weapons (TPNW) are on the horizon. In the coming year, we could see an end to the Australian government's opposition to the treaty, a long overdue shift in line with the will of the Australian people.
The TPNW is a gamechanger and the first international agreement to comprehensively outlaw the possession, stockpiling, hosting, transfer, use, threat of use and assistance with nuclear weapons. With 86 signatories and 59 states parties, and pressure on the rise for more nations to join the ban, the legitimacy of nuclear weapons is shrinking.
In January this year, the five nuclear-armed states named in the 1970 Nuclear Non-Proliferation Treaty (US, UK, France, Russia and China) released a statement affirming that "a nuclear war can never be won and must never be fought." The brandishing of this 1985 Reagan-Gorbachev statement, which preceded the dismantling of thousands of nuclear weapons, was a hollow exercise in public relations. For none of the P5, or all 9 nuclear-armed states for that matter, intend to reduce their nuclear spending, limit the role of nuclear weapons in their security doctrines, let alone do some actual disarmament. The bar is so low on nuclear disarmament that repeating a statement from 37 years ago is considered meaningful. It's time to move forward. Thankfully we have a circuit breaker, in the TPNW.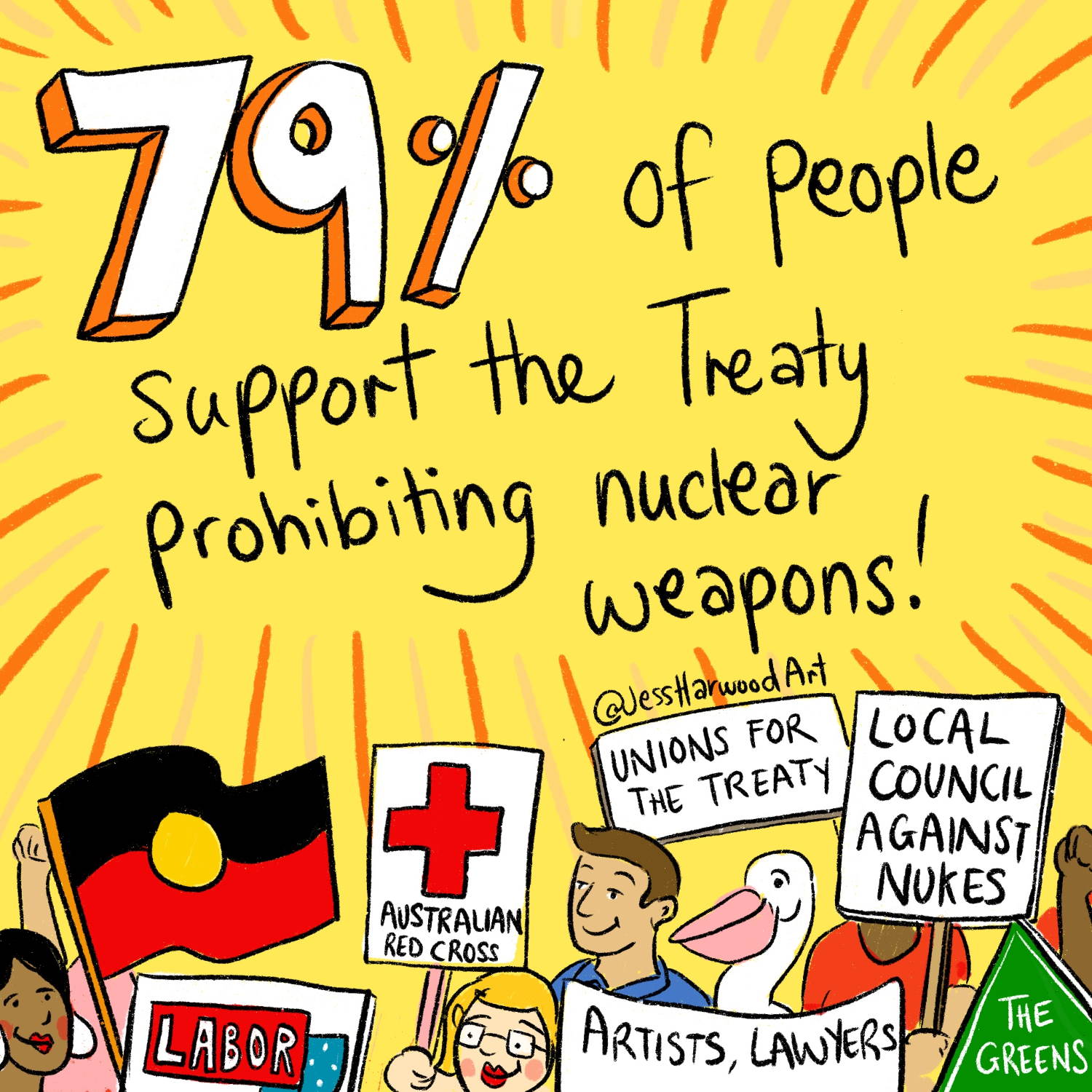 Australia could become one of the first allies of a nuclear-armed state to shrug off some Cold War baggage and join the treaty. Our alternative government has a policy, held since 2018, to sign and ratify in government. 78 per cent of federal Australian Labor parliamentarians have declared their support via the Parliamentary Pledge, along with all federal Greens, a number of independents and a smattering of government members. The Australian Local Government Association declared its support for the treaty in 2021, joining the Australian Medical Association, the Uniting Church in Australia, Australian Red Cross, dozens of unions and over a hundred civil society organisations. When Australia rejects nuclear weapons and joins the ban, we'll be celebrating a major contribution to global efforts to end nuclear weapons. More states entangled in the nuclear weapons of an ally will be encouraged to follow suit.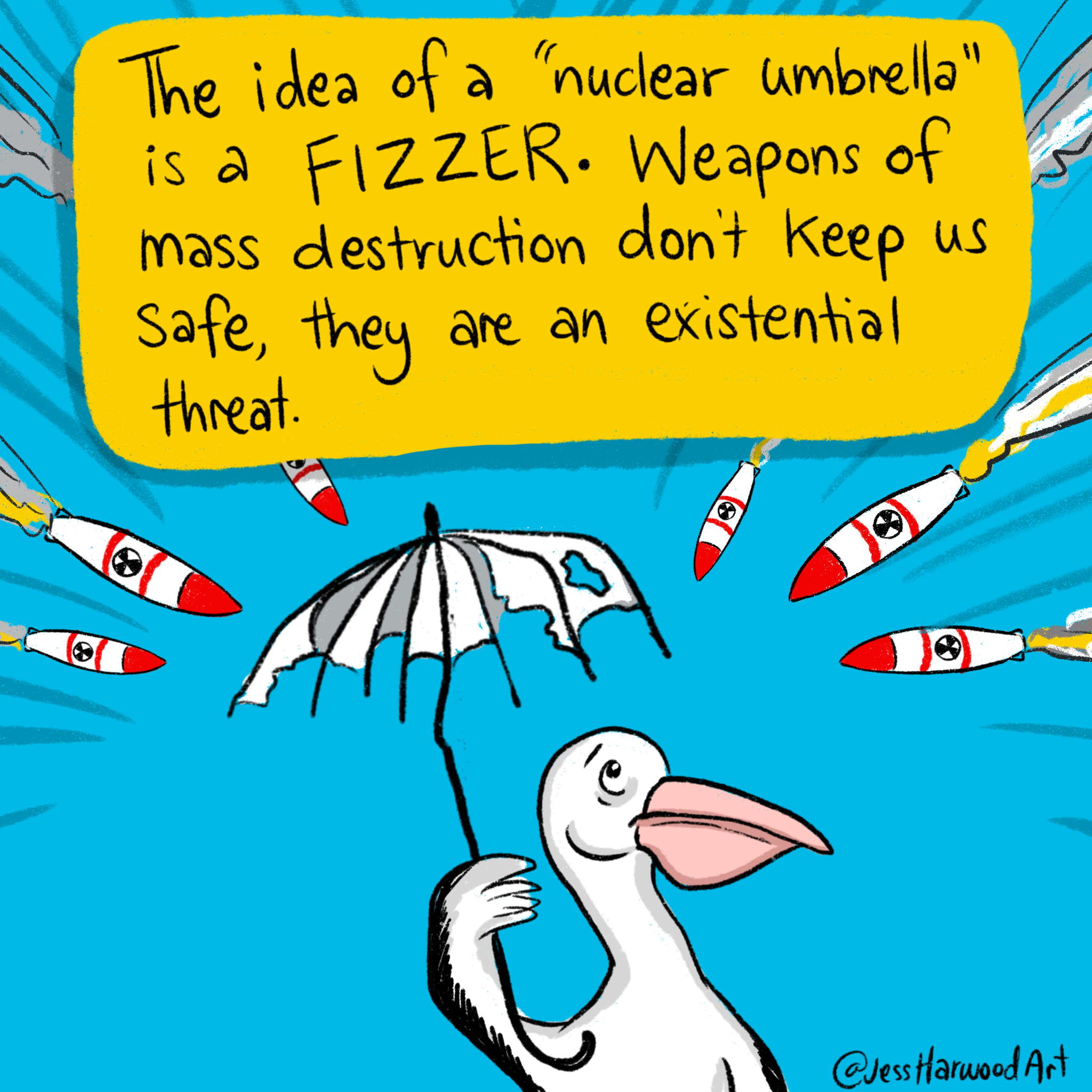 Every single person has a role to play in moving us closer to joining the treaty. It could involve advocating to your council, parliamentarians and super fund. Unfortunately, we still have work to do to unravel the mental grip of "nuclear deterrence". Deterrence theory is what the nuclear-armed states and the manufacturers thrive off. Without the grand claim of upholding global security by their very existence alone, nuclear weapons would be far less palatable. For we know what nuclear weapons really do; that is why they are so abhorred. However, one cannot separate threatening to use nuclear weapons from using nuclear weapons, the former depends on the real possibility and military preparation to do the latter. In the meantime, the possession of nuclear weapons does harm every day; in the radioactive by-products of mining and enrichment, in the lost opportunity of billions of dollars spent on nuclear arsenals each year and in the growing risk of unintentional launch or detonation.
Even if one believed in the security benefits of nuclear deterrence, it must be acknowledged that in the hands of fallible humans, deterrence can fail. The use of nuclear weapons, whether by accident or design, would result in massive loss of life and catastrophic environmental harm, a disaster unfolding for decades.
Our security does not depend on the unending threat of nuclear weapons. So why is it so difficult to move beyond this paradigm? Why did Obama, and thus far now Biden, fail to make even meagre steps towards nuclear disarmament in contradiction of their apparent personal convictions? It's not because nuclear weapons are the sensible choice in a fractious world. There's a complex 75 year-old relationship between think tanks, decision-makers and arms companies that serves to sustain the myth that nuclear weapons are essential. Arms sales have continued to grow throughout the covid-19 pandemic, a global health crisis, despite the economic downturn. The Australian Government can find billions for nuclear submarines and new tanks, but never enough money for rapid antigen tests, fair wages for nurses or public schools.
In late 2021 we, in collaboration with the Australia Institute and the Medical Association for Prevention of War released a report, Quit Nukes: the case for Australian superannuation to be nuclear weapons free. It examines 24 of Australia's biggest super funds, covering 80% of super members and funds nationwide, comparing their policies and revealing investments in nuclear weapons producing companies. On its release the Australian Services Union, Australian Nursing and Midwifery Federation and Electrical Trades Union spoke out in support of nuclear weapon-free superannuation. ETU National Assistant Secretary Michael Wright said "I know a lot of our members are with funds called out in this report as investing in nuclear weapons. If these funds don't divest soon our members may well look to place their retirement savings with funds that are more ethical."
The Quit Nukes campaign saw its first major successes just prior to launching the report, with Hostplus and CareSuper declaring their decision to ditch their holdings in nuclear weapons companies. Further, Hostplus has changed its policy to include nuclear weapons in their definition of controversial weapons, for ongoing exclusion from all portfolios. Unfortunately, most super funds were found to possess holdings in nuclear weapons companies. Nine funds highlight their exclusion of controversial weapons on their website or documents, but do not include nuclear weapons in the definition, thereby continuing to invest in producers.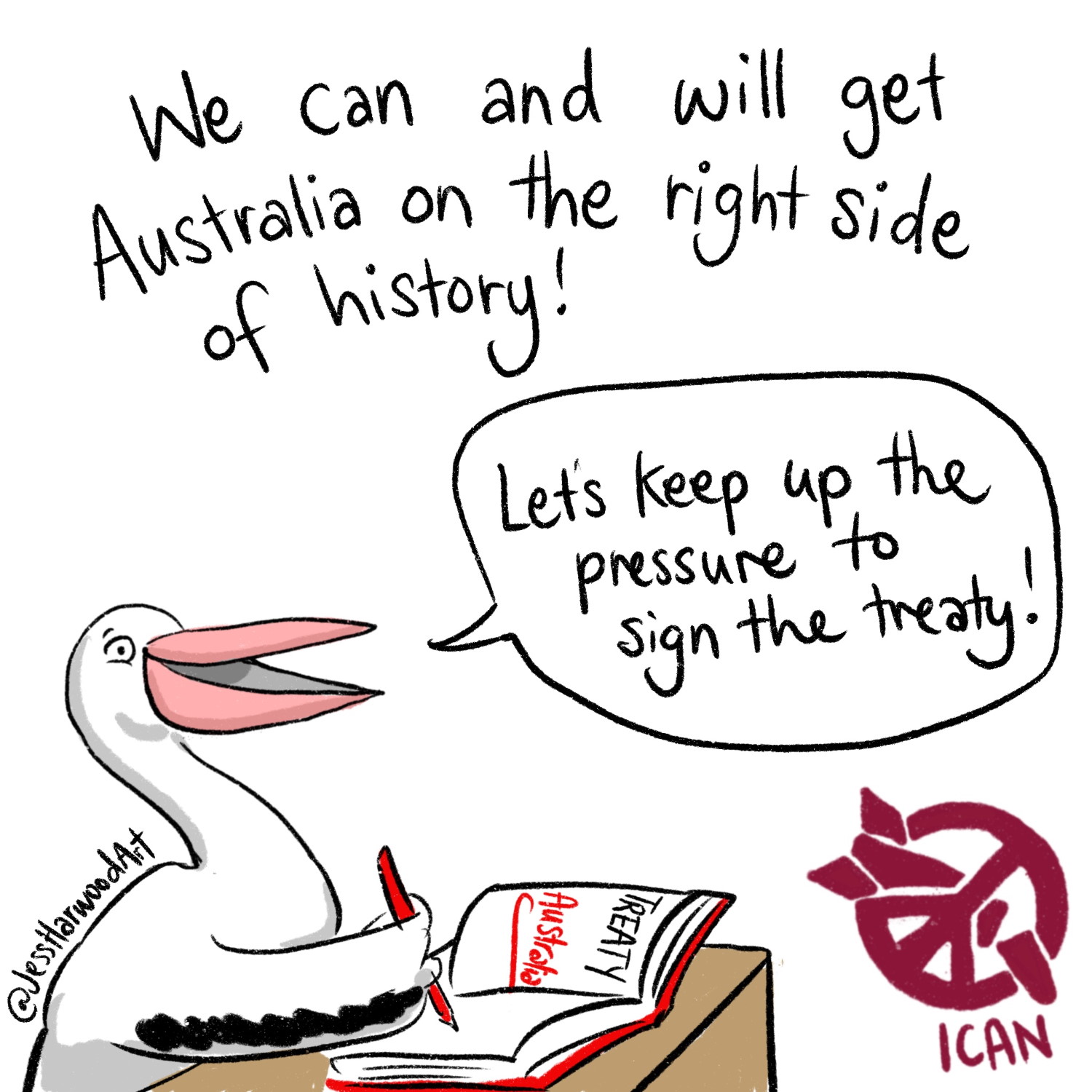 The good news is that superannuation funds are sensitive to reputational risk, and ethical investments are in demand, and performing well. Polling conducted by the Australia Institute in November 2021 showed that seven out of ten people don't know if their super fund is invested in nuclear weapons companies, yet firmly want nuclear weapon free super. If just a small number of those people begin to push their super funds to exclude all nuclear weapons investments, with a 0% revenue threshold, from all portfolios, we will see more change. As the Federal Secretary of the Australian Nursing and Midwifery Federation said in December, there is "an urgent need for superannuation funds to ensure their investments are safe and ethically sound – and not in industries which can ultimately cause so much devastation and misery to our populations."
Header photo: Anti-nuke demo in Federation Square, Melbourne. Jessie Boylan
Text toons by Jess Harwood
[Opinions expressed are those of the author and not official policy of Greens WA]