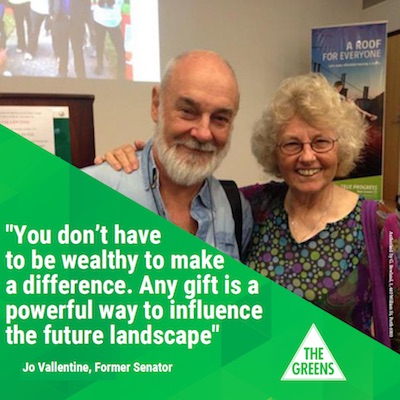 Thank you for considering a bequest to the Greens (WA).
Through your financial support will support, you will be assisting coming generations to secure the future and the planet we so dearly wish for them.
While some bequests are small and others large, all are vital to providing us a funding base necessary to achieve our aims for the benefit of future generations.
Making your Will is usually quite simple and inexpensive. It must be in writing and signed before two witnesses who also must sign as witnesses. However, we suggest you consult a solicitor to ensure your intentions are clearly expressed and legally binding. If you have a valid will, you can remember the Greens (WA) in a codicil added to your existing will.
Your donation can be
a percentage, the most flexible way to give, as you don't have to adjust this as your assets change
the residue, whatever is left in your estate, after you have made provision for your family and friends
a fixed amount, which may need to be changed over time to account for inflation and your changed circumstances
References to bequests to the Greens (WA) in your Will should include our full name: "The Greens (WA) Incorporated"; and include our ABN: 41 747 355 722.
If you decide to include the Greens (WA) in your Will, please let us know or ask your solicitor to notify us. We want to thank you personally and make sure you are kept updated on our achievements.
Find out more by downloading our 
GWA Bequest Information Booklet or click here to complete our online form. 
If you have any questions, or need more information please call our Office on (+618) (08) 6365 2131 or send an email to office@wa.greens.org.au
Thank you for contributing to the future you want for your loved ones