Our ecosystems have intrinsic value and provide us with the essential ingredients for life – air, water, food, comfort, beauty, and a sense of home. 
Ecosystems everywhere are under threat from humanity's expanding footprint, unsustainable consumption, and system of production. 
Much of the ACT's unique national park ecosystems were devastated by the bushfires over the summer, and are further threatened by our sprawling city, expanding ecological footprint, and mismanagement of the land and water. Meanwhile, our unique urban ecosystems are threatened by overdevelopment, habitat and biodiversity loss, and inadequate resourcing of conservation. 
We can restore, strengthen, and better manage the ACT's unique urban and national park ecosystems by investing in a range of community, government, and First Nations led initiatives.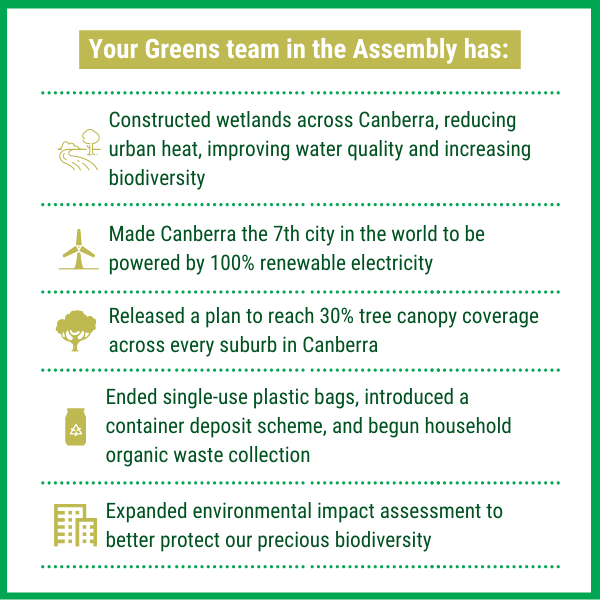 Our Plan
| | |
| --- | --- |
| ▲ | Stop development in ecologically sensitive areas More>> |
| ▲ | Expand Government and community-led ecosystem management programs |
| ▲ | Plant and care for tens of thousands of trees to reach 30% tree canopy coverage across every suburb in the ACT More>> |
| ▲ | Improve water, river, and wetland management |
| ▲ | Invest in a world-leading zero waste strategy, focusing on programs of repair and reuse to create a circular economy |
| ▲ | Ensure we pass on a healthy environment to the next generation by making "the right to a healthy environment' part of our human rights act and reducing our per-capita ecological footprint |
| ▲ | Protect animal habitats and the ecology that sustains them More>> |