All of us deserve to feel safe and to have equal opportunities in life, no matter our background, ability, gender, sexuality, income or postcode.
To ensure a safe, equal world for all, we can't let a few powerful voices turn us against each other or divide us based on where we come from, who we love or what we look like.
But both Liberal and Labor governments have cynically pitted members of our community against each other. They've introduced and aggressively championed policies that exclude or vilify people just because of who they are - divisive policies like allowing schools to discriminate against gay teachers, unbelievably cruel policies like locking refugee children up in offshore detention indefinitely, or discriminatory policies that result in First Nations children locked up in jail at ten times the rate of non-Indigenous children. They've eroded everyone's fundamental rights, including our right to privacy and digital freedoms.
It doesn't have to be this way.
The Greens will always advocate  for our rights, champion diversity and call out discrimination, bias and bigotry. We will make sure that everyone has the opportunity to live a good life, free from discrimination.
The Greens understand that everything is connected, which is why we need to be good global citizens.
We recognise that this always was, and always will be, Aboriginal land and that sovereignty was never ceded. It's long past time for treaties, healing, justice and truth for our First Nations Peoples.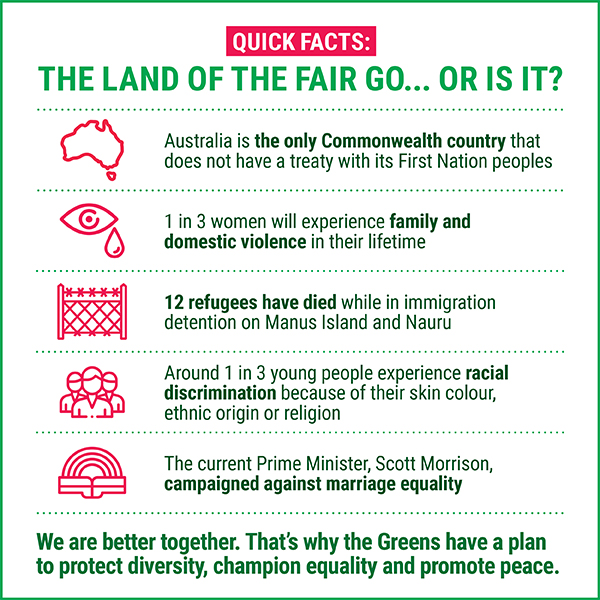 Our plan to create a more diverse, equal and peaceful future:
| | |
| --- | --- |
| ▲ | Work with First Nations Peoples, to establish a path for sovereignty and treaties and to close the gap · More » |
| ▲ | Close offshore detention and create a safe pathway for people who seek our help · More » |
| ▲ | Champion diversity in our communities · More » |
| ▲ | Ensure equality for women in all aspects of society, including at work · More » |
| ▲ | Stamp out systemic racism and hate speech · More » |
| ▲ | Make Australia accessible and fully fund the NDIS · More » |
| ▲ | Ensure LGBTIQ+ people have full equality under the law and in our communities · More » |
| ▲ | Create a charter of rights · More » |
| ▲ | Make Australia a good global citizen, by supporting peace and demilitarisation · More » |
Our plan for a fairer, more equal community

Justice for First Nations Peoples
The Australian Greens acknowledge that First Nations Peoples are the Traditional Owners and Custodians of the land we call Australia. We know this land was stolen and that sovereignty was never ceded and that Australia has unfinished business. We pay our respects to elders, past, present and future.
Despite living in a wealthy nation, First Nations Peoples still experience entrenched disadvantage with health, education and life expectancy outcomes more common in the developing world. Coalition and Labor governments have not listened to First Nations Peoples and their paternalistic, punitive approaches have failed First Nations communities.
A path towards treaties
Self-determination is a key part of justice and healing for First Nations Peoples and to closing the gap and addressing intergenerational trauma. Any plan for justice must be led by First Nations Peoples.
First Nations Peoples must be the key decision makers in policies and programs that affect their communities. We must start by addressing Australia's unfinished business through implementing a constitutionally enshrined Voice to Parliament and establishing a path to treaties. The Australian Greens support the Uluru Statement from the Heart in full.
Address indigenous incarceration rates
Twenty-seven years after the final report into the Royal Commission into Aboriginal Deaths in Custody, there are still too many First Nations Peoples incarcerated and over 407 First Nations people have died in custody since the release of the Royal Commission report.
Australia-wide, First Nations Peoples are eleven times more likely to be imprisoned than non-indigenous Australians. The Greens will adopt the Change the Record campaign recommendations to reduce the rate of incarceration of First Nations Peoples as well as promoting a Justice Reinvestment approach that prioritises the services that we know keep people out of jail.
Fewer First Nations kids in out-of-home care
There are currently more than 15,000 First Nations children in out-of-home care across Australia. The Greens will fund a system that focuses on keeping children out of the care system in the first place and focuses on early intervention and support for children and their families, including trauma and healing services.
The benefits of our plan: 
Addressing unfinished business through truth, justice and healing

Genuine treaty or treaties

Justice reinvestment, not jails 

First Nations Peoples' voices heard in our parliament

Genuine progress to Close the Gap

Close the camps
All of us, including people who are fleeing persecution or war-torn countries, have a right to live free from danger, to be treated with dignity and compassion and to be given help when we need it. Australians are compassionate and fair. Looking out for others is at the very core of who we are.
But our values are being betrayed by both the major parties, who, in an attempt to win your vote, have spent years locking up women, men and children in indefinite detention, separating families who have turned to Australia for help.
Labor created offshore indefinite detention and the Liberals doubled-down on it. Both the Labor Party and the Liberals support the indefinite detention of people in deliberately cruel and torturous conditions. They support turning around boats at sea and returning people to face persecution. People have died, been assaulted and endured psychological torment because of the choices of the old parties. Labor and the Liberals have refused to act with basic humanity and compassion and people who need our help are suffering.
The Greens are the only party to have always stood against indefinite offshore detention. We believe the Manus Island and Nauru detention centres must be closed, and every single man, woman and child detained there should be brought to Australia. Our plan will create a system that fairly and quickly helps people find safety, rebuild their lives with dignity and doesn't punish them for seeking our help. 
The benefits of our plan: 
An end to offshore detention 
Faster, more efficient processing times
Refugees living in our community, not in detention
Assistance for those who need our help
We meet our international obligations

Supporting multicultural Australia
Australia is one of the most culturally diverse countries on earth and we are a stronger nation because of this. This country is home to generations of migrants and refugees who are valuable members of our communities, and we should be celebrating what makes us all different.
The Greens have a plan to address the needs and aspirations of Australians from diverse cultural and linguistic backgrounds, and reflect this diversity in policy.
Extend the national anti-racism campaign
Despite anti-discrimination law, racism and discrimination remain prevalent within our society. In many cases, racism is a result of unconscious bias, and education is key to addressing this. The Greens' plan will extend the current national anti-racism strategy, delivered by the Australian Human Rights Commission, to deliver programs in schools, workplaces, sporting organisations and media institutions.
Deliver the Federal Multicultural Act
Most states have legislation to protect and value multiculturalism, however there are no such laws at a federal level. This has led to multiculturalism being used as a political football on the national stage by conservative politicians and media outlets, promoting fear and dividing communities. The Greens have introduced a Federal Multicultural Act to Parliament, which will create a framework for multiculturalism and establish clear guiding principles for Australian society to embrace cultural and religious diversity, and we will continue fighting for it to be legislated.
Promoting diversity in Federal Parliament
Half of all Australians are either born overseas or have a parent who was born overseas. But currently, Australians with dual nationality cannot sit as MPs in our Federal Parliament. The Greens believe this should change. Diversity in our political leadership means more innovation, better policy outcomes and a Parliament which is reflective of our society and its values. Our plan will ensure that multicultural Australians can run for Federal Parliament and keep their dual citizenship, by calling a referendum to amend section 44 of our Constitution.
More family reunion visas
The Greens recognise how prohibitively expensive and difficult it is for migrants to bring their family members to Australia, particularly with some visa categories imposing a 30-50 year wait list. 
The benefits of our plan: 
Everyone feels safe in our community 
Everyone has equal opportunity to achieve their goals and live fulfilling lives
More diversity in our Federal Parliament 
Thousands more families reunited in Australia

Equality for women
The Greens believe that women should enjoy equality with men in all aspects of their lives and in our society. We believe that all women, including LGBTIQ+, First Nations, and women of culturally and linguistically diverse backgrounds, have the right to live free from harassment, fear, violence, abuse and discrimination.
Right now, we are in the midst of a national security crisis, with one in three women experiencing family and domestic violence in their lifetime and, on average, one woman killed by her partner or former partner every week. These rates of domestic violence have not reduced, despite significant public attention.
Women also still face systemic discrimination in many areas of their life. Older women represent the largest growing cohort of homeless people, with huge increases in the number of women seeking housing and homelessness support services. In the workplace, women continue to be paid much less than men. Women also face greater barriers to healthcare, with abortion, for example, remaining a criminal offence in NSW.
The Greens are committed to achieving equality for women by building housing, financial, and workplace security. We have a plan to ensure women are safe, valued and treated as equals in private and public life, and we will put in place legal, workplace and economic reforms that directly address the key causes of inequality for women in Australia and around the world.
The benefits of our plan: 
Safety for women, in the home, workplace and in the community 
Gender pay gap is abolished
Abortion is safe, legal, accessible and free for all women
Equality is promoted for women

Tackling racism and far-right extremism
In the wake of the Christchurch massacre we must act to stem the rising tide of Islamophobia, anti-Semitism, racism and bigotry. Enough is enough.
The Greens are shoulder to shoulder with the overwhelming majority of Australians, united against hatred and the hate-speech that has dominated our politics and our public spaces for far too long. We have a plan for a united, respectful and decent society that welcomes and celebrates difference.
Stop politicians speaking hate
Too often politicians attack and dehumanise minority communities. This has to stop. The Greens have proposed a Code of Conduct to establish a set of rules governing federal politicians, requiring them to represent public office in a manner consistent with Australian values of respect and inclusion.
Counter violent extremism
Tackling racism and extremism will take a commitment from all levels of government, and the support of community-led organisations. In many cases, racism is the result of unconscious bias. We know that education is the key. The Greens will extend the current anti-racism strategy, commit $10 million each year to counter violent extremism, and empower communities to prevent it.
Make hate speech illegal
Left unchecked, hate speech will often lead to hate crimes, yet there is currently no criminal prohibition of hate speech at federal level. We believe Australia needs an effective legal framework to handle hate speech, while also balancing freedom of expression. So we have a plan to protect everyone, by introducing a Charter of Rights. 
Strengthen gun control
There are an estimated 260,000 weapons in the illicit firearms market in Australia. This puts the whole community at risk. And at the same time, the gun lobby is becoming more active in its push to weaken gun laws. The Greens will ban all political donations from the gun lobby and prohibit the possession of semi-automatic guns in the community.
The benefits of our plan: 
A society that welcomes and celebrates diversity
Members of Parliament held to account for the way they behave towards all communities
A coordinated strategy to counter violent extremism
Greater respect for diversity is promoted through a national anti-racism campaign
Improved community safety through stronger gun laws

An Accessible Australia
The Australian Greens believe that a healthy, functioning society embraces diversity and removes barriers to provide for equitable access and participation by all. We believe that all people have a right to independence, self-determination and choice in their lives. Disability policy and law is a matter of human rights, as well as individual health and well-being.
Disabled people continue to fall through the cracks, to be locked out of the community and denied the same rights as other Australians. Failings of successive Labor and Coalition governments have perpetuated this discrimination, often denying disabled people access to inclusive education, meaningful employment, adequate services and the support they need. Disabled people are so often shut out of our communities through outdated, discriminatory planning regulations.
We must do better.  It's time to talk about disability differently. It's time to build our places and spaces differently. It's time to change attitudes and realise that we are all different and unique, and that an inclusive society is a better society for everyone.
The Greens also recognise that it is not enough to deliver services for people, we must work with them to ensure they are the right services. We see that decisions that profoundly shape the lives of disabled people are currently being made without their genuine involvement.
The benefits of our plan: 
Better access to public transport, events, shops and other public spaces 
More jobs and more opportunities
Easily accessed, adequately funded and staffed NDIS 
Australians living with a disability enjoy more control over their own lives

LGBTIQ+ equality
The Greens believe that all people are equal, have fundamental human rights and are entitled to live their life with equal protection of the law and without any discrimination, including on the basis of sex, sexual orientation, gender identity or intersex status.
The Greens celebrate the diversity in our society and value the contributions of LGBTIQ+ members of our community. We recognise that people have the right to self-identify their gender. All too often LGBTIQ+ communities are shut out of decisions that affect them.
The Greens are very proud to continue to be strong allies of the LGBTIQ+ community. As the first party to support and actively campaign to remove discrimination in marriage, we are so proud of what a strong and united community campaign can do to make positive change. We congratulate all those who have celebrated love through marriage since the reforms.
But there is so much more to be done. 
The Greens have a plan to continue to work with the LGBTIQ+ community to achieve equality for all of us.
The benefits of our plan: 
End sexual orientation and gender identity conversion efforts (commonly referred to as 'gay conversion therapy')

Everyone is free to love who they want to love 

Everyone is safe in our community 

Everyone has equal opportunities in all areas of life

Free healthcare that is respectful and appropriate for you

A Charter of Rights
Australia is the only western democracy that does not protect the basic rights and freedoms of its people in either legislation or the Constitution. So many of our freedoms have been hard won, and others are still being fought for. The Greens have a plan to protect everyone's rights in law by introducing a Charter of Rights.
Without a Charter of Rights it is too easy for the Liberals, Labor and big corporations to take freedoms away. We have seen this in the gagging of media and criminalising of whistleblowers, passing of anti-protest laws, restrictions on association and expression, and the acquisition and pollution of private property, agricultural land and water tables by governments and corporations.
We believe that the rights of people are far more important than the rights of huge corporations, that's why we want to protect the economic, employment, civil, cultural and environmental rights of every Australian.
A Charter of Rights for Australia would tip the balance back in favour of people and the environment rather than corporations and the faceless men and women of governments. This Charter would include civil and political rights, including expression, privacy, association, equality, movement, and presumption of innocence. It will include economic, social and cultural rights, including our right to housing, education, healthcare, employment, and participation in cultural life. And, crucially, it will also protect our environmental rights including clean air, water and climate.
A Charter of Rights will give us all the opportunity to shape our own lives and to help us to live with dignity and self-respect.
The benefits of our plan: 
Protection of our digital freedoms and privacy
Freedom to protest 
Guaranteed access to essential services no matter who you are 
Freedom of religion and cultural expression 
Rights for the environment

Australia: a good global citizen
Everyone has the right to live in peace. We know that the vast majority of Australians want peace and global prosperity, not more weapons and war. 
The Coalition government, supported by Labor, is intent on making Australia a top 10 global arms exporter, continues to blindly support the US, and is focused on arming our nation rather than supporting those in need across the world. 
Our government has shamefully committed almost $4 billion to assist arms exporters to do deals with human rights abusers like Saudi Arabia. The Greens' plan will immediately abolish the Defence Export Facility, and introduce legislation that prohibits Australia from exporting weapons to human rights abusers. Under our plan, we will immediately sign and ratify the Nuclear Weapons Ban Treaty, substantially increase our development budget and limit our role as a global arms dealer.
The Greens believe Australia's foreign policy should be based on dialogue, diplomacy and cooperation, not aggression. The Greens are committed to peaceful and non-violent solutions locally, nationally and internationally. We know that trying to prevent or counter violence with violence itself will not work. 
Genuine security rests on parliamentary scrutiny, international cooperation, and respect for human rights. Unquestioning support for the US and more machines of war is not the right path. Instead of buying a whole lot more big and expensive equipment, we should be preparing our defence force to provide humanitarian support in our region. Our plan would give Parliament the power to decide if we go to war, not just the Prime Minister, and would renegotiate the increasingly unstable alliance we have with the United States.
The benefits of our plan: 
Money for overseas development, not weapons
A defence force that is fit-for-purpose in a warming world
Less risk of nuclear disaster 
Fewer senseless wars
Like what you see?
Sign up to get the latest updates from our movement as we build a future for all of us.