Let's cut pointless plastic waste, and create a world-class recycling system in Victoria.
We all want a recycling system that keeps our parks, rivers and oceans clean, and our wildlife free from the threat of plastic. But in Victoria this sadly isn't the case. 
Our recycling system has been neglected for decades. Plastic continues to be dumped into landfill.
The Greens have led the response to this crisis. Through our pressure on the government, together with the community we have achieved a ban on single-use plastic bags, a commitment to a 'cash-for-cans' recycling scheme, a new glass recycling bin for all households, bans on a range of disposable plastics like plates, cutlery and polystyrene cups, recycled materials being used to build roads, and greater industry investment.
But there is still much more to do. 
Right now, Victoria needs to create jobs. We also want to cut back on our waste and protect our oceans, wildlife and climate. Let's solve these issues together by building recycling processing factories right here in Victoria. Let's make 100% recycled packaging and products, and phase out all unnecessary single-use plastics.
We must also stop the Labor Government's plans to burn waste in toxic incinerators.
We can create a world-class recycling system right here in Victoria that protects the environment and creates thousands of jobs. 
 Help us FIX THE WASTE CRISIS
Stop toxic waste incinerators
Labor has announced a plan to burn more than one million tonnes of Victoria's waste in incinerators every year.
Ban unnecessary plastics
It's time to get serious about protecting our oceans and wildlife from plastics.
The Greens have solutions, and we're getting results
So far, we've secured:
A ban on single-use plastic bags

A 10-cent refund on bottles and cans (starting by 2023)

A separate glass recycling bin for all households (from 2021) 

A state government plan to use recycled materials first in roads and infrastructure

Food and green waste composting for all households (from 2025)

Funding to grow our recycling processing and manufacturing industry

A ban on single use plastic 

cutlery, plates, drink-stirrers, straws, cotton bud sticks, and polystyrene food and drink containers (by 2023).
1. Transform waste with a world-class Victorian recycling system
We all want to create jobs and a thriving local recycling system right here in Victoria. Now is the time to make it happen.
When China stopped taking our contaminated recycling last year, it was a shock that forced us all to look at how much waste we create and where it ends up. 
Over the next five years, exporting recycled materials will be banned. That means we must process our recycling locally or else it'll be dumped in landfill. 
Infrastructure Victoria calculated that by 2025 we will have significant shortfalls in plastics, food waste, and paper and cardboard recycling processing in Victoria. 
To address this shortfall, the Greens are calling for 23 new or expanded recycling factories by 2025 to meet our needs and ensure high recycling rates. This will create around 760 new long-term jobs, boost recycling and reduce the amount of waste that ends up in landfill or our precious environment.
As we ramp up the processing of recycling locally, we must also ensure we have a use for those recycled materials. We can grow local manufacturing industries that make products from our waste plastic, paper, tyres and glass. We must phase out single-use plastic packaging and replace it with recycled or reusable packaging, which could be made right here in Victoria!
2. Ban pointless plastics
We all want to protect our local parks and creeks, beaches and amazing wildlife.
However, eight millions tonnes of plastic fill the ocean each year, killing a marine animal every thirty seconds. Our landfills are also overflowing with plastic with just 27% of our plastics recycled in Victoria. 
But we can join the world in tackling this problem. The best solution to this heartbreaking reality is to phase out the most problematic and pointless single-use plastic products and phase in recycled and reusable alternatives. 
Thanks to Greens pressure, the Victorian Government has now committed to ban disposable plastic cutlery, plates, drink-stirrers, straws*, cotton bud sticks, and polystyrene food and drink containers by February 2023. This is great news, but we can't afford to stop there!
Do you hate seeing bananas wrapped in plastic? So do we. That's why we'll ban fruit and veg being wrapped in single-use plastic, and ensure supermarkets replace single use plastic fruit and veg bags with reusable alternatives.  
We'll support new and expanded factories that make reusable and recycled packaging and food containers, and innovative home compostable packaging made from mushrooms (yes, this does exist!).
We've successfully done away with single-use plastic bags, now we must phase out other harmful and pointless plastics too, cutting waste and kick-starting the recycling revolution with jobs and industries that benefit people and the planet.
* The Victorian Greens acknowledge that there remains some need for single-use plastic where no suitable alternative exists, such as in healthcare and for use by people with disability, and all bans must provide appropriate exemptions in these areas.
3. Kick-start the reuse revolution
It's time to reimagine the way we use products by creating a system where it's easy to reduce our waste, and where reusable products are built to last. 
As we increasingly do away with single-use plastics, it's critical that we replace them with sustainable alternatives. Many so-called green alternatives can be just as damaging for the environment if they are made from our precious forests or food-based material for a single-use product. 
The Government must take the lead in supporting businesses to transition to reusable packaging, containers and products. To kick start the reuse revolution, the Greens are calling for:
Cleaning and detergent bottle refill stations (no-touch) at all supermarkets

Water bubbler and bottle refill stations (no-touch) to be rolled out across our shopping precincts and local parks 

Support for businesses to switch to reusable takeaway containers and cups

Product Stewardship Schemes that require companies to take responsibility for the waste associated with their products, creating a financial incentive for companies to eliminate waste and ensure products are built to last, are reusable or recyclable
All these measures will reduce the use of disposable packaging, dramatically reducing climate pollution, resource use and the amount of plastic that ends up in our waterways.
4. Compost, not landfill
Would you believe there is one simple solution that can half our household waste and create rich soil that replenishes our farmlands? Well, it's true!
As much as 47 per cent of what goes in our rubbish bins is food and garden waste. This organic waste sits in landfill, when instead it could be transformed into rich compost and returned to our gardens, parks and farms, restoring our depleted soils.
In the absence of state government action, local councils have been taking the lead, with around 25 of our 79 councils across Victoria introducing food composting services to household green bins. 
Under pressure from the Greens, thanks to our Compost, Not Landfill campaign and our waste inquiry, the government has now committed to provide every household across Victoria with a green waste bin that allows both food and garden organics. However, they won't start rolling it for at least another five years!
We can't afford to wait until 2030 to get organics out of landfill. We're calling for green bins to be rolled out with the new glass bins, from 2021-2025. We're also calling for the mandatory composting of organic waste from food and plant based businesses by 2025.
To achieve this, we need urgent investment to build composting factories across the state. This will not only create much needed jobs in Melbourne, but also in regional communities.
If we use our organics to create compost, not landfill, we will reduce climate pollution, massively cut waste, create jobs and help sustain our farms into the future. 
5. Stop toxic waste-to-energy incinerators
It's been clear for some time that we need ambitious reduce, reuse and recycling programs to build a truly circular economy that closes the loop on waste.
But after failing to do this for decades, the Victorian Labor Government is now looking for a quick fix to our overflowing landfills. They want to burn more than one million tonnes of Victoria's waste in polluting and toxic waste-to-energy incinerators every year.
These factories burn plastics, organics and other waste, creating hazardous residues and toxic fumes that pollute the air we breathe for only a small amount of energy. The thousands of tonnes of toxins released into the air will harm the health of our community and our climate. 
The community doesn't want this. These incinerators are being pushed by corporate interests wanting to lock councils into 20 - 30 year contracts to generate waste, rather than reduce it. Dan Andrews has already given them the green light and is not requiring an environmental assessment process, unlike every other state in Australia.  
We all want to do away with landfills, but burning our problem in no solution. It will only create more harm to people and our planet. Dan Andrews, you can do much, much better.
Want to know more? Read our fact sheet on waste incinerators.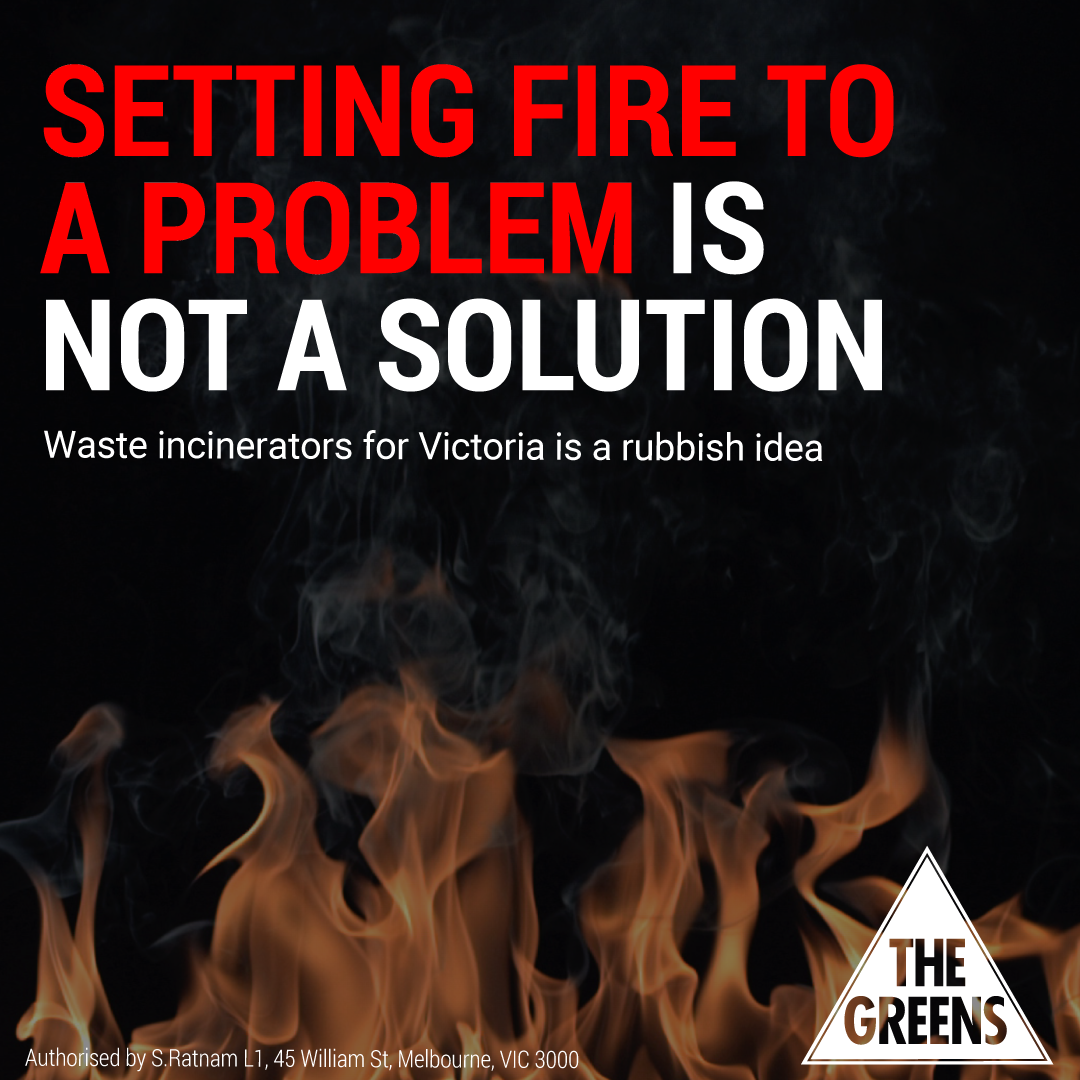 We all want a world without waste, where we have clean air and a healthy environment. Our waste system is broken – but we can fix it.
Rather than burning or dumping our rubbish, the Greens have a plan to reduce, reuse, recycle and compost our waste, and create jobs while we do it.
We can transform waste, stop plastic pollution, create a world-class recycling industry and long term jobs.
LATEST NEWS ON WASTE
WIN: Victoria to finally get 'cash-for-cans'
The introduction of a 10c refund on bottles and cans is a direct result of Greens in Parliament, who drafted and introduced legislation for a scheme four times.
Government must not burn it's way to waste targets
The Andrews Government has announced that it will allow one million tonnes of Victoria's waste to be incinerated each year.
WIN: Single Use Plastics Banned
Greens welcome single-use plastics ban, but vow to push it further.