Victorians deserve clean air, fresh water and unpolluted soil.  
Our plan in short. 
Closing the loop on food waste
Ending plastic pollution
Expanding the local recycling industry
Recycle Smarter to accelerate Victoria's circular economy transition
Strengthen regulation, standards & proper enforcement
The Greens Waste Transition Plan enables a rapid transition to a circular economy and seizes the opportunity for creating secure ongoing jobs. 
The finer details. 
Expanding local sorting and recycling industry (including bottle-to-bottle recycling and pelletise everything else) and boosting demand for locally recycled content through state & local government procurement

Ending plastic pollution by introducing a Container Deposit Scheme,  phasing out single-use plastics and microbeads and mandating 70% recycled content in packaging

Closing the loop on food waste by strengthening kerbside collection and expanding processing infrastructure to produce compost and other useful products

Establishing a Circular Economy Centre for Excellence to gather local expertise and industry innovators to accelerate this transition of Victoria's waste profile and economy

Strengthen regulation, standards and proper enforcement for managing health, safety and environmental impacts of waste treatment, disposal and storage.
A radical overhaul of Victoria's waste management is needed and represents our first bold steps to a circular economy 
The Greens' Waste Transition Plan represents a once-in-a-generation opportunity to set us on a path to smarter use of resources & materials and phase out landfills and problematic wastes.
Victorian generated 12.7m tonnes of waste in 2015/16. A third (4m tonnes) of that was sent to landfill. Landfill is often the first, not last, resort for managing many different types of waste. A huge ongoing effort is required to manage the long-term risks that landfills pose to our groundwater and public health.
Recently China cracked down on contaminated recycling imports, exposing Australia's recycling system to collapse. We can no longer afford to rely on the current take-make-dump approach to how we make and use products
The Zero Waste Hierarchy prioritises waste management practices by accounting for the full extent of social, environmental and economic costs.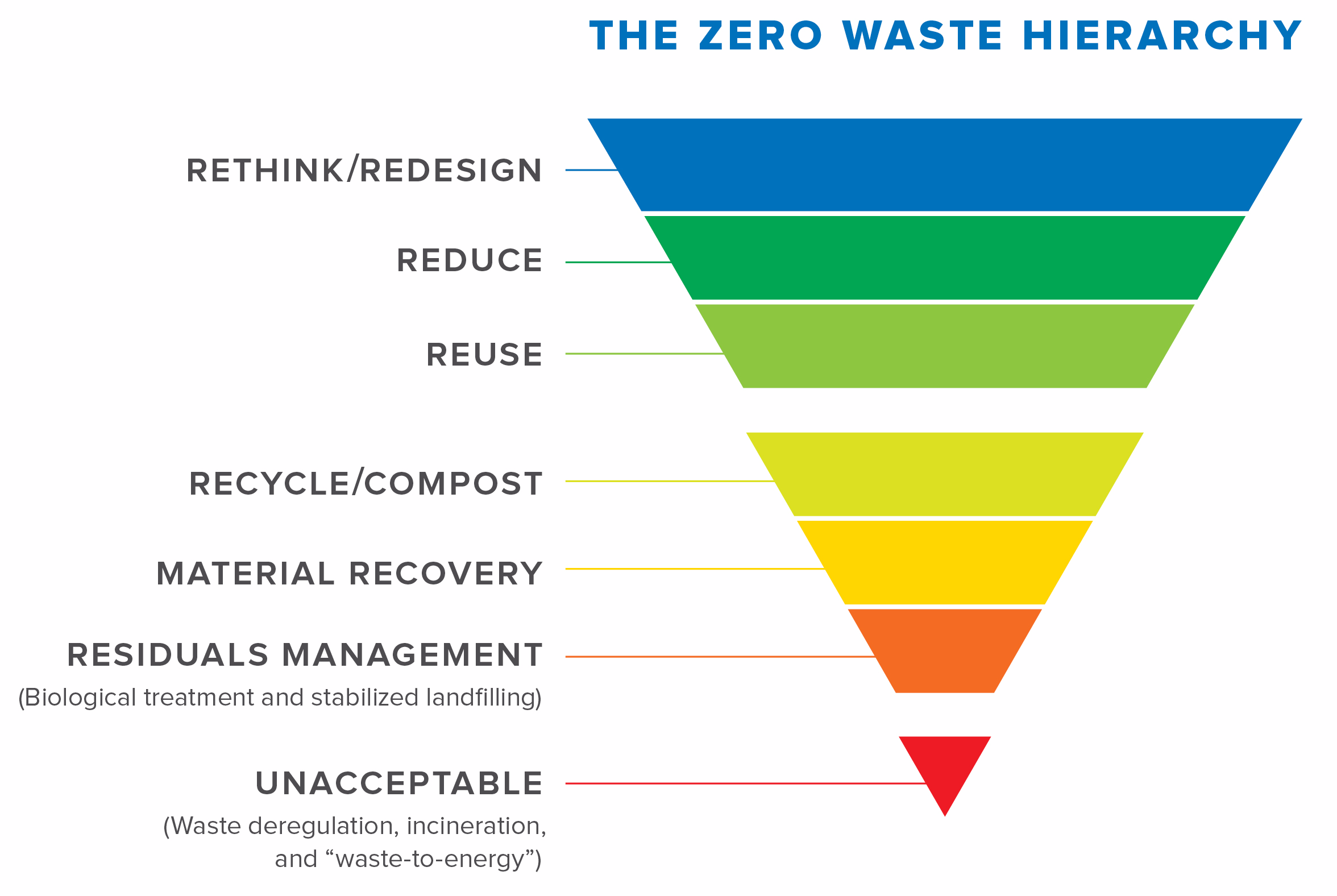 Restructuring Victoria's waste management system to a circular economy means we can, by design, drastically reduce our waste, get the most value out of our resources, and protect our communities and environment from pollution.
Transition Plan For a Circular Economy 
The Greens believe that transitioning Victoria to a circular economy is the smartest way to apply the zero waste hierarchy across our entire economy. This transition is geared at every stage towards avoiding residual waste and waste to landfill - as these ultimately represent a loss of value. 
By 2022, the Greens Waste Transition Plan is designed to recover 2.5 kilotonne (KT) of landfill each year. This translates into a cumulative increase in the Victorian waste diversion rate from 67 to 76 by 2022. 
These measures will not only offset future uncertainty with international recycling markets, increases in waste creation due to Victorian population demands,  and longstanding inactivity in the standards of waste diversion, but it will push local industries in new directions and generate business innovation and technological advancement in recycling. Just on the basis of the diversion of landfill, our plan will generate in the order of 1,900 new Victorian jobs.
Ending Plastic Pollution
Victoria landfills 74% of all plastic. Soon to be almost 50,000 truckloads per year, just shy of 500 thousand tonnes. Plastics are the second largest component of landfills, accounting for 10%. We must increase the amount we recover and stop making plastic that cannot be recycled. 
Our objectives:
To drastically cut plastic waste and pollution at the source
Our plan on plastics 
Introducing a container deposit scheme
Legally require companies to boost recycled content in their packaging
Invest in local plastic recycling infrastructure and jobs
Phase out a wide range of single-use plastics
Introduce incentives for innovation that accelerate recycling and reuse
Local recycling and local jobs 
Our objectives:
Simplify the range of materials coming through the economy, with a view to eliminating non-recyclable and hazardous waste
Increase source separation of plastic, paper, glass to optimise the value of recyclable materials
Creating new and stable end markets for locally recycled materials and products
Our Plan for local recycling and local jobs
$300m public investment into expanding the capacity of local recycling industry across Victoria
Mandate purchase of recycled content through state and local government procurement frameworks
Advocate for National Guidelines on preferred materials and what can be recycled
Waste to Energy as a last resort (Incineration and biological)
The Greens take a 'precautionary approach' to the adoption of new technology - to ensure we do not create new problems whilst trying to fix existing ones. 
Public investment in waste reduction and management must also always be prioritised using the zero waste hierarchy. 
Waste to energy that involves mixed waste (waste that is not a single type of material - e.g. paper only) is new territory for Victoria. 
There are different types of waste to energy technologies. These fall into two broad categories: incineration treatments and biological treatments. 
The Greens will require any waste to energy proposals be considered within strict parameters. These ensure:
safety for human health and the environment, 
proposals are a viable and genuine alternative to landfill and a purposeful output,
proposals have a social licence to operate,
do not use materials that can be recycled as feedstock, and 
regulation and operation comply with world's best practice. 
As per the zero waste hierarchy, waste to energy should only ever be considered when all other higher-order waste management practices have been exhausted.