Much of Australia is on fire and yet our PM is nowhere to be seen. Instead, it's people like you powering the movement for action on climate change – and while we have you, there is always hope.
By Richard Di Natale
 
This past month we've seen fires blazing around the country, sending smoke billowing into our cities and our lungs. Our thoughts are with all those affected, and also the courageous firies still fighting (today as I write). 
Tragically, the fires put climate change front and centre. And at the same time, the Bureau of Meteorology declared this spring the 'driest on record' (something our farmers already knew). Even the government was forced to admit to UNESCO that, under their watch, we're losing the Great Barrier Reef... 
It's getting impossible to deny. We are in a climate emergency.
Yet despite the smoke, and the increasingly urgent warnings of scientists, our coal-hugging PM is doing nothing. In fact, he's trying to con Australians into thinking we are doing our bit by using dodgy accounting tricks to meet weak renewable energy targets.
The Paris Agreement aims to keep global heating to 1.5 degrees but, under this government, we're on track for a deadly 3 to 4 degrees.
We must make him increase Australia's climate ambition – failure is not an option.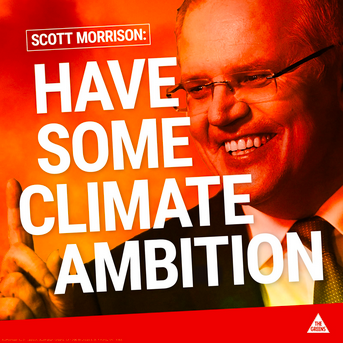 That's why I'm thankful for you.
Australians like you are the people powering our movement that's demanding Scott Morrison grows some climate ambition!

Over the last fortnight, world leaders and activists from around the globe gathered in Madrid for major climate negotiations – the meetings are called COP25 and almost 190 countries are represented. Embarrassingly, Australia has already been given the COP25 'fossil of the day' award... twice. 
In your name, we're calling on the Australian government to join Spain, the United Kingdom and the United Nations by joining the 'Ambition Alliance' at COP25 and lift our climate efforts. At the time of writing there has been no response from the PM.
But despite Morrison's silence, all around the country we're seeing a giant leap in public awareness about the climate emergency. And that means there is always hope.
Hero image via Wikimedia Commons published under the Creative Commons Attribution-Share Alike 3.0 Unported license.