Thousands of you recently took time out to respond to our latest supporter survey, which is invaluable to shaping the work we do – especially in a potential election year. Now, we can share the issues that are most important to you, and where you would like to see the party go.
By Jess Parker

A big thank you to all of you (more than 7,000!) who took time out of your day to fill out our supporter survey and help us improve the work that we do. I was humbled to read through the responses and the team here are still making our way through individual comments and feedback, all of which is really valuable to us.
If your comments required a response, we will try our best to follow up with you soon! 
Here is a snapshot of some of the results… 
Issues you care about most
The top issues you believe we should be campaigning on, in order of priority: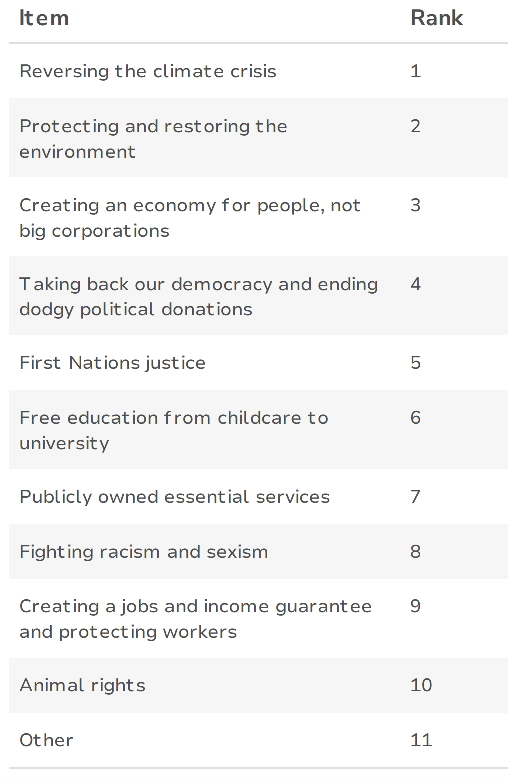 And the one issue that we are campaigning on that you are most passionate about was: climate change!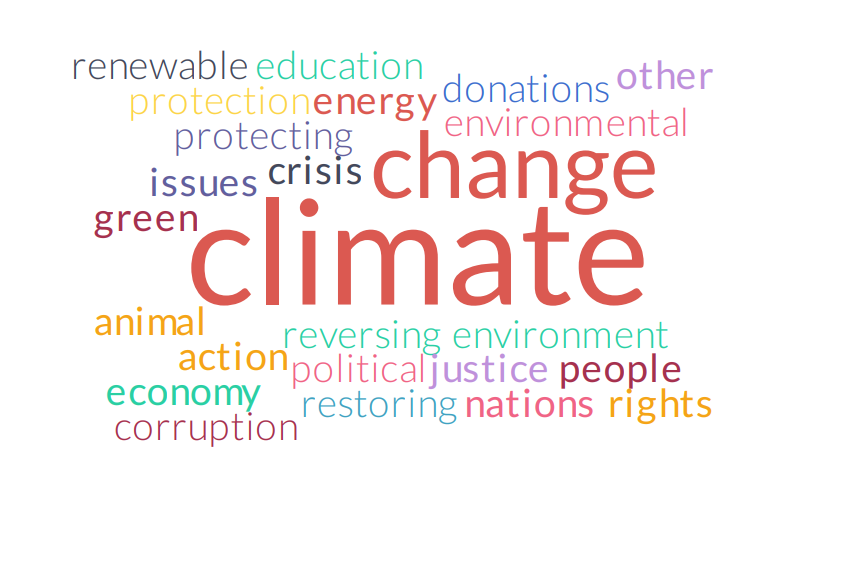 Of the issues you were most passionate about, 51% of you believed you could make an individual difference on this issue, 38% were unsure, and 11% believed you couldn't. 
80% of you said you would like to hear more about our campaigns on the issue you were most passionate about. 
Motivations
The things that motivate you most to support the Greens, in priority order are: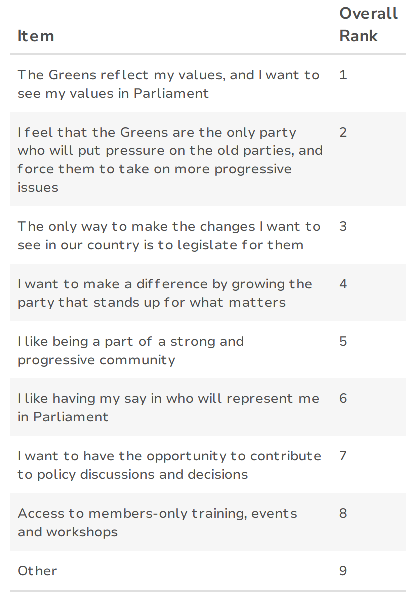 Political direction
In order of priority, here is how you ranked each of the Greens' five strategic goals: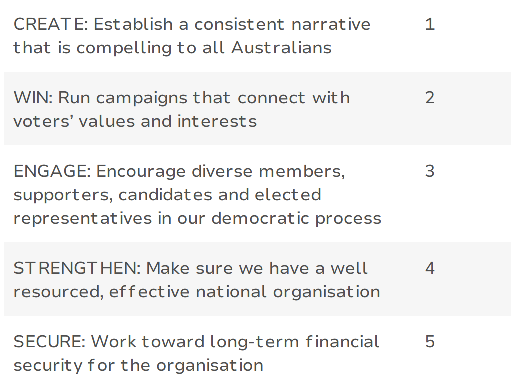 And here is how you ranked your ideal outcome for the Greens after the next federal election: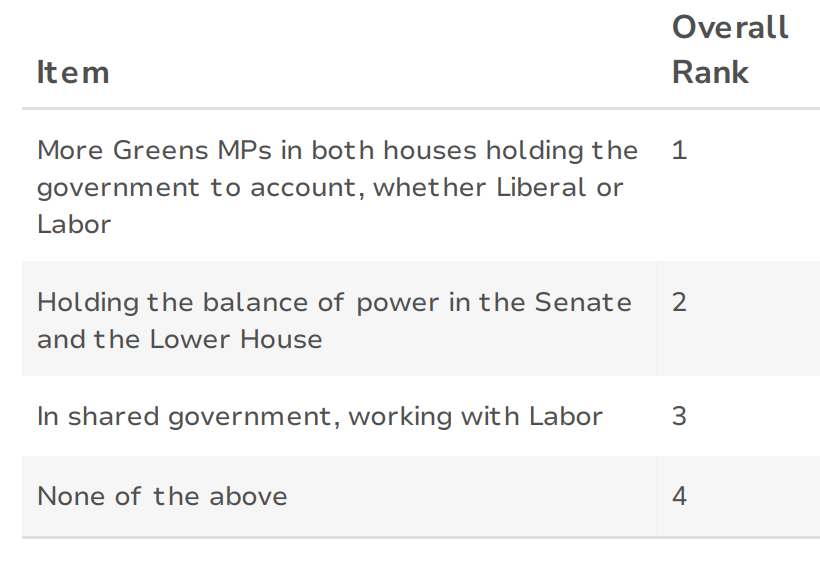 Over 30% of you did not understand the pathways for getting involved in the last federal election in May 2019, which is something that we want to try to improve for the upcoming election. However 80% understood what the Greens were campaigning on and 72% talked to extended friends and family networks about voting green – which was great to hear. 
Green Magazine
It was interesting to receive lots of comments and feedback on the format of our monthly magazine from content to readability. We will definitely be taking suggestions onboard for upcoming editions!
Giving
We also asked questions about regular and larger one-off donations, and gifts in wills. The information we collected will help us grow these areas of fundraising to support our campaigning work.
These sources of income are critical to our capacity to keep our organisation growing and to run effective campaigns because, as you know, we do not accept donations from vested interests, and we are certainly not in the pockets of corporate donors.  
Thank you to all of you who have given and continue to give to the Greens – your contribution, no matter how large or small - they are making every difference to how well we will do in upcoming elections!
To the 8.6% of you who will consider including the Greens in your will and would like more information – our Bequest Officer Rosalie will be in touch soon if she hasn't already reached out.
Similarly, to the 18% of supporters who were interested in financially supporting specific election-readiness projects with a significant gift, our Relationships and Development Advisor Joe will be in touch soon.
50% of you indicated you were interested in volunteering in the upcoming Federal election which is great! We will be passing this information on to your State or Territory to follow up with you. We also had some thoughtful responses from those of you who were not interested in volunteering this time and why – thank you for responding.
We sincerely appreciate your response to all of our questions – it really gives us a better picture of what you care about and want to achieve through our work. 
Keep visiting us here at https://greens.org.au/ for future election announcements and campaigns!
Jess Parker is the Australian Greens' National Engagement Program Manager.