A
gainst seemingly
insurmountable challenges, the Greens continue to show the path for a more just and sustainable future.
 By Nick Cooper

Three years ago, in my first annual report as National Treasurer, I referred to entering the role and standing on the shoulders of giants. Now, three years and an election cycle later, those shoulders continue to grow, as against seemingly insurmountable challenges the Greens continue to show the path for a more just and sustainable future.
This will be my last annual report as treasurer. Through the role I have had the chance to work alongside some of the most incredible and dedicated people I have known, and regretted not getting to know even more of you better. Our principles and policies may be what this moment in history needs, but it is the people of our movement that have and continue to inspire me the most. Thank you to everyone who has made the past three and a half years some of the most exciting, passionate, frustrating, uplifting, and valuable periods of my life. 
State of accounts
The Australian Greens (AG) entered this election cycle with a financial governance framework greatly improved since the last, but with funding challenges that will impact our ability to take advantage of the opportunities before us. The organisation entered this financial year on a strong financial footing. At the start of the financial year, AG's net reserves were $677,698, of which $577,593 was held in special purpose reserves (such as the campaign fund, bequests reserve, legal defence fund, etc.), and $100,105 was held in general reserves.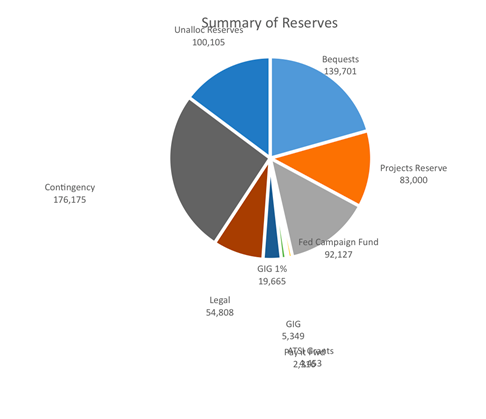 Terms of Reference for each AG reserve, including its purpose, income sources, terms of use and target balance, is available on Greenhouse at https://members.greens.org.au/node/7306. 
The major financial risk facing the Australian Greens in the near-to-medium future is the financial position of The Greens NSW (GNSW). National Council was informed that, due to a variety of significant issues, GNSW would be unable to contribute the amount determined by the Funding Model in AG Bylaw 16 towards AG's FY2019-20 operating budget, with serious concerns also remaining about their ability to contribute in future years.
For this financial year, GNSW has allocated within its approved budget a contribution of $120,000. Negotiations between AG and GNSW have failed to yield agreeable alternative paths forward. An agreed contribution of $120,000 by GNSW would result in an AG operating budget deficit for FY2019-20 of approximately $74,000, leading to a depletion of general reserves to between $20-25k. At the time of writing, National Council has not yet determined whether it agrees that this contribution meets its expectations. 
Though not the only financial risk facing AG, GNSW's financial performance is by far the greatest, especially given its structural nature and ongoing state-specific risks. Continued efforts by GNSW to reform their budgetary and financial processes and policies are hoped to lead to greater stability, performance, and contributions to AG in accordance with the Funding Model, though the timeline for such outcomes remains unknown. As such, AG is expected to face a smaller but still substantial budget risk in the medium term, despite its strong position at the beginning of this electoral cycle.
Despite these challenges, AG's financial governance has improved markedly, particularly over the past 18 months. A default Funding Model, incorporating both a Framework determining the combined member body contribution to AG's operating budget, and a Formula, allocating the percentage of the Framework total expected of each member body, has been negotiated and passed into AG Bylaw 16.
Additionally, each AG fund and reserve has agreed Terms of Reference governing their use, providing both guidance and boundaries to National Conference and Council aligning decision-making with AG's overall financial strategy. National Council has also agreed to invest a portion of its assets in ethical investment portfolios, which has thus far led to increased returns compared to its otherwise term deposit-focused cash management strategy. Though not revolutionary, each of these changes has refined and improved the governance and professionalism with which AG conducts its finances and decision-making, leading to a more transparent, efficient, and effective national organisation.
Looking ahead
The next year presents a number of opportunities for the next treasurer and the Australian Greens – some of which have commenced, and some of which are still in their budding stages.
Foremost among these opportunities are the development and implementation of a major donor program that will help AG and its member bodies attract and facilitate coordinated relationships with some of our major supporters throughout the election cycle.
Another is the continued investment in our bequests program, the success of which has the potential to catalyse a step-change in our campaigning and operations. If you would like to learn more about our bequests program or have a chat with our bequests officer Rosalie Gorton-Lee, please contact us at evergreen@greens.org.au or find out more at https://evergreen.greens.org.au. 
A further area ripe for reform is the intra-confederation approach to donations and gifts. Though the current process has served us well for a number of years, its complexity and administration remain confusing and opaque to many. Agreeing a simpler system will require significant negotiation, but offers the potential of a system that is more efficient, transparent, and supportive of collaboration to the benefit of all member bodies and AG. 
Thank you again to everybody who has contributed to my time as National Treasurer, in particular my past and present fellow office bearers, our National Manager, and the National Office staff. Having only joined the party six months before being elected treasurer, I learned first-hand the generosity of the movement – that if you step up there will be people beside you helping you all along the way. As a self-described introvert who will never be a candidate or spokesperson, I have been overjoyed to learn and learn again that there is a place in this movement for all of us. And that is how we will win. Every one of us doing our part – however big, small, centre-stage or out of the limelight. Good luck!
Nick Cooper is the Australian Greens' National Treasurer.