AUSTRALIA'S ECONOMIC SYSTEM IS RIGGED. ​​
THIS ELECTION, IT'S TIME TO MAKE BILLIONAIRES AND CORPORATIONS PAY.💰
Right now 1 in 3 big corporations pay no tax.
Billionaires, like Gina Reinhart and Clive Palmer more than doubled their wealth during the pandemic. 
While they make huge profits, the rest of us are struggling to cope with the rising costs of living.
The Government is meant to make choices that benefit people like us. But for decades, both Liberal and Labor governments have given billionaires and corporations massive tax handouts and let them get away with not contributing their fair share. 
Instead of raising revenue from their rich mates, governments have cut services for the rest of us – like public health, education and social services. 
Why? The Liberals and Labor take millions in donations from big corporations and billionaires.
The billionaires have made out like bandits
During the pandemic, billionaire Kerry Stokes made over $570 million. His companies took millions in corporate welfare like JobKeeper, and cut workers' wages. Meanwhile, Stokes bought a new jet.
At the same time millions of people lost their jobs. More women lost jobs than men, and did more unpaid work. A third of young people went jobless. 
Before the pandemic, billionaires and big corporations had too much power. Now, this special treatment is out of control. 
To turn around this growing inequality, and the climate crisis, we have to fight for our future. 
The billionaires made how much?!?!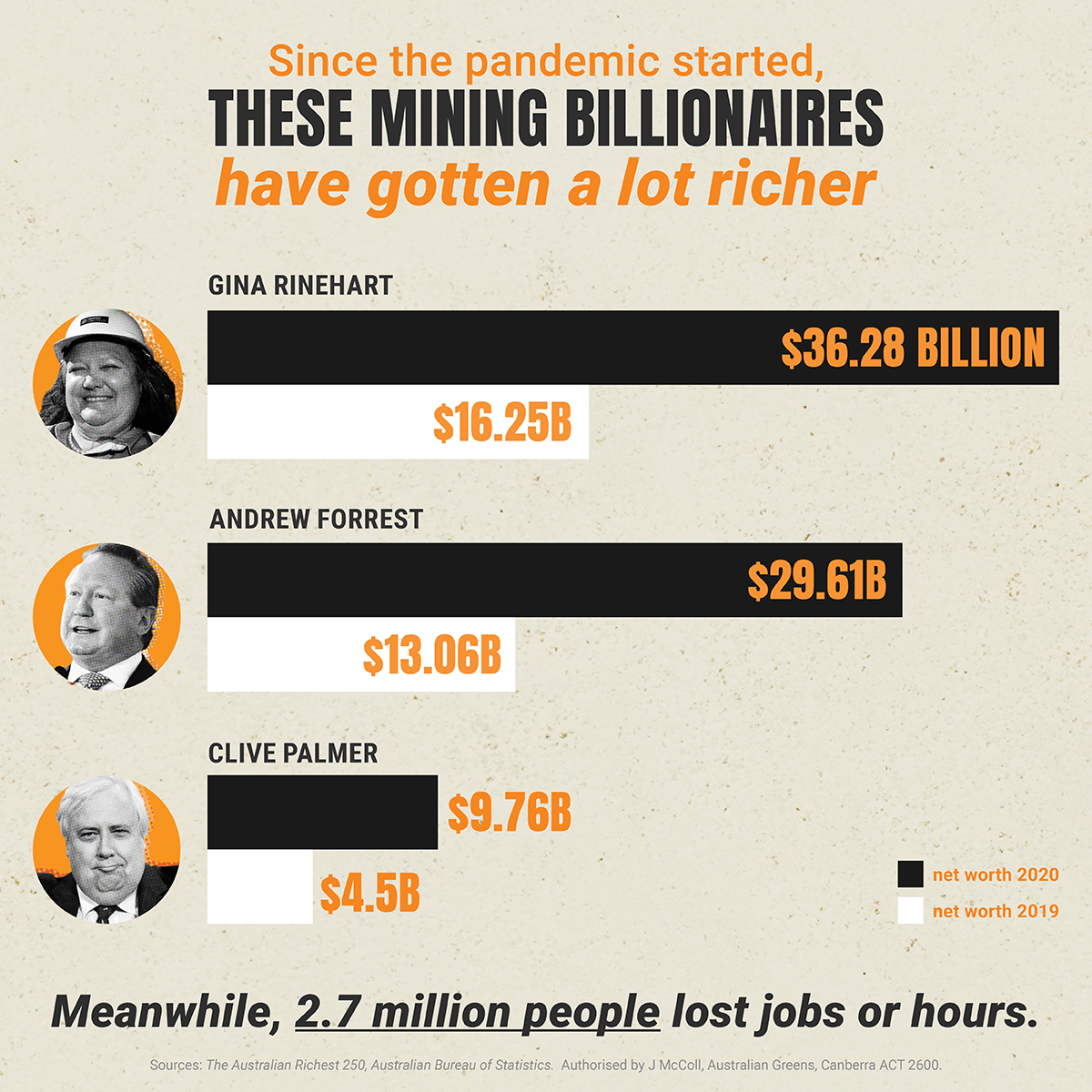 Australia's billionaires are doing very well out of the pandemic, increasing their total wealth by 34%.
The ten wealthiest billionaires in Australia increased their wealth during the COVID pandemic by $68.4 Billion.
Gina Rinehart's personal wealth more than doubled during the pandemic from $16BN to $32BN. 
The current total wealth of Australia's billionaires is $417 billion, an increase of $90 billion.
The number of billionaires is growing and currently stands at 122.
Australia's billionaires use complex schemes to avoid paying tax, while donating millions to the Liberal and Labor Party.  
NOW IS OUR CHANCE TO MAKE BILLIONAIRES AND BIG CORPORATIONS PAY THEIR FAIR SHARE.
If just a few hundred people change their vote, we can kick the Liberals out, and put the Greens in the balance of power in Parliament.
That gives us significant power to make our policies a reality.
We'll tax billionaires and corporations and we'll use the revenue to deliver services that will give everyone a better life – dental and mental health care free under medicare, building affordable housing, raising income support and wiping student debt.
THE PLAN
By making mining billionaires and big corporations pay their fair share, we can build a better life for all of us by having mental health and dental in Medicare, building affordable housing and raising the rate of JobSeeker.
The Greens will:
Put in place a new Corporate Super-Profits Tax of 40% on big corporations
Introduce an annual extra 6% wealth tax on billionaires
Tax the mega-profits of big corporations earning over $100m annually
Crackdown on multinational tax avoidance
End government handouts to the billionaires and the big corporations, like the fossil fuel industry
Fixing the cost of living
By making the billionaires and big corporations pay their fair share we can tackle the cost of living and create a better life for all.
Read more
---
Sources:
Australian Tax Office Report of Entity Tax Information 2018-19
Together, we're powerful.
We're fighting to get real climate action, make the big corporations and billionaires pay their fair share of tax, and get dental and mental health in Medicare. The Greens are fighting for your future.