Locked out of home ownership? Stop paying rent, and get a new home, in a place you want to live, for $300,000. It's possible.
Want to own your own home? 
Well, if you start saving and scrimping now, in 10 years you might have enough to apply for a massive loan.  
The home might be a long way from where you want to live, and you're going to have to pay thousands in fees, taxes and charges. 
For most people, it's just out of reach. 
We have a plan to change that. As part of our one million homes plan the Government would build new homes you want to live in, in places you want to live. 
Help renters become home owners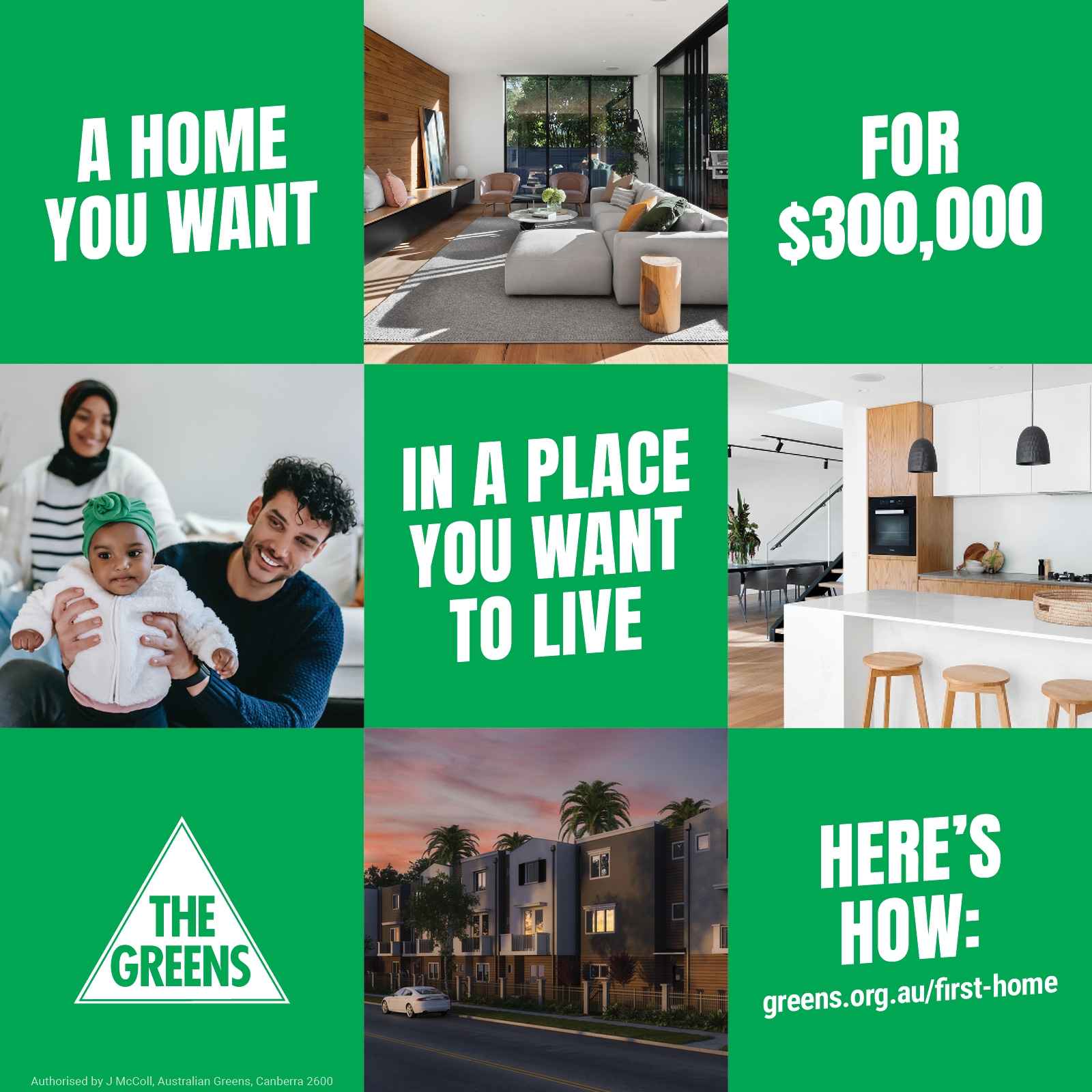 Here's how it will work. Once the homes are built, with a small deposit, you can move in and start paying it off straight away. 
All homes are owner-occupied and you'll be able to own up to 75% equity in any given property. 
No million dollar debts. No massive fees & charges. No wasted rent. Just a new home for $300,000 in a place you actually want to live.
Your monthly payments will go straight into paying off the home loan. 
And, the best bit? When you want to leave, you can sell your share back to the government, and walk away with a return on the money you have invested. 
There's never been a better way to buy your first home.
The Greens will make billionaires and big corporations pay their fair share
How it works:
You pay a 10% deposit, to secure the home and you make repayments each month, like you would with a mortgage. 
Instead of paying the money to a bank or landlord, you're buying equity in the home.
If you decide to leave, you can sell back to the government and take your money with you, which you could put towards your next home.
And just like buying a home, your investment will grow.
What will it take to make this a reality?
Decades of governments have rigged the private housing market with tax breaks that favour big developers and rich property speculators. It's time to think differently.
The government has bought and sold homes like this before, and in other countries it's very common.
With your support, we can make this happen by forcing the major parties to provide housing based on people's needs, not on the profits of the banks, property developers and investors. 
The Greens are currently in the balance of power in the ACT, where we are working to make housing more affordable and secure. 
Why the Greens? 
The Greens are the only party who do not take donations from the big banks, big developers and property tycoons. 
Because we don't take big donations, we can put people's needs first. 
Only the Greens fundamentally believe that the current situation of some people owning five, ten or more properties, getting huge tax handouts and locking other people out of the market is completely unsustainable. 
Use your vote to put the Greens back in balance of power and we'll push the next Government to go further and faster and help renters become home owners.