From our beaches, to our big old trees, our food bowl and our local parks, we've grown up in one of the most diverse and beautiful places in the world. We can continue to enjoy our lives in harmony with our planet if we support industries that protect our environment and stop those who are polluting it. 
Our earth sustains all life, but it's under threat like never before. Our Great Barrier Reef is dying and our farmers are suffering through intense drought caused by climate change. There are serious pressures on our environment and our government is not doing anything about it. 
For decades, Liberal and Labor governments have let corporations get away with trashing our planet for their own private profit. Both parties have stood by while their big donors have dug up our environment, destroyed our climate and sold off our green spaces, with little accountability. They're polluting the places we live – our farmland, our rivers and our oceans – and destroying the places we love. Hundreds of native Australian species have been pushed to the brink of extinction.
The Greens recognise that good economic management means taking care of our planet. Our future will only be a prosperous one if we build our economy on the principles of long-term sustainability and science, rather than short-term self-interest and political point-scoring. 
We will phase out support for industries that destroy our environment and support industries that protect our environment, creating the clean, green jobs and industries of the future. 
Labor and Liberal parties have taken over millions from the big polluters in recent years, including $5.9m from big resource companies and $1.8m from energy companies since 2012. Unlike the major parties, the Greens refuse to take donations from these corporations who are buying policy influence. That means we are entirely focused on outcomes that are good for our community, not outcomes that suit big corporate donations. We can't be bought and we won't sell you, or our environment, out.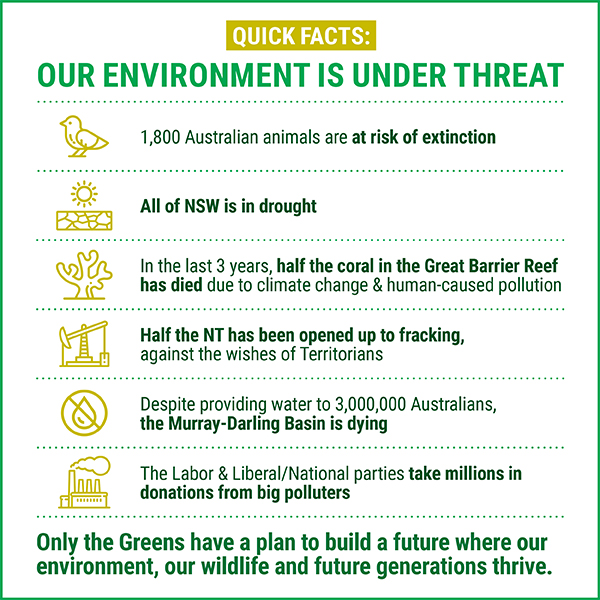 Our plan to protect our
environment & everything that depends on it:
| | |
| --- | --- |
| ▲ | Overhaul our environmental laws · More » |
| ▲ | Tackle the waste crisis to make Australia a global leader in reusing and recycling products · More » |
| ▲ | Look after our oceans, forests, rivers and reefs by introducing a network of marine parks, ending deforestation, saving the Great Barrier Reef, protecting the Murray-Darling basin and stop oil and gas exploration in the Great Australian Bight · More » |
| ▲ | Ban all new coal seam gas and fracking projects across Australia, including expansions to existing projects · More » |
| ▲ | Protecting animals from cruelty · More » |
Our plan for protecting our environment

Overhauling our environmental laws
We should all be able to enjoy the places we love in nature without them being threatened by big polluters and corporations who want to trash our environment for their own profit. The Australian government has the power, authority and resources to look after Australia's natural heritage and better protect our wild places and threatened species. But we need to end the influence that corporations have over our parliament to make this happen. 
The major parties have let big corporations dictate their environment policies and destroy our environment. Environmental funding has been slashed, while Liberal and Labor government efforts to demonstrate their 'enviro-creds' are nothing more than tinkering around the edges.

Our planet needs a comprehensive plan rather than stop-gap measures at election time. 
Better laws
To better protect our shared natural resources, our wild places and our threatened species, the Howard-era federal environmental laws need to be rewritten.
Better protection
Under our plan, a new generation of environmental laws will be introduced and overseen by a federal regulatory body with expanded responsibility and with real power to enforce the law. Crucially, this national Environment Protection Agency will operate at arm's length from politicians and lobbyists.
Unlike the major parties, the Greens are committed to preserving, protecting and restoring nature. We are your voice inside parliament for the prevention of human-caused extinction of our animals, plants and ecosystems, and will always hold governments to account when it comes to environmental regulation and, ultimately, replacing destructive industries with sustainable, clean alternatives.
The benefits of our plan:
Environmental protection laws that actually work
Independent advice, free from political or corporate influence
Expanded responsibility to include regulation of land clearing, invasive species, air pollution and more
Increased community access to justice

Win the war on waste
As Australians we pride ourselves on being good recyclers and doing our bit. But we are being let down by corporations and governments who are sending our recycling overseas or to landfill instead of repurposing it. Instead of relying on other countries to deal with our waste, we believe we have an opportunity to build a recycling system that creates Australian jobs, establishes new industries, makes the best use of our recycled goods and helps us live more sustainably. 
Our recycling industry is in the midst of a major crisis. With the Liberal and Labor parties asleep at the wheel, tonnes and tonnes of low-quality recycling has been stockpiled and dumped into landfill. Much of this waste finds its way into our water, where it pollutes our beaches and destroys the health of everything that lives in our rivers and oceans.
Tackling waste
Unlike the Labor and Liberal parties, whose inaction has caused the waste crisis, the Greens have a comprehensive plan to create less waste, fix recycling and build a circular economy. This includes the establishment of a national container deposit scheme, to ensure a consistent nationwide approach, and to provide greater incentive for manufacturers to make recyclable products.
Ending the recycling crisis
We would also introduce stewardship schemes for problematic waste items, like mobile phones, tyres and mattresses, and phase out of single-use plastics for take-away food, including straws, containers, lids and other plastic packaging. Our plan will also invest in waste avoidance and resource recovery initiatives, to encourage greater recycling uptake; and in research to clean up our oceans and to develop new uses for recovered plastic.
The benefits of our plan:
Establishes a consistent national approach to recycling
Provides an incentive for people to recycle
Encourages manufacturers to make recyclable products
Provides a solution for problematic waste streams, like e-waste, tyres and mattresses

Protecting the places we love
We can protect the places we live, and save the places we love, if we listen to the advice of experts and get big corporate interests, like mining and energy companies, out of politics.
Under Labor and Liberal governments, Australia has become a deforestation world leader, our Great Barrier Reef has been dredged and bleached to within an inch of its life, and the Murray-Darling Basin is being run dry by big corporate irrigators. Our environment is under threat like never before, yet the major parties are just standing by and letting their big corporate donors get away with trashing it. 
It doesn't have to be this way.
The Greens have an extensive plan to protect our environment. Under our plan, a network of marine parks will be introduced based upon on scientific recommendations, Japanese whalers will be pursued for illegal hunting, and there will be no further oil and gas exploration in the Great Australian Bight.
The Greens will prevent the destruction of our precious forests by completing the transition to 100% plantation-sourced timber and fibre; we will decrease the pressure on the Great Barrier Reef by stopping the Adani mine and investing $2 billion to improve its water quality. And we will stand up to corruption in the Murray Darling Basin to stop the theft of water and return 4000 gigalitres of water back to key areas.
The benefits of our plan:
Marine park introduction, fisheries management reform and toxic plastics removal to keep our oceans healthy
No more logging in native forests or land clearing on private land to end deforestation
Stop Adani, no new coal or gas, improved water quality and a ban on dumping offshore dredge spoil to save the Great Barrier Reef
Taxpayer payments for water recovery audited and 4000 gigalitres returned to the Murray-Darling

No fracking way
By investing in renewable technology we can harness all the energy we need to live a good life without drilling into the ground and risking our water supplies. Using the sun and wind we can power our country, while protecting our agricultural land, farmers and communities for years to come.
Fracking and coal seam gas pose a serious threat to our climate, groundwater, agricultural land and community. These practices are fundamentally incompatible with farming. Drilling for gas has the potential to contaminate and lower the water table, while extracting coal seam gas, shale and tight gas requires dangerous and risky fracking.
Despite damning evidence against these practices, there has been rapid expansion of the CSG and fracking industry across Queensland and New South Wales -- thanks to the industry's cosy relationship with Labor and Liberal governments. And, to make matters worse, if the Northern Territory is opened up for fracking then Australia's greenhouse gas emissions will rise by 5%.
Unlike the major parties, we will always fight for outcomes which are in the best interest of the community, not for political donors or big business mates.
The Greens are committed to defending farmers and our environment against the big gas companies by banning all new CSG and fracking projects across Australia, including expansions to existing projects. Under our plan, we will extend the 'water trigger' in our national environmental protection laws to cover all forms of gas extraction and protect farmers and their water sources. And we will make gas companies clean up after themselves by requiring sufficient funds to be set aside for rehabilitation once existing projects end.
We'll work with unions and industry to ensure a just transition for workers including retraining for the industries of the future.
The benefits of our plan:
Fracking is banned and no new unconventional gas approvals or expansions on existing projects
Landholders, including First Australians, have the right to say no to gas mining on their land
The "water trigger" will be extended, covering all forms of gas extraction, to protect water sources
Gas companies will be made to clean up their own mess
Protecting animals
The Greens believe in a world where all animals are treated with compassion and we are committed to ending animal cruelty.
The way we treat animals reflects how we treat all life. We have a duty of care to minimise physical and psychological suffering of animals resulting from human activity. That's why it is unacceptable that, every day, animals across the country are made to suffer in order to maximise corporate profit in gambling, entertainment, cosmetics and agriculture.
We are committed to fighting for better animal welfare laws and an end to harmful practices in order to protect animals from cruelty and suffering. You can read our comprehensive principles on the treatment of animals here.
Our priorities at this election include ending live export of animals for slaughter overseas, banning the manufacture, sale and importation of animal-tested cosmetics, ending intensive factory farming across Australia, working at a state level to ban greyhound racing and banning the export of racing greyhounds.
The Greens will work with industry, farming and union stakeholders to include appropriate industry adjustment measures to ensure a best practice transition.
The benefits of our plan:
An end to the live export industry and a smooth transition to local processing of boxed and chilled meat for export
A ban on animal-tested cosmetics and cosmetics ingredients
No cage egg production, sow stalls or other cruel industrial animal farming practices
Stopping greyhound racing and the export of racing greyhounds