Our democracy is the best tool we have to care for people, plan for the future and protect the environment, but it has to work for everyone. In a strong and well functioning democracy, we can all have our voices heard and the values of our community represented in Parliament. 
Right now, corporate influence in politics is getting in the way of progress on everything, from tackling climate change to housing affordability. 
Instead of delivering a better future for all of us, the Liberal and Labor parties take millions of dollars in donations from big corporations, host secretive fundraising functions, and organise cushy lobbyist jobs for ex-politicians, with no transparency or accountability.
Big corporations donate for a reason. In return for their money, property developers, big banks, gambling corporations and mining giants have received billions of dollars worth of favourable policy decisions from Liberal and Labor governments. While the major parties continue to take money from big corporate interests, they will never be completely focused on what is good for our communities.
Unlike the major parties, the Greens refuse to take donations from corporations trying to buy influence. That means we are entirely focused on outcomes that are good for our community, not outcomes that suit big donors. We have a plan to return integrity and transparency to the political system and hold politicians and major parties to account. And we have a plan to properly fund and protect our publicly owned broadcasters, which are critical to the health of our democracy.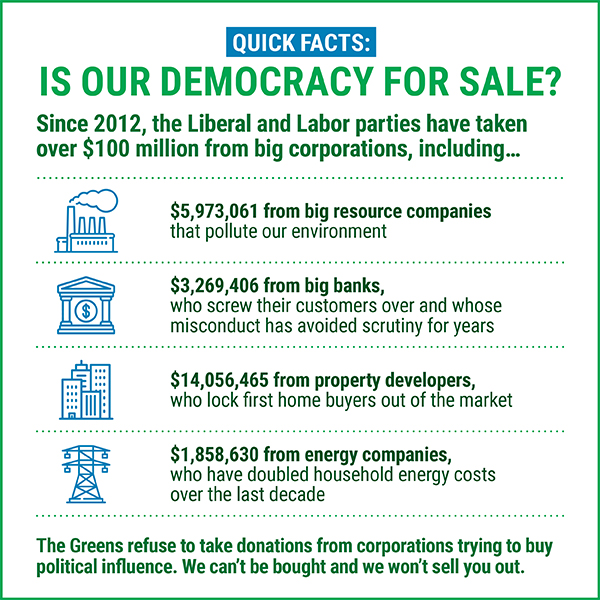 Our plan to clean up politics:
| | |
| --- | --- |
| ▲ | Ban political donations from mining, property development, tobacco, alcohol and gambling industries. Cap all other donations  and make sure every donation over $1000 is disclosed publicly, in real time · More » |
| ▲ | Ban MPs and senior staff from accepting lobbying jobs after they retire and require the publication of the subject of all meetings with lobbyists · More » |
| ▲ | Root out corruption by establishing a federal anti-corruption commission that can undertake investigations of politicians · More » |
| ▲ | Protect the rights of citizens and community groups to speak out · More » |
| ▲ | Ensure all of us are represented and able to participate in our democracy · More » |
| ▲ | Save the ABC & SBS · More » |
Our plan to clean up politics

Clean up politics
Our democracy should work for everyone, not just those who can afford a seat at the table.
Australian politics needs a major shake-up. For too long, our parliament has played out behind closed mahogany doors, shutting out communities and making decisions about people, without their involvement.
Reform political donations
Big corporations make donations to the major parties for a reason: to buy influence in political decisions and policy-making. Big mining, tobacco, alcohol, and gambling companies donate millions to political parties – and they get what they pay for. The fossil fuel industry is estimated to gain $2,000 in subsidies for every $1 they donate. The Greens are the only party that refuses donations from corporations trying to buy influence. We will ban political donations from  the mining, property development, tobacco, alcohol, and gambling industries to all political parties and candidates. We will cap all other donations and make sure every donation over $1000 is disclosed publicly, in close to real time. Our plan will ensure that all politicians are accountable to everyone – not just their big donors.
Shine a light on shady lobbying
Professional lobbying can be a shady business. The public rarely knows who is meeting with politicians, for what purpose, and what outcomes are gained. And too often, politicians and senior staff members find themselves with cushy lobbyist jobs as soon as they leave parliament. That doesn't happen by accident. Our plan will require the publication of information about meetings, such as the subject of the lobbying and we will enforce a five year 'cooling off' period during which Ministers and their senior staff cannot be engaged in private enterprise that raises a conflict of interest, or particular benefit, from their role and connections.
Establish a Federal Anti-Corruption Commission
Confidence in politics is incredibly low, and that's not surprising. Scandal after scandal has demonstrated that politicians from the major parties are representing the big end of town and their big donors, rather than the rest of us. But we don't have a robust mechanism federally to ensure separation, or to prosecute politicians when they do the wrong thing. State and territory anti-corruption commissions have proven effective at investigating corruption and acting as a warning to potentially corrupt MPs and public servants that they will be caught.
The Greens will create a Federal Anti-Corruption Commission to investigate corruption and prosecute politicians when they do the wrong thing, and to stop big corporations and the super rich from buying the political outcomes that favour them. Their time is up. 
The benefits of our plan:
Decisions are made to benefit our community, not big donors 
Politicians held accountable for the decisions they make
Better transparency and accountability of government

Protect our democracy
We should all be able to have our say and play a role in shaping our future. Whether your political involvement includes signing a petition, having a chat with friends or campaigning with a local not-for-profit, your voice should always matter. Our ability as citizens to speak up for and speak out against government policies is one of the most important aspects of our democracy.
Protect the rights of citizens and community groups to speak out
The Greens were built on grassroots democracy. We believe that real progress is achieved when enough people believe it is possible to make a difference and then decide to do something about it.
Instead of addressing the influence of big money from corporations and powerful individuals, the Liberal government instead tried to stop charities, other non-government organisations and civil society more broadly from doing their jobs through new laws and regulations. 
The Greens will always defend charities, not-for-profit groups and the public so that they are free to undertake issues-based advocacy that advances critical issues that affect us all - from climate change to the impacts of poverty and the well-being of refugees. We will also ensure government funding can't be withdrawn for speaking out against government policy.
Ensure more people can participate in our political system
The more people that participate in our political system, the healthier we make our democracy.
That's why we want to encourage greater public participation in our democracy, by using legislation to ensure that consumer groups and citizens are represented in government decision-making bodies, advisory bodies, and in oversight of community consultation processes.
Thanks to tech developments, there are more ways than ever to get involved in our democracy. Many local councils have already implemented online budget allocation tools to complement community forums to help work out their budgets. The Greens will trial a variety of innovations and digital platforms to increase democratic participation, including:
Citizen assemblies and juries to complement Parliamentary processes on big decisions
Participatory budget making, where more people have the opportunity to have a meaningful say when governments determine how to invest and raise revenue
Petitions which reach a threshold of support to trigger a real debate in parliament
We will also legislate stronger freedom of information laws to enable greater scrutiny of government processes and decisions. 
The benefits of our plan:
It's easier for people and organisations to get involved in decision making 
Charities can fight for what's right without fear of funding cuts 
Communities can take back our democracy from vested interests

Save the ABC & SBS
Democracy requires a strong and diverse public media, but instead of protecting our ABC & SBS, they are under assault from the twin threats of funding cuts and political interference. Changes to media ownership laws have further undermined the strength of our journalism, allowing power to concentrate in the hands of a few and weakening our democracy in the process.
Ensuring ABC & SBS Funding
The ABC has been cut by more than 1,000 jobs and more than $300 million since Tony Abbott went to the 2013 election promising no cuts to the ABC. The Greens will restore every dollar cut from the ABC's budget by the Abbott-Turnbull-Morrison Government since 2013, and we'll grow the ABC's funding year-on-year to account for those years of chronic underfunding. This represents an investment of $1.2 billion over the decade.
The Greens will make sure that funding for the ABC is done by law not handshakes. We will amend the ABC Act to create a standing appropriation - meaning that funding of the ABC is law, not subject to the whim of the government of the day. This will help recover the jobs lost and restore and protect the news-breaking ability of our nation's public media across the country. 
Meanwhile, SBS is under attack from commercial stations trying to undermine its ability to serve its audience. The Coalition government has tried to expand the number of advertisements SBS can carry, as a pretext for cutting its funding. But every advertisement makes it harder for SBS to fulfil its charter obligations. It compromises the independence of the public broadcaster when it is forced to rely on commercial sponsorship to stay afloat. We will commit $130 million over the next three years to phase out in-program advertising on the SBS, and reduce program break advertising by 80 per cent. Public broadcasters shouldn't rely on private income to keep the lights on. 
Defending the independence of the ABC
The politicisation of the ABC Board has never been more evident. We need a clear, non-partisan process for selecting the Board. Under our plan, we will secure the editorial independence of the ABC in legislation by:
Establishing clear protocols for the nominating panel
Requiring nominees to come before the Senate as well as being referred to the Minister
Granting the Senate the power to recommend the Chair to the Minister
Requiring the Minister to explain the rejection of any nominee recommended by the panel
Introducing an audience-appointed board member, reflecting the role of ABC viewers as the critical stakeholder in our public broadcaster
The new board processes will ensure that the board is independent and filled with the best candidates with relevant skills, experience and expertise.
The benefits of our plan:
Protect the ABC & SBS and keep them independent 
Fully fund our public broadcasters so they are better resourced to deliver news you can trust 
Hold the government to account
Like what you see?
Sign up to get the latest updates from our movement as we build a future for all of us.