Housing is a basic necessity, like healthcare and education. Unfortunately, for years Liberal and Labor governments have treated housing like a commodity and created a system that works best for their big corporate donors.
So while the rich get richer, it's become really hard for young people to buy their first home, rents are skyrocketing and more people, of all ages, are struggling to find an affordable, secure home.
The Labor and Liberal parties have taken over $75 million from the big banks and the finance and property industry since 2012. Unlike the major parties, the Greens refuse to take donations from corporations who seek to buy influence. That means we are entirely focused on outcomes that are good for our community, not outcomes that suit corporate donors. We can't be bought and we won't sell you out.
We'll invest in a vibrant social and community housing sector, give renters the dignity of an affordable and stable home and we'll make it easier for you to buy your first home than for an investor to buy their fifth.
The Greens will ensure we have a housing system that puts people's needs before property developer greed.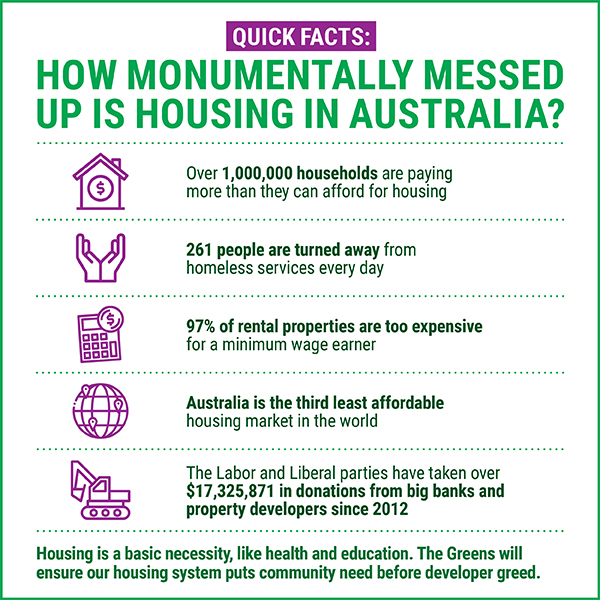 Our plan to make sure everyone has an affordable home:
| | |
| --- | --- |
| ▲ | Build 500,000 rent-controlled and well-designed public & community homes · More » |
| ▲ | Give renters real rights including long term leases, a home for your pet, and no more unfair rent increases · More » |
| ▲ | Provide $30 million for tenancy advocacy services, to help renters defend their rights · More » |
| ▲ | Support first home buyers by phasing out unfair tax rules, including reforming negative gearing and the capital gains tax discount · More » |
| ▲ | Increase funding for temporary accommodation services so that no one has to sleep on the streets · More » |
Our plan for a home for all

Build affordable public and community homes
We believe housing should be a universal right. Just like Medicare and our public school system, everyone should be able to apply for public and community housing if they need it. 
More than a million households in Australia pay more for housing than they can afford because the Liberal and Labor parties are happy to let the housing market remain a plaything for wealthy investors and property developers. 
While the major parties tinker around the edges, we have a comprehensive plan to solve the housing crisis and ensure everyone has a home. Our plan will establish a Federal Housing Trust that issues loans for states, territories and community housing providers to build new affordable homes over the next fifteen years.
This plan will transform Australia's housing system, by providing affordable rents based upon household income, secure long-term leases, and environmental, mobility and accessibility friendly home design. 
The Greens' vision of a Federal Housing Trust will provide people with a home for life. It's been done successfully in many other countries, including Denmark, Sweden and The Netherlands, and it can be done here as well. We'll pay for this by winding back the unfair Capital Gains Tax handout and phasing out negative gearing over five years. 
The benefits of our plan:
More affordable homes in every city
Everyone can apply 
Cheaper rent 
An end to homelessness

Better rights for people who rent
Owning your own home should not be the only way to guarantee a roof over your head. The Greens believe that every renter deserves the dignity of an affordable, liveable and secure home for the long-term.
One in three Australians are renters, yet we have one of the most expensive and unregulated rental markets in the world. We have no national rental standard for renters' protection, and years of mismanagement from Liberal and Labor governments have left many of us facing application discrimination, unfair rent increases, 'no grounds' evictions, poor living conditions and short-term leases. 
Our plan will establish a national standard for residential tenancy agreements. It will create tenancy laws for long-term leases, ensure minimum standards for energy and security, protect tenants against eviction, unfair rent rises, discrimination and landlords who refuse to maintain properties. And under our plan, we'll prohibit blanket 'no pets' clauses so your fluffy best friend is guaranteed a home with you.
The Greens will commit $30 million to properly fund tenancy advocacy services, to provide free and independent information, advice and advocacy to people who rent. We'll pay for this by winding back the unfair Capital Gains Tax handout and phasing out negative gearing over five years.
The benefits of our plan:
Let you live with your pet
No more unfair rent increases
Hang a picture and make minor changes without unfair consequences
Longer leases for better security 
You can't get kicked out of your home without justification

Abolish unfair tax rules
Right now, wealthier people are claiming tax deductions on their second, third or fourth house while young people, young families and those on lower incomes may never own a home. The Greens have a plan to ease the market lock-out for first home buyers by ending the tax breaks that make it easier to buy your fifth home than your first.

Decades of Labor and Liberal tax policies have rigged the housing market in favour of their big donors: property investors who can afford to play the housing market and big banks who profit from mountains of mortgage debt. 
By reforming our tax system, we can build a fairer housing system where an affordable home is a reality for everyone. The Capital Gains Tax (CGT) discount is an unfair tax break that has encouraged wealthy investors to gamble on future price rises and has done very little to encourage the building of affordable homes. Negative gearing has encouraged speculation by wealthy homeowners into the housing market, and stamp duty is an inefficient tax that raises the upfront cost of homes. By backing these policies for decades, the major parties have made it easier for investors to buy their fifth property than for a young person to buy their first.
We will dismantle the rigged tax system by winding back the CGT discount and phasing out negative gearing over five years, prohibiting negative gearing on all future investment properties.
Phasing out the Capital Gains Tax discount and reforming negative gearing will raise $5.8 billion. Under our plan, this money will be redirected to fund affordable housing, protect renters rights and support crisis services.  
The benefits of our plan: 
Easier to buy your first home 
No unfair advantages for investors 
More affordable homes
Fewer investors to compete with

Fund crisis housing services
We all deserve a comfortable and secure place to call home. Without this security, it is hard to go to work, raise a family, be healthy, or be part of a local community.
Around 300,000 people seek assistance for homelessness every year, including thousands of people fleeing domestic violence. 
Rather than ensuring that everyone has a place to live, the Government has sought to criminalise and vilify people who are experiencing homelessness. Our approach will be one based upon compassion and care for people doing it tough.
In addition to tackling the housing crisis by building new community and public homes, the Greens will commit $500 million per year to crisis services, which represents a significant increase in funding. This extra funding will be guaranteed for ten years to provide certainty and security. We'll pay for this by winding back the unfair Capital Gains Tax handout and phasing out negative gearing over five years.
Our plan is to make secure housing the start of the solution, rather than the result of it. This is what's worked in Finland, where the same approach has led to homelessness falling by 35% and the need for crisis services dramatically reducing. 
The benefits of our plan: 
No one left without a roof over their head 
More funding to help more people 
Ten year funding guarantee to provide security for support workers
More compassion, less stigma
Support for all people, no matter who you are, including people fleeing domestic violence, young LGBTIQ+ people kicked out of home, people experiencing relationship breakdown and older Australians struggling to find work
Like what you see?
Sign up to get the latest updates from our movement as we build a future for all of us.