This is it. We are in a global race against time on climate change. We're seeing its effects all around us: severe drought, more intense and longer bushfire seasons and rising sea levels. 
Australia has the capacity to be a world leader in climate action and renewable energy, phasing out coal and building a renewable energy economy that exports clean energy to the world.
The mining, burning and exporting of coal is the world's biggest cause of climate change – and Australia is the world's biggest exporter of coal.
Instead of embracing renewable energy and tackling climate change, both the Liberal and Labor parties have propped up the coal, gas and oil industries while accepting millions of dollars in political donations. The fossil fuel lobby continues to do everything it can to undermine action on climate change and block the transition to renewable technology.
By ending the influence of fossil fuel giants and their lobbyists, we can transform Australia's energy system from one of the oldest and dirtiest in the world to one of the cleanest and smartest.
The Greens have a strong and evidence-based plan for a rapid, managed transition to a renewable energy economy - one that will replace coal with renewables, build a new clean-energy export industry and create 180,000 new jobs. 
Right now, the future is in our hands. We can stop the damage being done to our climate, and we can hand over a better, safer future for generations to come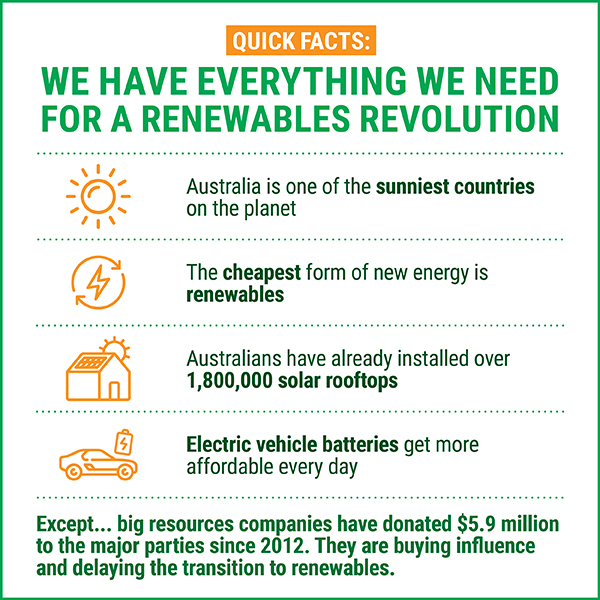 Our plan for a renewable economy that tackles climate change:
| | |
| --- | --- |
| ▲ | Phase out coal, move to 100% renewables and deliver cheap, clean and reliable energy for homes, businesses and industry · More » |
| ▲ | Create 180,000 new jobs in renewables, including a renewable energy export industry to replace coal exports · More » |
| ▲ | Provide support for coal workers and communities as we phase out coal · More » |
| ▲ | Create Power Australia, a not-for-profit, public energy retailer for renewables · More » |
| ▲ | Prioritise and properly fund clean, safe, affordable public and active transport · More » |
| ▲ | Kick start the electric vehicle revolution and reduce the cost of electric vehicles · More » |
| ▲ | End political donations from mining companies · More » |
Our plan for a renewable economy

Renew 2030: Our plan for a renewable economy
Action on climate change has been held back by a decade of Liberal and Labor governments beholden to the donations and lobbying of big mining and resource corporations, and the climate change-denying politicians in their own ranks. 
Instead of embracing the sunrise industries of clean, renewable technologies, the major parties are protecting the polluting coal and gas industry in its sunset years.
This obsession with digging up and shipping out dirty coal has doubled our emissions footprint at a time when we need to embrace renewable energy. 
The Greens have a comprehensive plan to rapidly transform Australia's energy system from one of the oldest and dirtiest in the world, to one of the cleanest and smartest.
Renewables are already driving down power prices. Australia is at the forefront of technological innovation, and with the right plan we have everything we need to repower our economy with renewable.
The Greens' plan to Renew Australia sets a clear and achievable plan to transform our economy by driving investment in new renewables projects and creating tens of thousands of jobs.
The benefits of our plan:
Cheaper energy bills, including support for renters and small business owners to access clean and reliable renewable energy
A planned phase out of coal fired power stations, supporting workers as we transition to a 100% renewable energy economy
Replacing the mining and exporting of coal with a clean energy export industry
180,000 new jobs across the clean energy economy
Drive billions of dollars of investment in renewable energy

Create Power Australia, a not-for-profit, public energy retailer
Electricity is essential for modern life. It fuels our communication, our homes and our businesses, our schools, universities, hospitals and nursing homes.
But both Liberal and Labor governments have sold off the grid to private companies. And ever since, those companies have invested in sales managers and marketing gurus instead of efficiencies and renewables, and as a result we're paying more than twice what we were paying a decade ago. 
It's time we took back control of the energy grid. The Greens have a plan to provide energy as an essential public service, putting public good before profit. 
We will establish a new, publicly owned competitor to the private power companies, dedicated solely to driving down your costs instead of driving up its profits.
Under the Greens' plan, you will be able to buy renewable energy from a government provider, Power Australia, which supplies your household electricity to you without the unnecessary profit mark-ups.
Under our plan, energy bills will be reduced by an estimated $200 a year for an average customer, we'll increase competition in the existing retail market and end the profit-at-all-costs business model. By purchasing energy only from renewable sources, this model will fast-track investment in renewable technology, create more public sector jobs and help tackle climate change. All Australians will have guaranteed access to cheap, clean and reliable electricity.
The benefits of our plan:
Make electricity cheaper
Drive investment in renewables to tackle climate change
Create more public sector jobs and disrupt the market dominance enjoyed by big energy companies
Ensure you don't get ripped off

Putting public transport first
For decades, dysfunctional Liberal and Labor governments have failed to plan ahead and meet the demands of our growing cities and regions.
Rather than building public transport infrastructure to meet community needs, our transport options are being decided by big toll road and oil companies, whose donations corrupt the policies of the major parties. 
While the Labor and Liberal parties wine and dine with their big corporate donors, it's the rest of us who are left to pay the bill, in the form of huge tolls, fines and gridlocked roads.
Unlike the other parties, the Greens don't take donations from big corporations who seek to influence us. That's why our plan prioritises clean, safe, affordable public and active transport. By ending toll road rorts, properly funding rail and bus services and giving walking and riding the legitimacy they deserve, we'll help people get where they're going quicker and make our towns and cities more liveable.
The benefits of our plan:
Easier and safer to cycle & walk in our cities
Billions currently allocated to huge toll-road companies redirected to the public transport we all need
More buses, trains and trams more often
Investment in transport options that tackle climate change

Sparking the electric vehicle revolution
If we're truly committed to meeting our Paris Agreement commitments and building towards net-zero emissions, we need to transform the way we transport people and goods. 
Unlike the Liberal and Labor parties, whose decade of dysfunctional government has failed to deliver a plan to reduce emissions, the Greens are committed to re-powering our economy through clean energy. This includes our plan to immediately spark the transition from internal combustion engine cars to electric vehicles.
Electric vehicles are better for our health, cheaper to refuel and maintain, and emit no pollution when powered by renewable energy. That's why the Greens will fast-track the roll-out of fast-charging electric vehicle infrastructure and legislate tougher vehicle pollution standards to drive down transport pollution.
Under our plan, a set percentage of electric vehicle sales by car manufacturers will be mandated so that fossil fuel cars are transitioned off the road, and the cost of electric vehicles will be significantly reduced so more people can buy them sooner.
The benefits of our plan:
Electric vehicles will be cheaper to buy
Charging electric vehicles will be easier and more convenient 
Our cities will be cleaner
Action on climate change 
Like what you see?
Sign up to get the latest updates from our movement as we build a future for all of us.