Privatisation has failed us. It's led to huge profits for big corporations but less reliable services and increased costs for the rest of us.
In the last decade alone, the Labor and Liberal parties have taken millions of dollars from the big banks, accounting firms, energy and telecommunications companies. These companies have stitched up the policy platforms of the major parties because they demand a return on their investment, and they usually get it. Political donations have corrupted our democracy.
The Greens believe electricity, banking and the internet should be run as essential services, putting public good before corporate profit. We also believe that Australia needs a strong public sector that delivers the quality public services that we need.
Unlike the major parties, the Greens refuse to take donations from big corporations who seek to influence us. That means we are entirely focused on outcomes that are good for our community, not outcomes that suit donors and vested interests. We can't be bought and we won't sell you out.
We are the party of public ownership. We will create publicly owned energy and banking providers and stop Labor and Liberal governments from further privatising our essential services, including the electricity grid and the NBN.
Our plan will ensure everyone has access to the services they need, stop you getting ripped off by big corporations, immediately reduce your bills, make services more reliable and kick off a rapid, planned transition to renewable energy to tackle climate change.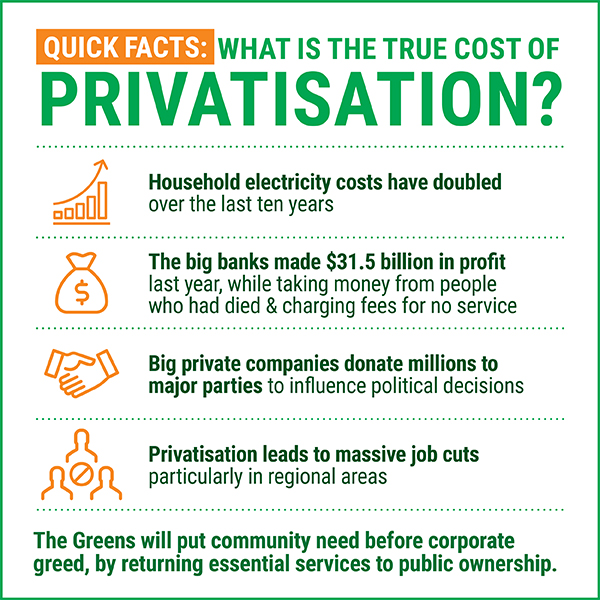 Our plan for publicly owned electricity, banking and the internet:
| | |
| --- | --- |
| ▲ | Create a not-for-profit energy retailer to kick off the transition to renewable energy · More » |
| ▲ | Cap power prices and buy back essential electricity infrastructure · More » |
| ▲ | Create a not-for-profit bank to end the rorts and bring down prices · More » |
| ▲ | Break up the big banks and cap executive pay · More » |
| ▲ | Oppose the sell-off of the NBN and upgrade it to the best technology for fast and reliable services · More » |
| ▲ | Reverse the privatisation of the public sector and restore public service jobs · More » |
Our plan for public services, not privatisation

Return electricity to public ownership
If you've experienced a blackout, you know how essential electricity is. It fuels our communications, our homes and our businesses, our schools, universities, hospitals and nursing homes. The Greens believe electricity should be run as an essential service, putting public good before profit. 
But both Liberal and Labor governments have sold off the grid to private companies. And ever since, those companies have invested in sales managers and marketing gurus instead of efficiencies and renewables, and as a result we're paying more than twice what we were paying a decade ago. 
Privatisation has failed to deliver cheaper electricity. The price of energy in deregulated states is higher than in regulated ones. Privatisation has also been a barrier to the investment that is needed to shift our electricity system to clean energy. Right now, big power companies make monster profits while more and more of us are getting disconnected because we can't pay our power bills. It's time we took back control of the grid. 
Power Australia: a publicly owned not for profit energy provider
The Greens will establish a new, publicly owned competitor to the private power companies, dedicated to driving down your costs instead of driving up its profits.
Under the Greens plan, you will be able to buy renewable energy from a government provider, Power Australia, which supplies your household electricity to you without the unnecessary profit mark-ups. 
Under our plan, energy bills will be reduced by an estimated $200 a year for an average customer, we'll increase competition in the existing retail market and end the profit-at-all-costs business model. 
By purchasing energy only from renewable sources, this model will fast-track investment in renewable technology, create more public sector jobs and help tackle climate change. All Australians will have guaranteed access to cheap, clean and reliable electricity. 
Our plan would also force the government to regulate the price that corporations can charge you for energy. That means a better deal for all customers.
Buy back essential electricity infrastructure
If we want an electricity grid that can underpin the rapid transition to renewable energy and keep prices down we must return the grid to public hands. But a publicly owned energy retailer can't ensure the lowest cost if it's forced to pay private companies for wholesale electricity generated over state borders. 
That's why the Greens will establish a Grid Transformation Fund - to restore public ownership to those critical interconnectors between states. We can't have a national electricity market without them. And under our plan, they won't be there to turn a profit - they'll be there to support a nation
The benefits of our plan:
Make electricity cheaper
Drive investment in renewables to tackle climate change
Make sure you don't get ripped off
Banking for people, not for profit
Banking is an essential service and people should be able to access it at a fair price. Unfortunately, as the Royal Commission has proven, Australia's banking system is a rort.
Three decades of deregulation and privatisation has allowed the big four banks to write the rules to suit themselves (and their executives to rake in exorbitant salaries), while they gouge super profits out of the rest of us. This has to stop. The Government needs to step in. But, while both the Liberal and Labor parties take huge donations from the big banks, they will only ever tinker around the edges.
Under our comprehensive plan to bring banking back to basics, we will reform the system so that it operates in the best interests of people and protects us from being ripped off.
A People's Bank
We will establish a People's Bank to provide basic banking at cost price. Imagine a bank whose real goal was to serve its customers, not line its shareholders' pockets. The Greens will use the Reserve Bank of Australia (RBA) to establish a People's Bank to provide basic low-risk banking services to the public. At the People's Bank, everyday Australians would be able to establish accounts directly with the RBA for day-to-day banking facilities. Customer service would be provided online, by telephone, or face-to-face through Australia Post and other partners. Everyday banking for public good, not profit margins.
We would also overhaul the management of banks and cap executive pay, level the playing field for smaller banks and break-up the banks so that an institution is either a bank, superannuation fund, insurance company, or a provider of other financial products. Under our plan, big banks can no longer rip people off by cross-selling their own products.
The benefits of our plan:
Provide a cheaper alternative to the big banks
Stop the big bank oligopoly
Make sure you don't get ripped off 
Deliver banking as an essential service

21st century internet connection 
Affordable, quality telecommunications are fundamental to the future of our jobs, education, essential services, and way of life. 
The National Broadband Network (NBN) belongs to all of us, but only because the Greens secured safeguards making it as difficult as possible for future governments to privatise the NBN. Greens in the Senate have ensured that any move to sell it off is subject to a full public inquiry and vote in parliament. We are committed to retaining the NBN infrastructure as a public asset and will ensure it remains in public hands as Australia's sole universal-access, wholesale service provider.
Upgrade the NBN
It isn't enough to keep the NBN as it is. The Abbott-Turnbull 'multi-technology mix' disaster has left many Australians without affordable or reliable services. The Greens are committed to a forward-looking NBN that uses Fibre to the Premises, Fibre to the Curb, and 5G Fixed Wireless to prepare us for the future and bring us in line with the capabilities of other countries. Under our plan, the NBN will be finished using the best long-term technology solutions and make it available to all Australians.
The benefits of our plan:
Stop any move to sell-off the NBN
Upgrade the NBN to increase internet speed 
Ensure you're connected, wherever you are 
Prioritise the NBN as critical infrastructure
 

Reverse the privatisation of the public sector
Australia's public sector delivers the quality services we need to live a good life, but Labor and Liberal governments have privatised it by stealth.
Job cuts made at the end of the previous Labor government have been turbo-charged under the Liberals.  Government departments have been hollowed out.  And for every cut or lost job, the Big-4 consulting firms - all massive donors to the major parties - get a lucrative contract at your expense.
The Greens will turn this around.  The public sector should be properly staffed and properly resourced to implement the services that governments are elected to provide, and that we all benefit from.  That work shouldn't be outsourced to private consultants and contractors.
The Greens have a plan to end the gravy train for consultants and contractors, restore staffing levels in the public service and abolish staffing caps.  We will give public servants a decent pay rise, which will help spark an increase in wages across the private sector.
The Greens will also reform the process for appointing the Public Service Commissioner and departmental secretaries to ensure an apolitical public service, and legislate to protect freedom of political expression for public servants.
The benefits of our plan:
A stronger public sector
Better public services
An end to the gravy train for private consultants and contractors
Freedom of political expression for public servants
Like what you see?
Sign up to get the latest updates from our movement as we build a future for all of us.