We should all have access to high quality, free health care & education, affordable housing and a strong social safety net that looks after us when we are out of work, as we age or if we have a disability.
But for decades, Liberal and Labor governments have sold us out by giving massive tax handouts and subsidies to their big corporate donors, instead of investing in the public services that we all need. It's about choices and priorities – and time after time, they've let us down by cutting services and making us pay more and more for the things that used to be free.
So while big corporate profits are soaring and 1 in 3 of the largest corporations pay no tax, the rest of us are left paying more or waiting longer to get help. No wonder more and more people across our community are stressed and struggling to make ends meet.
It doesn't have to be this way.
The Greens will make big corporations pay their fair share of tax and put that money directly into funding public services to ensure everyone has what they need to live a good life.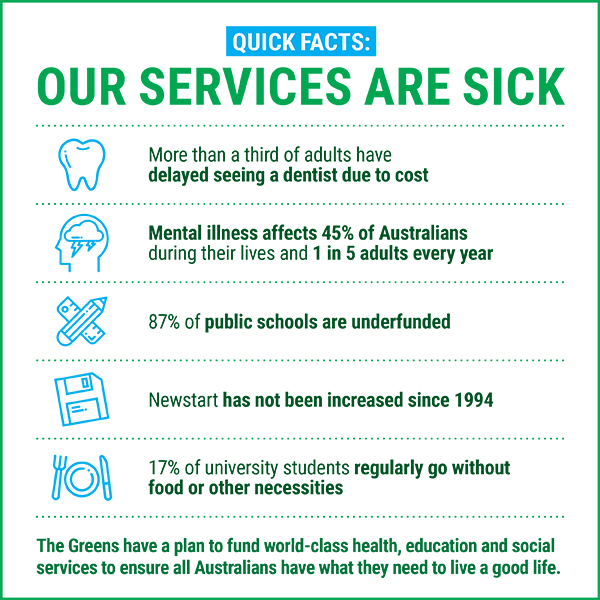 The Greens have a plan to create world-class public services:
| | |
| --- | --- |
| ▲ | Introduce Medicare of the future: a truly universal health care system that includes dental and mental health · More » |
| ▲ | Guarantee free or low-cost access to all essential community services such as disability services, childcare, mental health and aged care services · More » |
| ▲ | Increase Newstart and Youth Allowance · More » |
| ▲ | Fully fund public schools and provide free TAFE and Uni · More » |
| ▲ | Guarantee access to aged care services and ensure there is an aged care workforce for the future · More » |
| ▲ | Treat drug use as a health issue, not a criminal issue · More » |
Our plan to fund world-class health, education & social services
High quality, free public health care is a basic service that everyone needs to live a decent life.
But in the last six years in government, the Coalition has ripped money out of hospitals and Medicare and has done nothing to address looming health crises like obesity, diabetes and heart disease. As a result, many Australians are forced to pay enormous out-of-pocket costs for doctors, hospital visits, dental care and mental health services.
The Greens will fund a truly universal, public health system designed to keep you well and provide the free, quality care you need when you need it, regardless of your postcode or bank balance.
Under our plan, hospital waitlists will be significantly reduced and you'll be able to go to the dentist and use your Medicare card instead of paying huge fees.
We will keep people healthier, and out of hospitals, by introducing an Independent Preventative Health Commission which delivers evidence-based programs that tackle the rising rates of obesity, diabetes and heart disease by putting prevention at the heart of health care.
Our plan will ensure your mental health is considered as important as your physical health. We will reduce the stigma around mental health and ensure more people get help when they need it. We will increase funding to mental health services and train the mental health workforce of the future. 
We could afford all of this, if our government stopped spending $6 billion a year on propping up the private health insurance companies who are making mega-bucks selling us services that don't cover what we need. The Greens would redirect those funds towards the public health system.
The benefits of our plan: 
See the dentist without huge costs
Get help with your mental health without delay 
Significantly reduced hospital waiting lists 
You will be healthier for longer

 Caring for people: a new blueprint for social services
One of the values that defines our Australian community is our willingness to give each other a hand when we need it – whether it's because someone has lost their job, had a relationship break down, got older or they are living with disability. Our contributions via the tax system ensure that this support will be there for each of us if we ever need it.
But rather than maintaining our strong social safety net, successive Labor and Coalition governments have cut services and frozen payments so they can afford to give big businesses tax breaks and subsidies instead. Unlike the major parties, and the Greens will always choose to look after everyone, rather than just the very wealthy few. We have a comprehensive plan to repair our social safety net.
Support Payments:
We will immediately raise Newstart and Youth Allowance by $75 per week and bring back Parenting Payment Single to help more than 90,000 single parents. We will abolish punitive measures like the cashless welfare card – because we should all be able to access income support with dignity, while being treated with respect.
Services Guarantee:
We will guarantee free or low-cost access to all essential community services such as disability services, childcare, mental health and aged care services. Our plan includes establishing a Commonwealth taskforce to map need, identify which areas have unmet needs and to work across all levels of Government to ensure no-one is left behind.
Aged Care Services:
The Greens will ensure older Australians have safe, affordable aged care, and are able to choose whether to stay at home or to move to residential care. We will also improve quality of care through increased levels of care and improved staffing ratios, and ensure that we have the aged care workforce of the future by improving staffing levels, providing better training and increasing pay. Read more about our plan to support older Australians with access to high quality aged care.
Disability Services:
The Greens support a fully funded and adequately staffed NDIS that is transparent, consultative and accountable. Read more about our plan for an Accessible Australia.
Childcare:
The Greens will ensure access to early childhood education and childcare services for families that need them. We will make childcare free for low-income families, and increase access for everyone else. Read more about our plan for affordable, accessible childcare and childhood education.
Social Services Workers:
We value the commitment and contribution that people who work in caring and social services bring. We recognise the need for wage increases and better conditions as well as the importance of helping grow our caring workforce to meet rapidly increasing demand, particularly in aged care. Also read our conditions for workers and to increase the workforce for these essential services.
The benefits of our plan: 
People get access to the services they need for a better life
Easier navigation of the NDIS
Higher wages for caring jobs
Better care in-home or in residential care
More income for single parents
Better payment on Newstart and Youth Allowance so that people don't live in poverty

World-class public education
Everyone has a right to accessible and affordable education, whether you are leaving school, changing careers or looking to gain new skills and knowledge. Education enriches all stages of our lives. The opportunity to learn unlocks our potential, reduces inequality and allows us to live a good life. Guaranteeing universal access to education helps us build a just society and prepare for a brighter future.
But under the Coalition Government, billions have been cut from school funding. Our childcare services are under pressure and our universities and TAFEs are being slowly deregulated and privatised, at the expense of both students and teachers.
If we don't improve our investment in public education, just 13% of public schools will have the funding to meet their minimum needs by 2023 while 65% of non-government schools will be overfunded. That means 2 million young people will miss out on the education they need. And our university & TAFE fees will also continue to rise out of reach of many young people.
It doesn't have to be this way.
The Greens have a plan to ensure everyone, regardless of their bank balance or postcode, is able to gain a world-class education and continue learning and upskilling as their life changes.
Fully funded public schools
We're making an unprecedented investment in public schools of over $24 billion in the next 10 years. Under our plan, by 2023, every public school in Australia will be fully funded to reach the nationally agreed standard and to meet the educational needs of all students. We will expand building and infrastructure funding so that the majority of funds go to public schools, remove the artificial cap on federal funding for public education and stop the special deals made by major parties with private schools.
Free TAFE and Uni
Students leaving university or TAFE now face greater pressures than ever before, including high youth unemployment and record high housing and living costs. Being saddled with tens of thousands of dollars in student debt that takes decades to repay is unsustainable and unfair. Our plan will fund unlimited free TAFE and undergraduate university for everyone, increase Youth Allowance by $75 a week, and boost uni funding by 10% to better support students, teachers and staff, so no one leaves uni with an enormous debt that will take a decade to pay off. 
JOIN OUR FREE EDUCATION CAMPAIGN
The benefits of our plan:
Public schools have everything they need
No school is underfunded
Free TAFE and undergraduate uni 
Better support for students, teachers and staff
More funding for universities to improve learning and teaching conditions
Everyone has access to world class education

A home for all
In a country as rich as Australia, no one should be without a home. Having a roof over your head should be treated as a basic necessity – like health and education – not as a commodity. Housing should be regulated and supported by government and communities so that everyone has an affordable, sustainable home.
However, Australia's housing is rigged to benefit property developers, the big banks and those who already own multiple properties. Wealthy investors have exploited tax breaks like the capital gains tax discount and negative gearing to bid up the price of housing. First home buyers, desperate to escape a rotten rental market and decaying social housing, have been forced to take on huge debts to compete. Almost 300,000 people accessed homelessness services last year. The system is designed to prioritise profit over the housing needs of communities.
The piecemeal reforms put forward by Labor and the Liberals to take the edge off the market are just not enough. The Greens have a comprehensive  plan to reclaim housing as a social good.
Universal housing: a home for all
Just like Medicare and our public school system, everyone should be able to apply for public and community housing if they need it. By building more and improved public and community homes, we can guarantee they are affordable, good quality and provide people with a home for life. The Greens will establish a Federal Housing Trust to facilitate and manage the large scale construction and purchase of residential dwellings, in partnership with the states, territories, and not-for-profit housing providers. The scale of this project would be in line with the growing housing crisis and would include the development of many dwellings in the next 15 years.
Funding crisis housing services
Under the Greens' plan, the need for crisis services will be greatly reduced as greater investment in public and community housing will provide more people with a roof over their heads, and greater rights for renters will ensure more people have a secure, affordable home. But crisis housing is an important safety net for those in need and these services must be available and accessible to everyone who needs it. The Greens plan will ensure that everyone has a home - regardless of the circumstances they find themselves in. Our plan will assist ensure universal eligibility for housing, give renters more security, ease the lock-out for first home buyers and assist those who are struggling to afford a roof over their head.
The benefits of our plan: 
End the housing crisis
Support all people to get back on their feet
Make sure everyone has a secure, safe, affordable home
Anyone can apply for affordable housing

Reform drug laws to reduce harm and save lives
The current approach to reducing the harm that illicit drugs cause in our community is not working. And right now, many of the things we are doing to address this issue are making it worse rather than better. It's high time for a complete re-think. By investing in harm reduction, we create better health outcomes for drug users and for our communities as a whole.
For more than half a century, governments have aggressively pursued the disastrous "war on drugs" policy that criminalises a health problem and has only succeeded in making things worse. The major parties' "tough on drugs" policies are causing enormous harm, ruining lives and killing young people. 
The Greens see drug use as a health issue, not a criminal issue. That's why our drug reform policy is based on the need to change our dysfunctional law and order approach and move towards a harm minimisation model.
Under our plan to change Australia's drug laws for the better, we would legalise cannabis for adult use within a tightly regulated market and make pill testing accessible at music festivals and in local communities. To ensure vulnerable Australians are able to better access support, our plan will also double the amount of funding to alcohol and drug treatment services, expand safe injecting facilities to more locations and fully fund lifesaving opioid substitution therapy.
The benefits of our plan:
Help when you need it
Pills tested to save lives
Grow your own cannabis for personal use
No criminal records for minor possession of cannabis
Bust the business model of cannabis drug dealers
Boost the economy by taxing and regulating cannabis
Like what you see?
Sign up to get the latest updates from our movement as we build a future for all of us.